UB Earns Top Undergraduate Business Program, Again!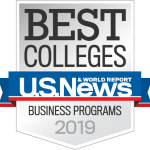 The Merrick School of Business was first ranked by U.S. News & World Report in their 2011 rankings. Today the school is once again ranked by the group, as having one of the nation's top undergraduate business programs in the nation. With over 3,000 undergraduate business programs in the country this is a testament to our faculty and what they are delivering in the classroom and in their research streams.  They are adhering to accreditation standards that only 820 business schools in the worldwide adhere to– standards set forth by AACSB International–standards that are a hallmark of excellence. All with the goal of impacting the people they teach and the world around them.
Congratulations to all.
by