UB Student Entrepreneurs: Where are they now?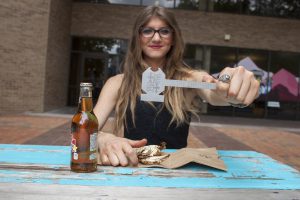 On Nov. 13 the University of Baltimore will crown its next business pitch winner during the highly anticipated Leonard and Phyllis Attman Competitive Business Prize. This annual event is held each fall semester and allows current UB students and recent alumni to compete for business idea seed funding.  When local businessman and philanthropist, Len Attman decided to fund a pitch competition he had a few things in mind, but high on the list was that this pitch competition was a way for UB student and alumni to make an impact in creating jobs for our neighbors and ultimately strengthen Maryland's economy. He was clear that he wanted to invest in our community's finest resource—our people.
In 2016, the winner of the Attman Prize was a young alumna named Shelby Blondell (MBA '18, B.S. '14, entrepreneurship). Blondell is a European indie music chart-topping songwriter, a singer, an inventor of "The Sheller," an event specialist with her family's business and two time brain surgery survivor. Now in her mid-twenties she continues to making her mark as an entrepreneur. Thought her entrepreneurial evolution has been documented by us over the years, she recently sat down for a Q&A session to share with us and share some more personal reflections on entrepreneurship and like Attman, also has a deep to commitment to bettering the lives of others.
Here's the conversation:
MERRICK SCHOOL OF BUSINESS: Where did you get your start in entrepreneurship?
BLONDELL: Entrepreneurship runs strong in my family. My father has a special events company and my mother is a principle. Hard work, determination and perseverance were a few things that were instilled in me and sisters at a very young age.
MERRICK SCHOOL OF BUSINESS: What led you to your current portfolio of projects?
BLONDELL: My music career has an interesting beginning. In high school a fellow classmate was undergoing treatment at St. Jude's children's hospital. At this time I organized a concert to raise money and where I took my first stab at really writing and performing my own music.  Instantly I was drawn to the ability that music holds to touch so many lives. Performing and writing became a part of my daily life, I began performing at venues such as the Recher Theatre (Towson, Md) and opening for national acts thorough the Mid-Atlantic  at places like Rams Head and Merriweather Post.   I didn't foresee how music could be my "career" until one of my UB undergraduate professors, told me to get rid of a business plan I was writing and told me that music is a business. Man, I'm glad that conversation happened!
MERRICK SCHOOL OF BUSINESS: How do you describe your life as an entrepreneur?
BLONDELL: I wear many hats literally and figuratively. I  am a songwriter, singer, inventor and an event specialist.  I say I am a songwriter first because I want my songs to be able to touch as many lives as possible.  I have had two brain surgeries so whether it is someone tapping their feet or helping relate to a time in their life, I want to be able to be a light as many have been for me.
The truth is I do have  a lot going on. If I am not playing a show I am writing a song. If I am not writing a song I am having a meeting, planning an event or speaking with crab houses.  Weather it is a song, an event or product I am launching I want to have an impact and touch as many lives as possible. I live a life filled with cold brew but as an entrepreneur I have a passion for what I do.  When you genuinely love what you do, when you live your passion, you aren't working a day in your life.
MERRICK SCHOOL OF BUSINESS:  Briefly tell us about the evolution — from ideation to market — of "The Sheller."
BLONDELL: It was February 11, 2017. I was eating steamed crabs with my parents, switching back and forth between a mallet and knife, thinking that the experience would be much more enjoyable if I didn't have to keep picking up a different tool. Within these thoughts I noticed beers being opened and thought, "three tools in one, this has to exist."  I went home that night, started searching the night away and was in awe that nothing existed to my vision. I then begin drawing, cutting out cardboard than made my way The Foundery  in Baltimore and began working with all kinds of metal to create a product that I am so proud of today!
MERRICK SCHOOL OF BUSINESS: Do you find it exhilarating to balance multiple entrepreneurial projects?
BLONDELL: Exhilarating and Exhausting! Being an entrepreneur is extremely stressful but also overwhelmingly rewarding. To see something go from nothing to something is really powerful and to realize you played a part in it is sheer joy. Being involved with so many projects means getting to know people from all walks of life, helping me learn more than I could have imagined and being able to touch many lives. I think that is part of what keeps me going though, it is something new every day.
MERRICK SCHOOL OF BUSINESS: What are some challenges that you face with your current projects?
BLONDELL: Where to begin!?  Because I am involved in so many projects, time management is crucial.  There are challenges everyday but with challenges are opportunities to continuously grow.
MERRICK SCHOOL OF BUSINESS: What advice would you give to students who dream of being entrepreneurs?
BLONDELL: It is so important to find your passion and make it a part of your life. Being an entrepreneur is hard work, stressful situations and sleepless nights; but it is also proud moments, success and learning.  When you love what you do, you never work a day in your life
MERRICK SCHOOL OF BUSINESS: Why did you choose to attend UB?
BLONDELL: I had heard about UB through my sister, who was attending the UB School of Law. After shadowing and spending sometime around the campus I was drawn in. I instantly felt welcomed and could feel the passion and genuine want to help from peers and professors.
MERRICK SCHOOL OF BUSINESS: How has attending UB helped you in your career?
BLONDELL: If it weren't for UB, I would not be where I am today. During my undergrad program was when I began to realize my passion for entrepreneurship and incorporated my first business surrounding my music career. The knowledge from incredible professors and peers truly worked, and has given me the tools to be where I am today. When I thought about my MBA, it was no question that I wanted to do it at UB. I could only imagine the possibilities the MBA would give me after such a great undergrad experience and I got more out of it than I thought I would! Through the opportunity of Global field studies,  practical courses and professors who guided me outside the box, I have been able to learn much about myself as well as ways to grow both of my businesses.
by