Competition Winner's Video Game Focuses on Mental Illness Awareness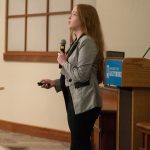 Willow Hendershot took the top prize for the 2018 Attman Competitive Business Prize Competition, netting $3,000 for her startup, Prevail, the first in a series of video games that focus on mental illness awareness. In the game, players progress through the story of someone struggling with PTSD.
"The competition was such an amazing experience," Hendershot said. "It really validated my ideas and my research—not just winning, but the amount of people that approached me throughout the event and told me their stories of dealing with their mental illness. At the end of the day Prevail is for them and anyone else that may need that extra support, however small of an impact it makes."
Hendershot is a current business administration student and a Ratcliffe Entrepreneurship Fellow. She transferred from Howard Community College in the spring of 2018 and expects to graduate from UB in 2020. She was one of the six finalists that made it through to the Nov. 13 event. It was the first time that a UB pitch competition finale was made up entirely of women-owned businesses.
Related Post
by