Philanthropist, Investment Firm Chief David Rubenstein to Deliver Fall Commencement Keynote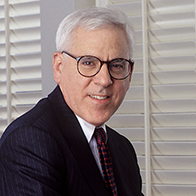 Baltimore native David M. Rubenstein will be the fall 2018 Commencement speaker on Monday, Dec. 17 at 1 p.m. in the Patricia and Arthur Modell Performing Arts Center at the Lyric, adjacent to the University of Baltimore campus. Rubenstein is a co-founder and co-executive chairman of the Carlyle Group, a global alternative asset management firm.  Founded in 1987, The Carlyle Group has grown to more than 1,625 employees, more than $212 billion in assets under management and 31 offices across six continents.
Read the University of Baltimore official news release.
Rubenstein was the only child born to his parents, who were blue-collar and without high school degrees. He learned very early on that in order to move beyond his Northwest Baltimore neighborhood, that he'd have to bootstrap his way to the top.
In sixth grade he watched John F. Kennedy's famous speech "Ask not what the country can do for you, ask what you can do for your country." That speech inspired him to be a lawyer and go into politics and government service and eventually working for the 1976 Jimmy Carter presidential campaign and then for the administration's as the deputy domestic policy adviser to the president. After Carter lost the election, he was job hunting and he came to the decision that building a  private equity firm seemed like a great idea. Like many entrepreneurs he sought out experts in the field and began what is now the largest private equity firm in the world.
Over the years he has accumulated a significant amount of wealth. Around the age of 54, he realized that you can't take your wealth with you after you die. So he began his philanthropic endeavors starting with organizations that helped him along the way and causes he believed in. One of the most interesting philanthropic acts attributed to Rubenstein was when he bid on, and subsequently won a Sotheby's auction where he became the owner of a copy of the Magna Carta. The document now lives in the National Archives for all Americans to enjoy.
by