Fast Pitch: Video Stories in 120 Seconds.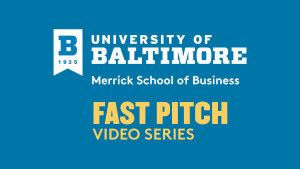 In 2018 the Merrick School of Business launched the Fast Pitch series. This video series allows the school to use multiple platforms to share information about new programs, internships and other important information.
The series came to be after Dean Murray Dalziel challenged Kathea Smith, assistant dean host of the Fast Pitch series, and Danielle Giles, director of marketing and communications in the Merrick School Business, to come up with a way to showcase what's happening in the school. After some noodling on the topic and evaluating the channels available to them, the two administrators came up with the Fast Pitch series.
"We initiated the Fast Pitch video series as a new way to interact with our prospective and current students, faculty and external stakeholders," said Smith. It also introduces our community to our fantastic faculty and students. Many of the videos also serve as training materials on new programs and initiatives for our admissions staff and advisors."
"Our plan was to tell our story in 120 seconds–that's easier said, than done," said Giles. "Just like one of students who is pitching their business idea to investors, we wanted our people to pitch the topic to our audiences in an authentic way. We generally record in one-take and never edit it. And we aim to really get the message out there as succinctly as possible."
Check out the full series of YouTube videos
A Sample of Topics Covered:
by