The Role of "Dynamic Flexible Arrangements" in Studying Abroad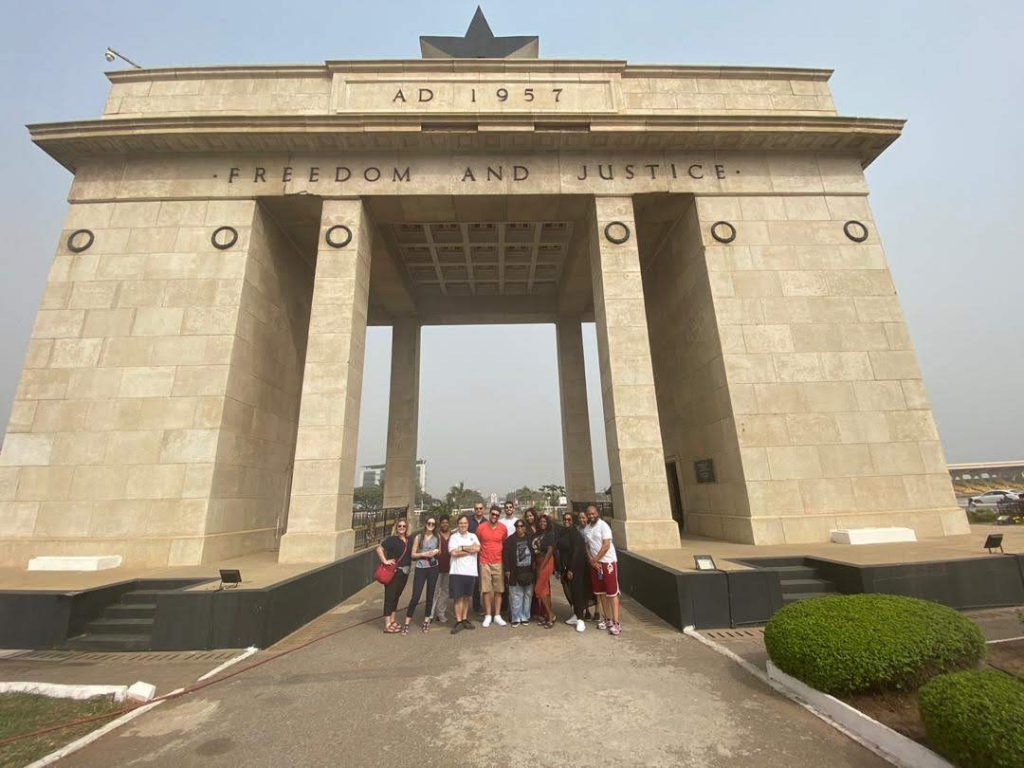 If you participate in a Global Field Study with Eusebio Scornavacca, you'll get fully emerged in local cultures, work on real-life projects and learn all about the phrase "D.F.A – Dynamic Flexible Arrangements." The UB Parsons Professor for Digital Communication, Commerce and Culture has been sharing his knowledge and expertise around the world for most of his career. And along the way he's learned to expect the "unexpected" and be flexible to adapt to the local environment at a moment's notice. So, when he leads a Global Field Study course, he is sure to emphasize the need to be calm, flexible and embrace the local culture and environment.
Most recently, Scornavacca led a group of 12 students to Africa to collaborate on "global digital innovation challenges" with local tech companies in Accra, Ghana. This project has been developed in partnership with The Ghana Institute of Management and Public Administration (GIMPA).
Scornavacca, says, "Real-life cases are an effective way to learn how to work in groups and to attack problems from a variety of perspectives. Our students had to hit the ground running and work with their GIMPA counterparts to address real business challenges presented by the partner companies. They were able to immerse in a new culture and business environment as well as experience firsthand how local IT entrepreneurs are creating a positive impact in their communities and building businesses, despite the economic and social challenges they face." The four locally owned tech companies were:
Leti Arts, a digital games and media company that brings an authentic Africa to a worldwide audience, through meaningful games and digital comics.
Amatsii, digital healthcare company that provides consumer search and product discovery, procurement, and analytics technology solutions for the pharmaceutical industry in Africa.
LinQworth Limited, a digital solutions company that develops innovative digital solutions for the African market.
Makedu Consult, a digital transformation consulting firm that offers software development services for web-based and mobile applications.
Alexander Hosseini is transfer student from Howard Community College, enrolled at UB in 2018. He has participated in two Global Field Study courses with Prof. Scornavacca, he went to Finland in 2019 and Ghana in 2020. These trips were the only times Hosseini has ever been out of the country. As an international business major the Global Field Study experiences have provided him a clear compare and contrast experience between two countries.
"Finland, a Western European country and Ghana, a developing country you get to understand the need for Dynamic Flexible Arrangements," said Hosseini. "Their scheduling and flexibility are totally different. You see two extremes of the spectrum and it is a great way to learn."
It was a clear when he worked with his assigned startup, Makedu, who had the goal to rebrand themselves, which included considering a new name and implementing their core values into a mission statement.
"The rebranding process, that was huge for them," he said. "And you realize business scenarios are difficult, but if you don't think about it deeper, you may make a misstep. I think everybody just thinks rebranding like, changing a few letters of the company name or like we'll just change it to this or that. There's a lot of deep thought that goes into it. Changing your company image and where you're headed as a company is a big deal."
In the end, Hosseini took away some unexpected outcomes from his experience. One of which is "patience," something that is imperative during situations of DFA.
"As bad as you think you have something, somebody else has it a lot worse. You definitely had to get outside of yourself and kind of look at things from a bigger point of view on how things can be different."
Michael Brown, completed his undergraduate degree at UB and he is now pursuing his MBA. He believes that a Global Field Study is essential for all business students.
"There's no doubt that this experience has completely changed my life," said Brown. "I can't believe that school has taken me to Africa! I can now say without question that I have an experience as an international business consultant, which is something that will be cemented on my resume forever. I can say that I have hands-on learning of cultural differences, operationally, financially, and personally thanks to Professor Scornavacca and the UB Global Business Study."
His personal reflection of the experience has shaped him in unimageable ways, including the discovery through a DNA test that his ancestry includes 18 percent Ghanaian.
"I've never been so excited and proud," he said. "Learning cultural history directly from sources in Ghana during both private conversations and cultural tours, has increased my consciousness forever. I hope to destroy unspoken walls between 'Africans' and 'African Americans,' and reunite us all in any way possible. We are all one people, living in different places, under different laws. However, we all hurt, celebrate, eat, sleep, and laugh together as one family.
by