For 10th Year in a Row, Online MBA Cited in U.S. News Rankings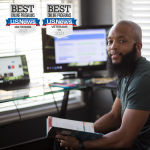 For the 10th consecutive year, The University of Baltimore has earned the U.S. News and World Report's "Best Online Programs" ranking in the category of "Best Online MBA." While five Maryland-based programs made the list in 2021, the University's program in the Merrick School of Business is the only State of Maryland school that has consecutively been ranked there since the publication's establishment of the list in 2012.
This year the school comes in at #100, tied with notable institutions including Central Michigan University, East Carolina University, New Jersey Institute of Technology, Northeastern University, and Temple University. The University also garnered a ranking of #63 for having the Best Online MBA program for Veterans. The program is also #4 among all institutions, public and private, in the Baltimore/Washington region. Inclusive only of public institutions, UB's online MBA comes in at #2 among public universities in the Baltimore/Washington area and #71 nationally.
According to the National Center for Education Statistics, nearly 31 percent of U.S. post-baccalaureate students enrolled exclusively in distance education programs in Fall 2018. Fast-forward to 2020, and the reality of the pandemic forced many universities and colleges throughout the nation to migrate their courses to online platforms. For the Merrick School of Business, the faculty's long-time expertise in online course development, plus the students' familiarity with online courses, made the transition from in-person classes much more successful than what has been reported by some other institutions.
The trend for online and hybrid learning is meeting students where they are, and providing them with the flexibility to conquer the demands of earning a degree and balancing work and family. The foresight from the Merrick School of Business faculty in the late 1990s to add online courses, and then to launch the world's first AACSB-accredited fully-online MBA program is a testament to their innovative thinking. Through the years, faculty have strived to be leaders in the delivery of online courses. They regularly convene for best practices seminars and offer papers on online teaching pedagogy in academic publications.
"The Merrick School of Business was a pioneer in offering an online MBA," said Merrick Dean Murray Dalziel. "I am pleased to see this reflected in our 10th straight year of being ranked in the U.S. News Best Online Programs."
The publication's ranking methodology focuses on five areas of evaluation (Engagement, 30 percent; Expert Opinion, 25 percent; Faculty Credentials and Training, 15 percent; Services and Technologies, 15 percent; Student Excellence, 15 percent).
Learn more about The University of Baltimore's Online MBA program.
by