Interested in a Career in Affordable Housing Property Management?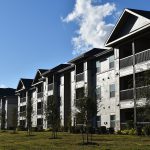 The Affordable Housing Property Management industry can be both uniquely challenging and highly rewarding. Professionals working in this field positively impact the lives of residents who live in the properties by providing high-quality housing at an affordable price. The University of Baltimore is well-positioned to address the growing demand for recruiting and retaining future and current employee with our academic programs in Real Estate and Economic Development (REED), a specialization within the B.S. in Business Administration program offered by the Merrick School of Business, as well as an undergraduate degree in Human Services Administration (HSER) offered by the College of Public Affairs.
Students and working professionals who are interested in building a skill-set for affordable housing property management, should consider the following courses either as part of their B.S. Business Administration, Real Estate and Economic Development specialization or as a non-degree option towards professional development in your career. (Note: that students cannot earn financial aid unless they are admitted to an approved degree or credential program, and their courses count towards that credential).
POINT OF CONTACT: Dr. Seema Iyer at siyer@ubalt.edu if you have any questions about this program.
Suggested courses at UBalt for students and professionals interested in Affordable Housing Property Management.
---
Business "soft" skills (Leadership, Communications, Time Management, Office Professionalism)
MGMT 330 PERSONAL AND PROFESSIONAL SKILLS FOR BUSINESS (1)
Provides students with the skills necessary to advance their career development. Strategies and practices that allow the student to successfully interface with potential employers are explored and applied. Course modules include business etiquette and professional behavior, appropriate use of workplace communication techniques, written business communications, and showcasing career-building talents and skills within an organizational context. There is a lab fee associated with this course.
CMAT 303 ORAL COMMUNICATION IN BUSINESS (3)
Extensive practice in presentational speaking, briefing techniques, the mechanics and dynamics of group meetings and the development of interviewing, critical listening and interpersonal communication skills. Laboratory fee required.
---
Supportive services best practices
HSER 330 HUMAN SERVICES DELIVERY SYSTEMS AND DIVERSITY (3)
Examines various issues in the context of human services delivery systems within organizational environments possessing many levels of diversity including gender, race, religion/spirituality, types of professions/ credentials, levels of education, socioeconomic status, sexual orientation and physical ability. Explores how one's own limitations, values, reaction patterns and culture may impact policies, practices, processes and interventions. Investigates perspectives of leadership, employees and service recipients.
---
Property Management (Operations, Leasing, Sales and Marketing, Asset Management)
RMGT 301 MANAGING PROPERTY AND CASUALTY RISK (3)
This course examines the basic operational functions of a property-liability insurer and how the market and regulatory environments affect insurer operations. Key topics addressed in the course include industry structure, regulation, distribution systems, underwriting, ratemaking and insurance pricing, reinsurance, loss control and solvency. Throughout the course current issues affecting insurer options are examined. This course evaluates property, net income, cyber, environmental, and liability loss exposures, analysis of insurance contracts, specific insurance coverages designed to handle the above exposures and other industry related topics.
REED 480 PROPERTY MANAGEMENT (3)
This course addresses the issues involved with managing commercial property including residential, office, retail and industrial. Topics include tenant relations and retention, insurance and risk management, leasing, environmental issues, and maintenance.
MKTG 430 PERSONAL SELLING (3) Prior marketing coursework required.
Presents the sales principles and skills required by today's professional salesperson, with emphasis on both the business-to-consumer and business-to-business selling environments. Examines current approaches to a variety of selling challenges including prospecting, the selling process, closing the sale and post-sale follow-up. Presents the principles underlying the sales process and the practical application of these principles to selling situations. Studies the role of selling in the total marketing process.
---
Internship Experience (if not currently employed in the Affordable Housing industry)
REED 495 INTERNSHIP IN REAL ESTATE AND ECONOMIC DEVELOPMENT (3) Prior real estate coursework required.
Provides students with practical real world experience in an organization. The course requires a minimum of 120 hours of practical work with a qualified firm based on explicit statements of student responsibilities and faculty/firm monitoring mechanism. Students will work closely with both the firm and a faculty member.
JPLA 496 INTERNSHIP IN JURISPRUDENCE (3)
Court navigators are UB students who earn course credit by serving as Baltimore City District Court navigators work to provide legal information and assistance to unrepresented persons (those who don't have attorneys)regarding court forms and hearings. You will complete an online training that takes 2-3 weeks, then attend a face-to-face orientation, take a qualifying test, and serve 4 hours per week at the courthouse downtown (at a time that fits your schedule).
by