Prof. Sriram Quoted in Article About Restaurant App Fees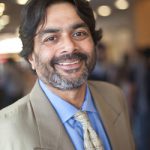 On Mar. 8, 2021, Professor of Marketing Ven Sriram was quoted in a Baltimore Sun article titled "Between an app and a hard place: Baltimore restaurants get temporary break on fees, but worry about the future," written by Christina Tkacik.
"A restaurant is between a rock and a hard place," said Ven Sriram, who chairs the department of marketing and entrepreneurship at the University of Baltimore. Three companies dominate the delivery industry: Uber Eats, DoorDash and Grubhub.
And consolidation among them — Uber Eats acquired Postmates last year while DoorDash acquired Caviar and Grubhub now owns Seamless — has created giants, making it harder for restaurant owners to negotiate individually. "A single restaurant needs the delivery service more than a delivery service needs a single restaurant," said Sriram
by