Entrepreneurship Prof., CEO, Raises $1.5M for Company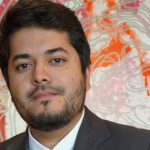 The Merrick School of Business, Office of the Dean would like to extend our congratulations to Assistant Professor of Entrepreneurship, Sanwar Sunny for the recently announced University System of Maryland "Maryland Momentum Fund" award.
In addition to his faculty role, Dr. Sunny is a practicing entrepreneur. He is the CEO of Dynamhex, a company that provides complex energy consumption and carbon footprint data for corporate, utility and government entities. He founded Dynamhex in 2019.
Today's announcement featured $250,000 of funding by the Maryland Momentum Fund. The company has also received $200,000 of funding from The Chesapeake Bay Seed Capital Fund, an initiative of the University of Maryland's Maryland Technology Enterprise Institute (Mtech). Thus far the company has raised $1.5 million in seed funding.
Read the news releases below to learn more–links provided.
In the USM Momentum Fund news release, Murray Dalziel, dean of the Merrick School of Business said:
"We are very pleased that the USM Momentum Fund has decided to invest in Dr. Sunny's company. As one of Maryland's leading business schools for professionals and entrepreneurs, we know the importance of creating knowledge that has impact. Not only does our community benefit from being taught by an active entrepreneur like Dr. Sunny, our world benefits from the effects that his company will have on battling climate change and growing a greener economy."
Read the news releases and coverage:
by