Eleven Years and Counting: U.S. News Continues to Place UBalt's Online MBA Program Among the Best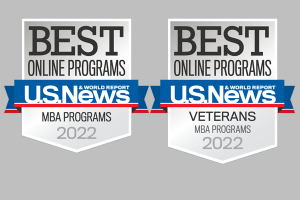 For the 11th consecutive year, the online MBA program offered by The University of Baltimore's Merrick School of Business has been ranked by U.S. News and World Report's "Best Online Programs" survey. UBalt's program is the only one of its kind in Maryland to achieve this decade-plus distinction.
The online MBA is ranked #115 this year. Alongside it, the publication ranked the program #73 in the nation in its survey of "Online MBA programs for Veterans."
The Merrick School of Business launched the world's first, fully-online, AACSB-accredited MBA in 1999.
by