Prof. Lingelbach brings insights into Putin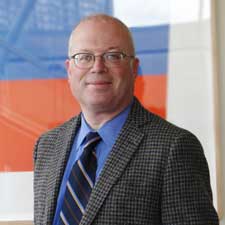 David Lingelbach, associate professor of  entrepreneurship and Fulbright Scholar, spent time in Russia in the 1990's, where he held various roles in banking and investments. His jobs included a stint as vice president and country manager of Bank of America's Russia/CIS/Baltics division. Lingelbach is a prolific researcher and experienced teacher One of the research streams he pursues focuses on oligarchs and how they gain power. His extensive background in venture capital and entrepreneurship has offered several opportunities for the media to pick his brain about what is going on with Vladimir Putin and the oligarchs aligned with him.
Note: Dr. Lingelbach has been promoted to Full Professor at The University of Baltimore beginning in the 2022-2023 academic year. Congratulations!

Check out the media coverage:
If Putin wins in Ukraine, then what? (The Hill | Opinion)
Russian Oligarchs' Billions Lead to 'Madness' at This Buyout Firm (Bloomberg)
What comes after Putin? (The Hill | Opinion)
Can Western sanctions alter Putin's behavior? (The Hill | Opinion)
Meet the man who whispers in Putin's Ear (Forbes.com)

Simple Politics with Kim Wehle (YouTube interview)
Why Some Say Putin Is Happy His Oligarchs Are Getting Sanctioned  (Forbes.com)
Should the West offer Vladimir Putin amnesty to end war in Ukraine? (The Week | UK | paywall)
Is it too late to do anything about Putin? (The Hill | Opinion)
Why is Putin so confident these days? (The Hill | Opinion)
by