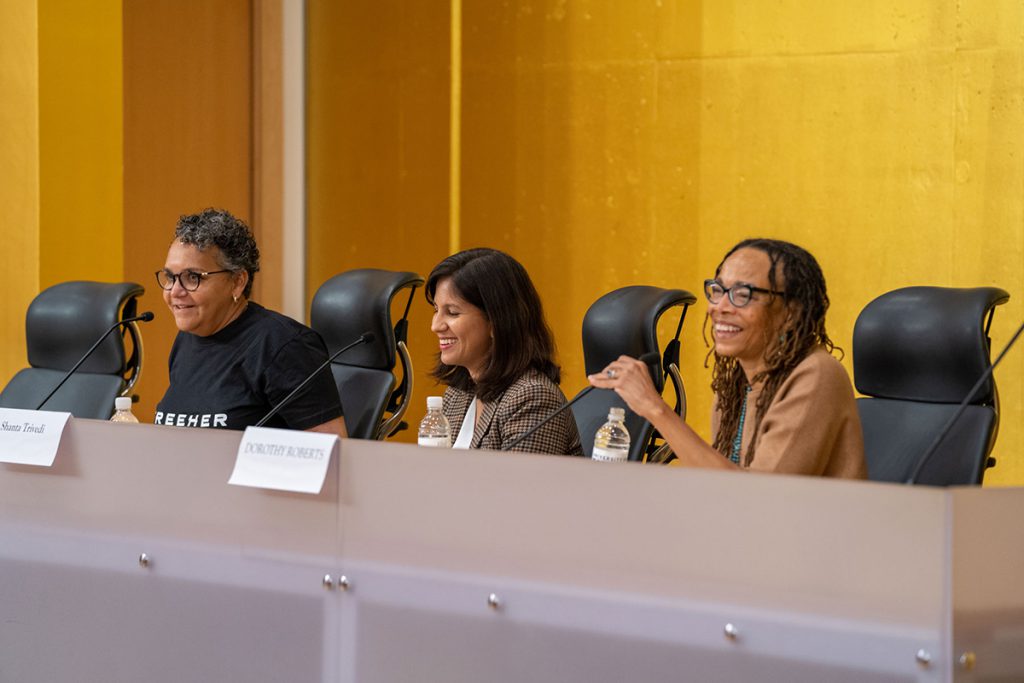 This fall, the Sayra and Neil Meyerhoff Center for Families, Children and the Courts convened its first in-person event since 2019, the CFCC Symposium on Protecting Family Integrity. In her opening remarks, CFCC's faculty director, Prof. Shanta Trivedi, shared her vision for the center. "CFCC will continue to use the expertise that we bring, in collaboration with the expertise in our community, to reduce harm and improve the lives of children and families through a wide range of activities," Trivedi said. "On issues affecting children and families, we strive to be a place to exchange ideas, debate notions of justice and equity, and educate and learn from one another." 
To that end, CFCC welcomed nearly 250 guests from the community at the Sept. 29 event, including advocates, attorneys, social workers, representatives from nonprofits, law students, faculty, and people negatively impacted by legal systems. The symposium emphasized a critical issue that has risen to the forefront during discussions of race and criminal legal system reform since 2020—the separation of children from their parents by the child welfare and criminal legal systems.  
The majority of the families separated by government intervention are racial minorities and the economically underprivileged. The symposium's goal was to bring together advocates challenging these systems from different vantage points to discuss approaches to preventing separation, when possible, and minimizing harm to children when separation occurs.  
In the keynote conversation, distinguished law professor Dorothy Roberts, and abolitionist, author and activist Andrea James led a keynote conversation, moderated by Trivedi. The speakers discussed their own experiences with carceral systems, described their decades of advocacy in this area, and described what James calls "what different looks like" — that is, how they envision a future without system involvement.  
The keynote conversation was followed by a panel focused on the causes and impacts of family separations due to parental incarceration or juvenile detention. The afternoon panel explored separations due to interventions by what some refer to as the family regulation system. Panelists included impacted individuals, advocates for reform, and law professors. They discussed the devastating impacts of these separations on families and communities and challenged participants to look at the history of the criminal and child welfare systems in this country as context for how these systems cause harm today.
Participants on both panels shared an alternate vision in which families struggling with poverty and other challenges receive supportive interventions rather than punitive responses. 
Share this story with your network: