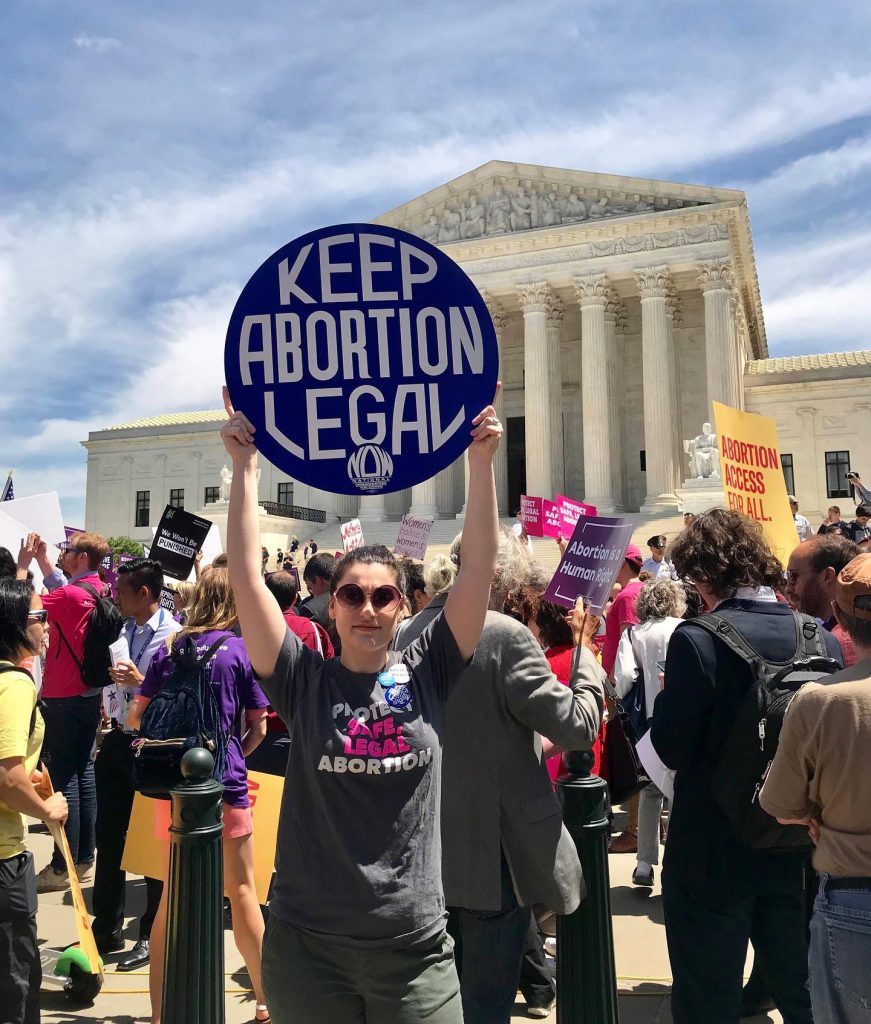 Carita Tarter was working as a summer legal intern in the American Civil Liberties Union's Reproductive Freedom Project when the Supreme Court negated the constitutional right to abortion with its decision in Dobbs v. Jackson Women's Health. "Then it was like: We know what we have to do now," she says. "Now it's crunch time." 
Across the School of Law, students and school organizations have been on the front lines of the fight to preserve reproductive rights. Students say the June 2022 Dobbs decision has, if anything, put new energy into their efforts. 
"I definitely feel disappointed and saddened, like the justice system has failed us. But it's reassuring to work with other people who share a passion for this, who to be solution-oriented and to keep moving forward. It makes me hopeful," says Tarter, a 3L. 
Marcella Labellarte is in her second year of law school. Prior to attending UBalt Law, she worked for the American College of Obstetricians & Gynecologists, where she helped formulate policy around reproductive rights. She says she's feeling "very motivated" to continue that work in the wake of Dobbs. 
"Now is the time for the legal profession to step it up and come to the aid of people who are seeking this care," she says. 
That might mean "representing people directly, in states where women are being criminalized. It might mean doing pro bono work, making sure they are properly represented," Labellarte says.  
Engagement by the legal community might include helping companies do the paperwork to shift their headquarters into states where female employees still have access to abortion. It could also include the kind of policy work that Labellarte was doing for the OB/GYN association. 
"The ABA should be taking a very strong stance on this," she says. "One of the most important parts of our system was just blatantly disregarded, and that cannot be ignored. Lawyers need to be out there saying, "We have a big problem with this, we think the Supreme Court got it wrong.'" 
It's not just law students who are working on the front lines of reproductive rights. The law school has long been active on these issues, for example through its Center on Applied Feminism. 
Center co-directors Prof. Michele Gilman and Prof. Margaret Johnson serve as faculty advisors to If/When/How, the law students' reproductive rights organization. "We're supporting them in their activities, and we also have been organizing and will continue to organize educational events that explain and contextualize the recent decision by the Supreme Court," says Johnson, who is director of the Bronfein Family Law Clinic and associate dean for experiential education. 
"We held a teach-in at the end of the semester when the decision came down, and we'll be holding an event this fall with different faculty members talking about the Dobbs decision based on their areas of expertise," she adds. 
In the family law clinic, Johnson works with students on policy and legislative initiatives in the area of reproductive justice. In the wake of Dobbs, she says, "They will be working with a coalition of policymakers and advocates to help get legislation passed in Maryland that provides more rights relating to abortion." 
The legal community should be all-in on its efforts to push back against Dobbs, Johnson says, adding the ruling could be used to undermine gay marriage, the right to contraception, and other rights as well. 
"This is a structural issue," she says. "We know that women were able to grow into professional roles in part because they controlled their contraception, their ability to conceive. If we take that away, it has a structural impact on who can enter the workplace. It's an issue of gender justice." 
The abortion fight going forward likely will play out state by state, and much will come down to the ways in which the states formulate their specific laws. In Tarter's view, that means the lawyers need to be engaged in the conversation at all levels. 
"There are a lot of things lawyers can do outside the courtroom," she says. "As part of the community, lawyers can talk about this — because talking about abortion is still taboo, people don't want to face the issue. Doing your part as a lawyer also means bringing it up, speaking up about it." 
Tarter said that despite the Dobbs decision, she still feels positive about the prospects for reproductive rights. "There is a lot of hope," she says. "In my generation, I've only known the right to abortion, and before that there was no right to abortion. So just because it's not open for us right now, that doesn't mean we can't turn it around again." 
Adam Stone is a writer based in Annapolis.

Share this story with your network: