Three law professors celebrated new books in 2022.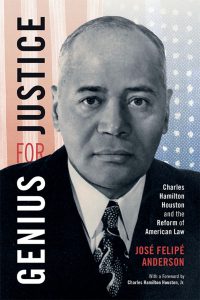 On Feb. 24, friends and colleagues gathered to hear about Prof. Jose Anderson's book Genius for Justice: Charles Hamilton Houston and the Reform of American Law. Members of the Houston family attended the event. 
The first general counsel of the NAACP, Houston exposed the hollowness of the "separate but equal" doctrine and paved the way for the Supreme Court ruling in Brown v. Board of Education, outlawing school segregation. The legal brilliance used to champion other civil rights cases earned Houston the nickname, "The Man Who Killed Jim Crow." 
After serving in the segregated U.S. Army in World War I, Houston returned to the United States in 1919 and enrolled at Harvard Law School, where he was the first Black student elected to the editorial board of the Harvard Law Review. Later, as dean of the Howard University Law School, Houston expanded the part-time program into a full-time curriculum. He also mentored a generation of young Black lawyers, including Thurgood Marshall, who would go on to become a U.S. Supreme Court justice. 
In  March, the law school hosted a virtual celebration for the third book written by Prof. Kim Wehle, How to Think Like a Lawyer — and Why: A Common-Sense Guide to Everyday Dilemmas. In this book, Wehle teaches laypersons how to think like a lawyer to gain advantage in their lives — whether buying a house, choosing healthcare, or negotiating a salary. She walks readers through the process of breaking down complex issues into manageable pieces for better decision-making.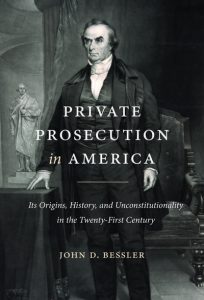 Prof. John Bessler published two new books this past year, both of which were discussed at events featuring colleagues in the legal academy. The first, Private Prosecution in America: Its Origins, History, and Unconstitutionality in the Twenty-First Century, is the first comprehensive examination of a practice that dates back to the colonial era. Tracking its origins to medieval times and English common law, the book shows how "private prosecutors" were once a mainstay of early American criminal procedure. Private prosecutors—acting on their own behalf, as next of kin, or though retained counsel—initiated prosecutions, presented evidence in court, and sought the punishment of offenders. 
Bessler's most recent book, The Death Penalty's Denial of Fundamental Human Rights, continues his scholarly exploration of capital punishment as an act of torture and a violation of basic human rights. A previous book on the subject, The Death Penalty as Torture: From the Dark Ages to Abolition (Carolina Academic Press, 2017), was a Bronze Medalist in that year's Independent Publisher Book Awards. 
Share this story with your network: