MBA Alumna's Experience Leads Her to Donate to the School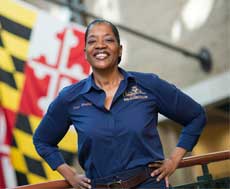 On a brisk morning Friday in December, Murray Dalziel, dean of the Merrick School of Business convened the school's end-of-year advisory board meeting. The board, made up of  local business leaders and alumni, were in store for a inspiring message from Lisa Phillips, MBA '18. The dean invited Phillips to attend the meeting in order to thank her for her recent financial support and to share her life story with the board. For about 45 minutes Phillips' shared her story and demonstrated her tenacity, persistence and ingenuity and why the university is so near and dear to her heart.
Phillips grew up in Baltimore's public housing, in foster care, and on welfare. However the game of life wouldn't hold her back.  In 2011 she graduated with a bachelor's degree from Coppin State University and launched her small business, "Celeebrate Us," a gift basket and party-planning company.  In 2014, she entered the MBA program with the goal taking her business skills to the next level. She has worked hard to manage her growing business and earned her MBA degree, she was even invited to the White House for a small business owner roundtable discussion. But for Phillips her next chapter was a daunting one–in December 2017 she would get the medical diagnosis no one wants to hear–brain cancer.
Like everything else Phillips attempts, she tackled the diagnosis head on.  She didn't see brain cancer as an obstacle. She saw it as an opportunity to refine her business and pivot it to include a workforce training program. This was extremely important to her. She remembers how it felt to go through a workforce training program that opened the door to landing her first job in medical billing. She had a sense of pride and accomplishment to getting to that point. She now uses that experience to inspire others in her workforce program to reach new heights and build the confidence to navigate new pathways.
Now a full year after the diagnosis and 7 months post-tumor removal, Phillips is going full throttle making a difference in the lives of so many who faced similar obstacles as she did–and doing it with a passion for business and compassion for people.
by