UB Alumnus, Arnold Williams Featured 'Legend' in Real Estate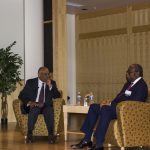 The University of Baltimore's annual celebration of leaders in real estate and economic development, "Lessons From Legends," featured alumnus Arnold Williams. The 1972 accounting graduate is a CPA and the managing director  at Abrams, Foster, Nole & Williams, a minority-owned certified public accounting firm in Baltimore, came back to UB to be honored as this year's "legend" and to share his experiences influence and shape Baltimore City's landscape.
Williams, joined UB President Kurt Schmoke for a conversation about the approaches Williams takes to move  the city and the state forward in areas of development. During Schmoke's time as the mayor of Baltimre, he appointed Williams to the board Baltimore Development Corporation (BDC), a non-profit organization, which serves as the economic development agency for the City of Baltimore. Their long history and friendship made the conversation rich with takeaways for the audience, including what it means to have a "win-win" when working with the community, developers, and the city.
To view the 2019 Lessons From Legends event visit our YourTube channel.
by