Real Estate Students "Pitch For A Million," June 5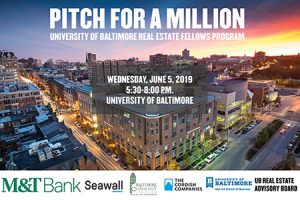 University of Baltimore Real Estate Fellows Program
Join us for the finale to what has been a remarkable journey for our eight University of Baltimore Real Estate Fellows as they culminate their 10-weeks of intensive study by pitching their neighborhood development proposal to a panel of experts.
The winning proposal will get the necessary financing up to $1 million in a "Guidance Line of Credit" from Baltimore Community Lending to proceed with the project.
 Come cheer them on!
Date: Wednesday, June 5, 2019
Time: 5:30-8 p.m.
Location: University of Baltimore | William H. Thumel Business Center |Scot Kaufman Auditorium |11 W. Mt. Royal Ave. | Baltimore, MD 21201
R.S.V.P. on the UB Events Calendar.
Contact: Dr. Seema Iyer at siyer@ubalt.edu
Learn more about the University of Baltimore Real Estate Fellows Program.
by