UrbanPlan: Engaging Students to Create Better Communities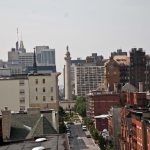 This fall, the University of Baltimore's Real Estate and Economic Development Program is partnering with the Baltimore Chapter of the Urban Land Institute (ULI) to offer "UrbanPlan"— an intensive learning experience with area professionals in the classroom. For four weeks, students enrolled in REED 312 "Real Estate Principles and Transactions," will work with professional volunteer members of ULI-Baltimore to understand market and non-market dynamics, working in multidisciplinary teams, and managing conflicting needs of multiple stakeholders who all care about development within communities. UrbanPlan was developed by a team of land use practitioners and academics to provide a realistic, engaging exercise in which students learn about the fundamental forces that affect real estate development. Students experience the challenging issues, private and public sector roles, complex trade-offs, and fundamental economics in play when proposing realistic land use solutions to vexing growth challenges. The goal is to expose students to the variety of real estate professions, apply research and stakeholder input while grappling with land use controls that confine real estate development and transactions.
Urban Plan is a relevant, and realistically complex example of real estate development projects that gives students an opportunity to explore various roles within land use professions.  Being a part of the student's experience, sharing our experiences, and exposing them to professional opportunities within our industry, is as enriching for professionals as it is for the students." said Steve Marker, who is chair of the ULI-Baltimore UrbanPlan committee and Development Director for Brightview Senior Living.
To learn more about the REED program, visit www.ubalt.edu/realestate
For current UB students, talk to your academic advisor about enrolling in REED 312 today! www.ubalt.edu/courses
To learn more about UrbanPlan, visit https://baltimore.uli.org/get-involved/urbanplan/
by