Maryland Commerce Department Official Kavita Verma Joins Merrick School of Business Dean's Advisory Council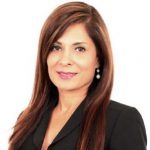 Kavita Verma, director of Business Attraction and Recruitment for the Maryland Department of Commerce, has joined the Merrick School of Business Dean's Advisory Council. She joins 29 other board members, largely based in the Baltimore-Washington region, in serving the school as advisers, advocates and mentors.
"Kavita brings a wealth of experience about the talent needs of companies in Maryland and considering to move to Maryland," said Murray Dalziel, dean of the Merrick School of Business. "She will definitely enhance how school prepares students to be successful in their professional and entrepreneurial careers."
Verma started her career as a lawyer with two major international law firms, where she focused on mergers and acquisitions, private equity and other corporate transactions. In her role at the Department of Commerce she manages the agency's team that attracts new businesses to the State of Maryland and develops and implements the direct sales effort and target strategy for corporate expansion and relocation of companies.
"I'm excited to join the Dean's Advisory Council at the Merrick School of Business and work with the school, students and business community," Verma said. "I'm honored to be part of this distinguished Advisory Council that brings together different disciplines and viewpoints to help the Merrick Business School and the Dean carry out the school's wide-ranging mission and thrive in years ahead."
Verma received her law degree from University of Victoria and an LL.M. in Banking and Securities Regulation from Boston University. Additionally, she also holds a Certified Fraud Examiner certification and is a member of the New York and California bar associations.
The Dean's Advisory Council is one of the main avenues of engagement between the Merrick School of Business and the region's business community. The council is active in supporting the Dean and the school's leadership team as the school advances in its mission of educating students in their interests in various aspects of business, e.g., entrepreneurship, accounting, management, finance, marketing, and more. The council provides critiques of the curricula, builds experiential learning opportunities for students, and raises funds for the school. It also serves as advocates of the Merrick School of Business in the wider business community.
Learn more about the Dean's Advisory Council.
by