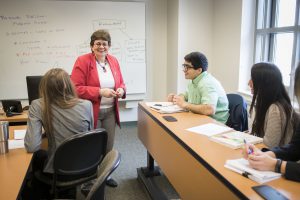 With a new decade quickly approaching you have a chance to make real changes. In with old, and out with the new, as some say.
If you are in a place in your career, where you want to advance or even change directions, it may be time to consider earning your MBA or Graduate Business degree at UB. The Merrick School of Business has a long history of education working adults. As a matter of fact, the publication Washington Monthly, ranked UB as being one of the top in the nation for working adults—and #1 in Maryland.
The Merrick School of Business offers you five graduate business programs and seven certificate programs to advance your career and the flexibility to live your life.
So before you have to say "hindsight is 2020" because you opted not to add advanced skills and credentials to your resume—make your next move and invest in YOU! Apply to one of our graduate business programs or certificates and begin earning your degree in spring or fall of 2020.
Next opportunity to learn more about our programs:
Saturday, October 12, 10-11:30 a.m., "Graduate Information Session at UB," R.S.V.P.

by