Profs talk UB MBA capstone course and research in podcast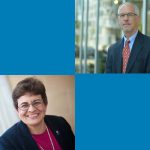 Assistant Professor of Strategic Management Bill Carter and Associate Professor of Management Lisa Stickney recently participated in a podcast with Associate Editor for Podcasting and Social Media Nicholas Rhew from the Journal of Management Education to discuss the UB MBA capstone exercise that Dr. Carter uses in his MBA course. Listen to the podcast.
---
Article Abstract
The content of most MBA capstone strategic management courses emphasizes general management theory and analytical skill development. Additionally, the design of the capstone is often tasked with providing practical application, integrative thinking, and experiential learning. A common critique of the capstone, however, is its insufficient delivery of these important, noncontent objectives. This article describes a "capstone to the capstone" exercise which helps address this challenge. In this exercise, students work in functional and cross-functional groups to experience the realities of applying what they have learned to address strategic issues of a company. The exercise increases awareness of the value of functional integration, exposes students to realistic pressures and common process errors, and encourages student growth through reflective thinking. Empirical analysis suggests the exercise enhances practical understanding of course concepts, improves abilities to apply course concepts in realistic contexts, and opens new perspectives on cross-functional and group decision–process thinking.
by