Online MBA Ranked by U.S. News; Program for Veterans Listed in Top 60 Nationally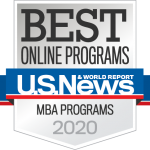 The University of Baltimore's online MBA has been ranked for the ninth consecutive year by U.S. News & World Report, a feat no other institution with an MBA in Maryland can claim. The rankings, published on Jan. 13, placed UB in a tie at #58 in the nation for its Online MBA for Veterans, and #102 for its overall Online MBA.
In the veterans category, UB tied with Northeastern University, The Citadel and Embry-Riddle Aeronautical University. The overall online program also tied with a number of other institutions, including Queens University of Charlotte (McColl), Texas A&M-Kingsville, East Carolina University, and others. This is an improvement of 11 positions over the 2019 rankings.
"The UB Online MBA is recognized as an especially good value in a highly competitive market," said Murray Dalziel, dean of the Merrick School of Business. "The methodologies used by U.S. News have been fair and comprehensive over the last several years, and so we feel especially pleased to routinely appear in their study of such a large number of accredited MBAs across the country. Nine years in a row is an impressive feat."
The University of Baltimore is home to hundreds of veterans studying in an array of fields, including business, law, game design, creative writing, public affairs, and more. With its campus designation as a Yellow Ribbon institution, UB delivers for veterans, from admission to graduation. The Bob Parsons Veterans Center, for example, provides support and guidance for military and veteran students, while specific programs help them find new paths in life. The online MBA, for instance, helps meet a veteran's busy schedule with staggered start times, and fits his or her budget with in-state tuition available to all who sign up for the online degree.
Learn more about the online MBA, available in the University of Baltimore's Merrick School of Business.
by