Emerging Themes in Entrepreneurship and Innovation
ENGAGEMENT | INNOVATION | IMPACT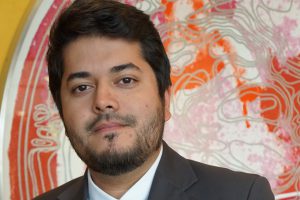 Emerging Themes in Entrepreneurship and Innovation is one of seven themes that The University of Baltimore Merrick School of Business faculty have adopted to foster the advancement of business and management research and education.
As founder and CEO of Dynamhex, a company that uses artificial intelligence to provide customized carbon emission reduction recommendations to corporations, utility companies and the government, Assistant Professor of Entrepreneurship Sanwar Sunny's expertise is extremely valuable to our students.
"Being an entrepreneurship researcher and professor, I believe it is important that I am looking at relevant research questions and creating curriculum about the state of innovation in real time," said Sunny. "UBalt is about practical knowledge. Our students see my real-world business experience and they can apply that knowledge to their jobs or business in the future."
Last year, his company received a $250,000 investment from the University System of Maryland Momentum Fund. This was part of a total of $1.5 million in seed funding from investors. Most recently the company was recognized as one of Baltimore's top 20 standout tech companies in the Technical.ly Baltimore "RealLIST Startup" list.  The company was also chosen as one of the companies in the 2022 Zurich Innovation Championship.
We're proud to have the only Online MBA program in Maryland to be ranked by U.S. News & World Report for 11 consecutive years.
Want to learn more about The University of Baltimore's Merrick School of Business? Visit ubalt.edu/merrick.
by