Prof. Stickney's Academic Literacy Paper Wins Award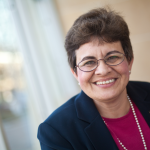 Professor of Management Lisa Stickney, along with her co-authors were recently recognized by the Management & Organizational Behavior Teaching Society (MOBTS) for having the "Best Pedagogical Contribution" of 2021 in the society's publication Management Teaching Review. This is an annual award given to a single article that emphasizes "teaching and learning in the classroom by way of innovation, creativity, and practicality. In addition the selection criteria looks for research that has "a broad appeal and maintains a high level of usefulness and impact."
The paper titled, "Improving Academic Literacy in the Management Classroom: Are Your Students Lost in Translation?," outlines ways for undergraduate and graduate students to develop greater academic literacy. The co-authors developed an exercise where students work first independently and then collaboratively to extract information from a journal article and translate findings into understandable, evidence-based practice that can be applied in organizations. They also provided resources for instructors who wish to use this method in face-to-face or online classes.
This year's award committee was comprised of 15 management educators at various stages in their careers, and it truly is an honor to be recognized by so many of our peers," said Stickney. "I am interested in and regularly look for methods and techniques to improve the way we teach management courses. This work will not only benefit me and my fellow academics, it will enhance they way students comprehend and apply the information contained in scholarly articles."
Stickney's co-authors include, Vicki Fairbanks Taylor (Shippensburg University), Bev DeMarr (Ferris State University), and Melissa Fender (Rutgers University-Camden).
Dr. Stickney has been an active member of MOBTS for 13 years. She has served on their board and been a conference Program Chair. She reviews regularly for their annual conference and has served as an Associate Editor for their journal, Management Teaching Review for the past seven years. The professional organization brings forth ways for people to share research and best practices in teaching and learning across the management disciplines.
by