Today our team descended on the Angelos Law Center to prepare for several installations next week. We installed 16 switches today in the law center. Fortunately we had a trendy Honda Element at our disposal to move them from our super secret location to the law center.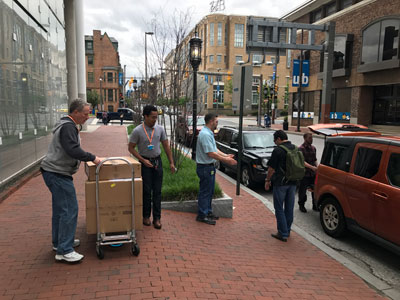 This type of work is called pre-staging. Obviously that term is not unique to networking. In our world, it means mounting the new switch while keeping the active switch live. Pre-staging cannot happen in every network closet because there's no room for another switch. The benefit of pre-staging is minimizing outage time to swap the switches. It's a matter of moving cables from one switch to the same spot in the new switch. Here's one of the law center closets after it was pre-staged. Under each switch with yellow cables coming out, you can see there's an empty switch ready for action on Monday.

If we cannot pre-stage, the outage is longer. We have to disconnect the active switch and dismount it from the rack before we can put the new switch in place. Pre-staging versus not is kind of like being able to make a breakfast casserole the night before to pop in the oven the next morning before your guests arrive versus making pancakes, sausage, and eggs for a party of 8 while everyone is waiting for their food.