Reflections on an extraordinary time
The pandemic has transformed our lives in myriad ways. Our personal and professional routines have changed. We've had to find creative ways to work together and remain connected to friends and loved ones. We are learning
to nurture ourselves differently. And all of these shifts may be causing us to explore new ideas and gain new insights.
From summer into early fall, we interviewed nine members of the UB community about how they are doing and what they are thinking about. Here we share their reflections on a fascinating, uncertain and inspiring time.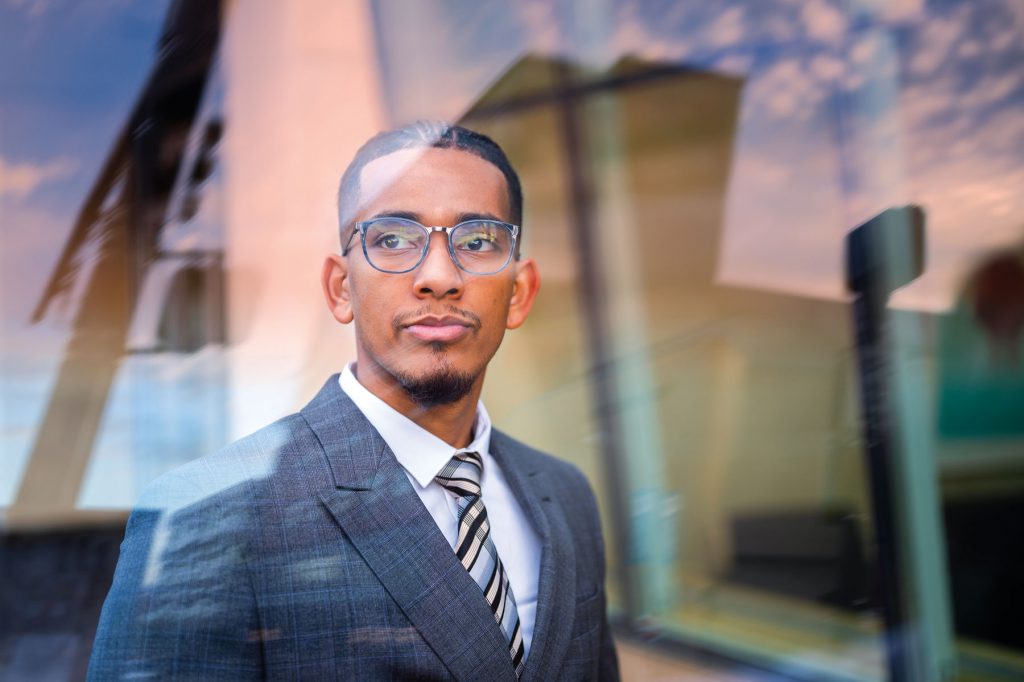 Matthew Michael, J.D. '20, was the
first director of the UB Student Government Association's Diversity Council.
Overall I'd say I'm doing well. I did test positive for COVID-19 and was sick for a few days, but recovered fast. I'm home with my family studying for the bar exam and fortunately no one else had a positive test.
I wanted to be an attorney very early on, like in third grade. My interests changed from criminal law to business law when I realized that the ways businesses are structured and how they operate can benefit people. In my communities not many who want to start businesses have the knowledge they need. I can use my law degree to fill that gap and be a resource for economic development. It's a way to give people power, help with social injustice and provide opportunities and jobs.
Developing the Diversity Council was a big achievement at UB, a great thing. The student-run Honor Board deals with academic violations, and I see the Council as an Honor Board for issues like harassment, mistreatment and discrimination. Students need somewhere to go and someone to talk to about these issues. Even when everything went online, we saw evidence immediately of people reaching out, that we could listen and be advocates.
I think people are sharing more. I work out at the gym late at night with a friend who's a dental student. Before the pandemic we used to talk but it's different now. It's empty in there and we use the time to share opinions about the market, the economy, social injustice, politics, gun rights, whatever. Talk, talk, talk—it's a no judge zone. Maybe others are having these conversations, thinking for themselves in ways that are great for our country and great for our growth as a society. 
I see some people adapting well to this time, and others stuck in the past and not able to cope. It's interesting to think about those who are being socially conscious versus those who are in disbelief and hanging on to old ways. To me, it's a time for creativity. The more we push the boundaries in all realms, the more we're able to accomplish.
I've been doing some photography as a side business, and rewatching movies by Christopher Nolan, my favorite director—The Dark Knight, The Prestige, Inception. I binge watched The Sopranos. And I just read The Five Laws of Stratospheric Success from The Go Giver, by Bob Burg and John D. Mann. It's interesting how it relates to business law and how it provides a roadmap to live your life by.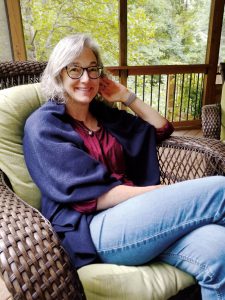 Elizabeth M. Nix is an associate professor and chair of UB's Division of Legal, Ethical and Historical Studies. Nix is the co-creator of the collaborative Baltimore '68 project and co-author of the anthology Baltimore 68: Riots and Rebirth in an American City. 
In March my husband was in California for a new job—he is a disability rights advocate—and our sons were there as well. I expected to join him after the spring semester. When it looked like we might be staying at home, he wanted me to consider getting in the car with the dog and driving West. And I said, oh, the university is only closed for two weeks and then I'll need to be back in class. Oh well. Coincidentally we had a friend staying with us, and he and his daughter became my quarantine companions until I left for California this summer.
Things have changed so much, so quickly. I've been working on the second edition of my book Introduction to Public History: Interpreting the Past, Engaging Audiences. In the first edition, there's a section about controversial monuments, with a commission considering what to do with them. Now all of those monuments in Baltimore have come down. And several colleagues and I designed a lecture called Decline by Design, on the history of structural racism in Baltimore City. We delivered it more than 75 times, and to many people "structural racism" was an unfamiliar term—it was hard for people to accept and understand the history behind it. But now people are much more aware. We're overturning so much of what we used to think about our society.
Also, seeing a new acceptance of ideas that have been out there for decades is fascinating. The College of Public Affairs recently commemorated the 50th anniversary of the Poor People's Campaign. One of the ideas of the campaign was that everyone would get a guaranteed income, and most people were skeptical. And then Andrew Yang proposed that during the presidential campaign, and it was recently instituted in the form of extra unemployment benefits.
I also worked on the Baltimore '68 project, a large collaborative public history archive that documents and examines a time of great unrest in the city. I think it's important to note that for many years in schools like UB, scholars and students have been doing the work to step back and see the context of these problems. So when people ask, how did we get here, what's the history, the research is there.
It's hopeful to me that people are thinking differently about myriad problems that have been revealed in this time, and also being protective of themselves and others, and generous. We've all probably had times when we thought, I can't do this. But we can. It's an opportunity to realize, here's a whole new thing we never thought would exist.
I recently read Sound of a Wild Snail Eating by Elizabeth Tova Bailey. You learn a lot about snails but it's really about paying attention to details and moments. Since we'll be moving to Sacramento I am reading about that city, books by Wallace Stegner and Joan Didion. And I re-read the Kristen Lavransdatter trilogy, set in 14th century Norway. Much of it is about decisions, which resonates with me now.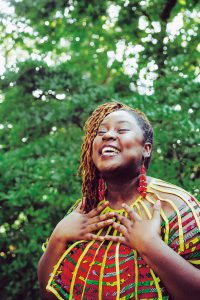 Lady Brion, M.F.A. '18, is an activist, an advocate and an internationally recognized spoken word poet. She is the cultural curator for Leaders of A Beautiful Struggle, a grassroots think tank that promotes the public policy interests of Black people, as well as executive director of the Pennsylvania Avenue Black Arts and Entertainment District revitalization project. Brion also works with DewMore Baltimore, a nonprofit that uses art as a tool to increase civic engagement in marginalized communities throughout Baltimore.
I'm an introvert, but I miss social interaction. I am super excited to be able to work in a coffee shop again. I don't know why it makes me so productive, but it does. I also miss in-person arts performances, the open mic scene. And I had planned a lot of traveling this year—I'm turning 30 and it was a present to myself. Next year, I hope.
I was always an expressive young person and injustice didn't sit well with me. I come from a family of preachers. My Dad was politically astute and militantly spirited. We were very close and had a lot of deep conversations, and he was my biggest fan. If I showed him a bad poem he would say it was the best in the universe.
Adversity is part of the experience of being a Black woman in America. I do feel enlivened during these times, because you can't sit silent and be asleep. My creativity is often connected to an event, something I learn, something I'm moved by, or that's happening in my space. So there's a certain activation that happens as a result of all that's going on.
The current conversations about Black Lives Matter have long been necessary and now are happening deeply and consistently. I think there are a few things contributing to a tipping point. Before, people would often discredit the rambunctious and radical, but it does effectively disrupt so that people stop and take notice. Right now everything feels disrupted from the pandemic, so maybe people are more ready to listen.
Second, technology has us sharing information in such a rapid, in depth way, it's piercing more households and reaching more ears. Also, it's a moment when it is harder to write off something and say it's not connected to you. COVID affects everyone, nobody is exempt, and that has shifted people's emotions and opened hearts and minds. Without that, this movement wouldn't have happened in the same way.
One thing that's okay is all of these opportunities for connecting virtually and community building. With everything digital it's easy to move beyond your small locale. I used to travel to different places—I've been to Ghana, London and other locations—for poetry competitions, and I miss that. But now there are lots of online platforms with mostly free links. You feel like you have access to celebrities in the poetry community and beyond.
And it is good to see the outpouring and redirecting of resources to support smaller Black organizations. We've lost some opportunities, but they are replaced by things we could not have anticipated.
I'm motivated by the resilience of people who are still getting up and working, like in the revitalization of the Black Arts District project (blackartsdistrict.org). If they are making things happen, I know I can do the same.
I came late to the series Pose, set in the 1970s, and the culture is fascinating and magnificent. I like fantasy and mystical themes so I'm also enjoying Umbrella Academy and Altered Carbon. I'm reading Octavia Butler's Wild Seed and Fledgling. And I've also been exploring the rabbit hole of ideas about natural skin care, and when I walk, playing Pokémon Go.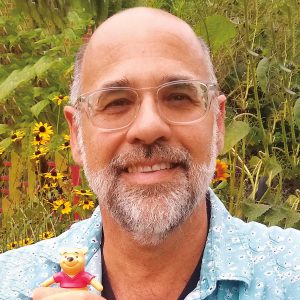 David J. Smith, J.D. '84, has more than 30 years' experience in fields that include career education, law, peacebuilding, humanitarian education, conflict resolution, community college teaching and civic and global education. He is the founder of the nonprofit Forage Center for Peacebuilding and Humanitarian Education and has appeared in a variety of media outlets such as NBC's Today Show.
We live in a multicultural community in Rockville—our neighbors are from El Salvador, Bangladesh, Cameroon—and in this time, I am valuing that more than ever. This spring I set up a front garden with a figurine of Winnie the Pooh. I move him every day, and young kids who walk by with their parents search for him.
I need to seek some space in my day. With everyone working or studying from home, including my daughter, my wife and my in-laws, it is sometimes a bit crowded. I sit outside under a tree and get lost in a book. I joined a book club with other men about my age, and we meet by Zoom every month. It's really been fun and I have made new friends.
In my work I often see that the best way to move forward is to find things that you both can relate to. The starting point can be very basic—noticing that what someone is cooking smells good, or talking about each others' kids. We are often afraid to have conversations about big issues or divisions. I often tell people to put themselves out there in smaller ways.
The key is, I have to be willing to risk my space and my comfort in order to build something greater. The ability to risk totally corresponds with the level of trust. If I can build just a little bit of trust with a small interaction, there is an opening, a starting point for conversation. And the trust gets bigger and the risk gets bigger and we're able to build a foundation for change.
I like the word "allyship" right now, particularly as a role we white men can take. More than ever before I am conscious of the advantages I have had, and of deferring to colleagues who have more experience and expertise about issues of inequality.
I think sometimes we expect the grand thing to happen, but it's the little incremental things we have to do. And I'm hopeful we can do it—but it's going to be a marathon. It's shifting to be the learner rather than the teacher, stepping back and saying, I don't know, but I'm ready to listen and learn.
I'm reading Deborah Rudacille's Roots of Steel, which is about the history of Sparrows Point and Bethlehem Steel. Though I was raised in Baltimore County by working class parents, I never knew that rich and complicated history. It's gotten me to reflect on what we can do to help disenfranchised working class people who then, and now, have been left behind.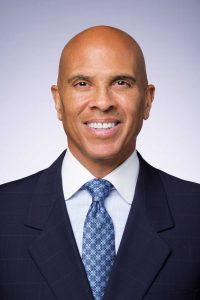 F. Michael Higginbotham has been a professor of law at UB for more than 30 years. He is the author of books that include Ghosts of Jim Crow: Ending Racism in Post Racial America, and is a frequent contributor to various media outlets such as CNN. 
I've always been a disciplined person—I get that from my parents—so during this time I keep to a routine. I get up at 6:30 a.m., stretch and go jogging. I do wear a mask and follow all the protocols, then I work most of the day. 
I recently finished the fifth edition of my textbook on race law. So much has occurred in the last four years in race relations, and COVID-19 has highlighted the cons of not doing anything about injustices. Clearly this is our time to do something, to be working on problems and seeing some solutions. Seeing people of all colors at the protests says to me that we are ready for change.
It's an interesting time to be a constitutional law professor—so many issues around the constitution and federalism have come up in the last few years. Going forward we need a commitment to legislation, and then I want to see the courts interpret these laws in ways that allow for adequate remedies to be provided. Many laws that provide vital protections, like the Voting Rights Act, have been undermined by recent decisions, and that is troubling.
My uncle A. Leon Higginbotham, who passed away in 1998, was a civil rights activist and judge on the United States Court of Appeals. He was awarded the Presidential Medal of Freedom. In 1991 he published an open letter to Justice Clarence Thomas in the University of Pennsylvania Law Review, expressing his disappointment that Justice Thomas would turn his back on a century of racial struggle. I worked closely with my uncle on race and equality issues. My father, who is 95, recently said to me, Isn't it time for a letter from heaven? So I'm working on a public letter in my uncle's voice to President Trump, addressing race relations and race equality.
I tell my students they are so fortunate. Having a license to practice law is a great opportunity because you're not only on the playing field, you can help to make the rules. I see that passion to make a difference in them, and that is inspiring to me.
I watch the History Channel, and comedy shows like In Living Color and Richard Pryor Live.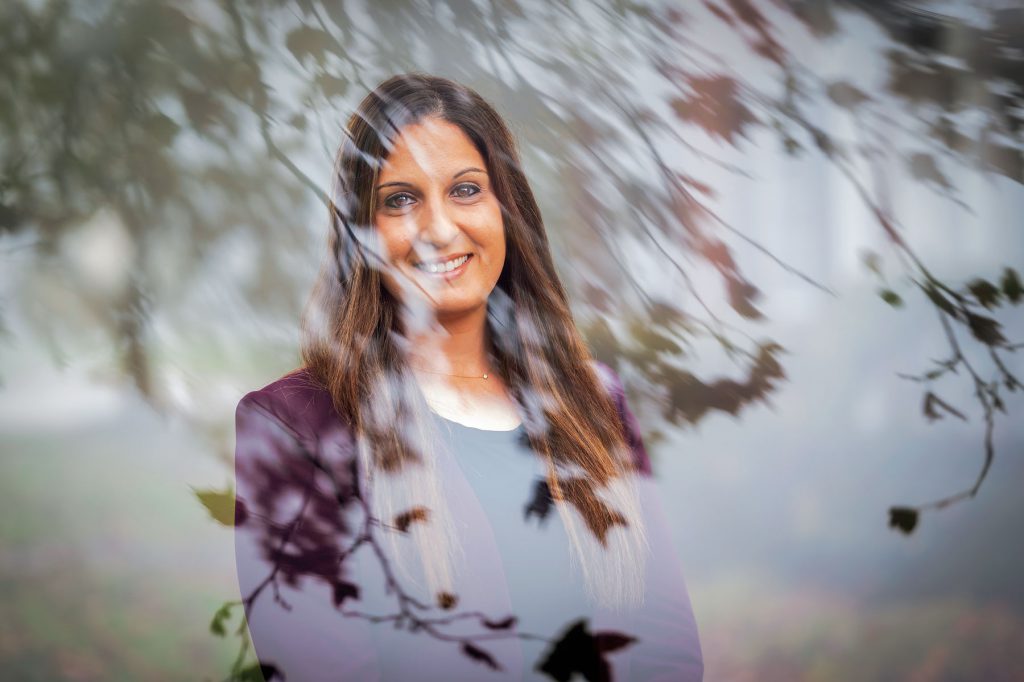 Dalya Attar, B.S.'11, represents Baltimore's 41st District in the Maryland House of Delegates. Attar, who is also an assistant state's attorney for Baltimore City, is the first Orthodox Jewish woman to serve in that legislative body.
I remind myself that I'm not the only one trying to be a wife, mother and teacher along with my jobs as a legislator and attorney. I remember when I was in college and law school I was working full-time and my children were younger, and I can't say I'm busier now. If I could do that, I can do this. But it is a demanding time. 
Justice Ruth Bader Ginsburg is a role model for me. She worked all her life to ensure women can have just as much in life as men. As she so eloquently put it, "Women belong in all places where decisions are being made. It shouldn't be that women are the exception." May her memory be a blessing.
With the legislature, constituent issues and the need for assistance are up a lot. I love how I can make a difference for people. When I was very young, I used to watch the news and be so upset at injustices I would see. I used to think, something has got to change. There are many opportunities to have influence now, where someone needs help and I am able to provide it. 
My district, the 41st, is very culturally diverse. I'm seeing that we're all in this together. The ways neighbors are helping neighbors is inspiring. There is a Jewish concept of social justice, Tikkun Olam, which means "repair the world." To me, it says that we have a responsibility to the rest of humanity—the reasons we are here are not just about us. Respect for others was ingrained in me at a young age and informs how I live my life, treating everyone with kindness and respect whether or not they look like me and have similar experiences to mine. 
Some days it seems like my computer is always up in front of me, and I'm asking my 6-year-old to give me five more minutes to talk to someone. My kids know they always come first, though, and now I notice them saying things like, Mommy, you have a really cool job. You're able to help a lot of people. Even so young, they know that figuring out how to fix things and make a difference is important. 
We observe the Sabbath from Friday night until Saturday night, with no work, no phones. I've done this all of my life and it's my respite, my way to recharge. It's strictly family time, when I can relax with a book. I'm mainly a fiction reader—James Patterson is my favorite author and recently I read and enjoyed The Inn and Cross.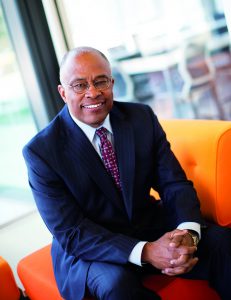 Kurt Schmoke is the president of the University of Baltimore.
One good thing is I'm spending more time with my family, talking to my wife Patricia, my daughter Katherine and my son Gregory about their concerns personally and professionally. I do miss the interaction with people on campus and recognize the value, more now than ever, of a campus experience. I know our staff and faculty are providing an excellent academic experience for our students, but I do not underestimate the intangibles that come from interacting with people on campus, in a campus setting. 
Like everyone in this time I experience lows and highs—George Floyd's death, and John Lewis' inspirational message to us on his passing. His Op-Ed is going to be one of the great pieces of literature. I believe it is one of the most memorable messages to the country that an elected official has ever inspired. One thing that is even clearer to me is how very important language is, because I see in national debates how language can be distorted to lead people in destructive ways. And language can also be used to inspire people to act. Lewis' message is a ray of light in darkness. 
I hope that the public health situation improves soon so that we can get back to some form of classes on campus, or even some sort of hybrid model. And I hope that debate will revolve around substantive issues with expert health advice determining how we can proceed safely, and that the discussion will not become overly politicized.
Our student government leaders have been very impressive, helping to communicate to our students the rationale for how we're moving forward. They are involved in a project I'm excited about: a Philadelphia Pride Flag mural, painted at one of the intersections on campus. I am looking forward to frequently walking by it in person, once we're back.
This time has allowed me to read eclectically. I've gone from Yale professor Frank Snowden's Epidemics and Society: From The Black Death to the Present to a Christopher Buckley satire Make Russia Great Again. Now I'm reading Wes Moore's Five Days: The Fiery Reckoning of an American City, about the uprising in Baltimore after the death of Freddie Gray.

I watched the movie Harriet and loved it. I would play the theme song, Stand Up, on repeat all day if my wife would let me! And we've both enjoyed the new version of Perry Mason on HBO. It's quite a different and interesting take on a childhood favorite.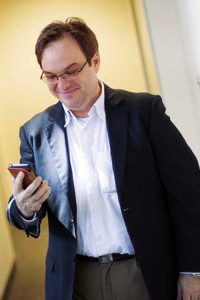 Eusebio Scornavacca is an expert in disruptive digital innovation and digital transformation. His professional background encompasses fields that range from systems engineering to management. Scornavacca is the Parsons Professor of Digital Innovation and holds the John P. & Margaret M. Thompson Chair in Management Information Systems at UB.
I travel extensively for conferences and collaborative research opportunities. In January I took 13 UB students to Ghana to work with local start-ups. In February, I did a weeklong visiting professorship in Brazil, and in March I went to Morocco and France to give a couple of invited talks. I landed in the United States on March 13, and since then I have been at home with my wife and children, who are 7 and 11. Today, though, I've already had meetings with colleagues in Brazil, Egypt and Italy.
This new cyberphysical reality is enabling us to
re-think how we do things. For example, we just created a new version of our Global Field Study. For years I have traveled with UB students to other countries to work with companies on real-world businesses challenges. This year the program will be virtual. Starting in January our students will join multinational teams and will work as consultants to companies in Africa, Europe and South America. Our focus will be on businesses with social impact, such as those who deal with issues of sustainability and equality.
Zoom works well for goal-oriented interactions. What I believe many of us are missing is some of the non-goal-oriented interactions. For example, when I travel I may give a talk or have a research meeting, and I could do that remotely. But then I go to dinner at my friends' houses, I meet their partners and kids, experience local foods, discuss their countries' history, culture and current affairs. I was in Estonia last November as an examiner for a Ph.D. thesis. I had the privilege to visit my colleague's home and learn about many aspects of daily life, including a tour of the local supermarket. I also went to a local incubator and learned about their unique business innovation ecosystem. All of this adds humongous value and helps us develop meaningful bonds and trust. I leverage this network of friends and associates to develop unique learning opportunities for our students, such as the virtual Global Field Study.
COVID-19 is pushing a very strong and rapid diffusion of technology. Technology leaps have primarily been associated with the goal of gains in performance. However, the widespread diffusion of pervasive digital technologies also produces unintended outcomes that may have significant implications for society. In order to maximize the contribution of digital innovation to economic, environmental and social change, it is not sufficient to focus on the invention. We also need a thorough understanding of the possible ramifications of adopting these technologies.
For instance, say we have an artificial intelligence (AI) system that uses machine learning to decide whether or not to give people consumer credit, or call them for a job interview. But if the system starts using criteria such as gender, race and religion to make recommendations, we have an algorithm that may obtain a desired result, performance gains in predicting success, by employing biases we as a society don't accept.
This is an important issue and it shouldn't be treated lightly. We must advocate for algorithms that are fair, accountable, transparent and interpretable. It is vital they arrive at decisions through processes that humans can understand and trust. So we must shift our focus to the actual impact of technology to society. We must decide what risks we are willing to take in order to benefit from the possibilities that this incredible digital ecosystem provides.
I recently reread Nicholas Negroponte's Being Digital. It was written in 1995, and it's about the digital revolution in multimedia, virtual reality, the Internet. It's a great book, and it's so interesting to see how people were talking about digitalization back then, to help us better understand today.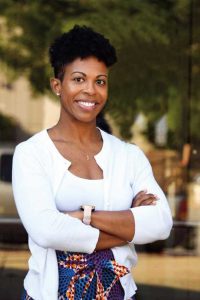 Letitia Dzirasa is a physician and the Baltimore City Commissioner of Health.  Dr. Dzirasa is pursuing a Master in Healthcare Administration degree at UB, though she has paused her studies due to the challenges of the pandemic.
Our team meets online twice a day to review COVID-19 updates, and we are in a rhythm. We instituted an Incident Command Structure to support the COVID-19 response and it has helped provide better understanding of each other's' work styles and how we all work together. It's a challenging time but we are finding ways to help support residents and each other.
There have been many changes to operations. We run senior centers and that was one of the first patient-facing services that we had to re-think, to protect those older adults. Many of the centers served as sites where they came together to eat, and we had to transition to all meal delivery. And because we know that isolation can also be devastating, we expanded our Maryland Access Point call center so older adults and their caregivers can call and be connected to people and other resources.
What has been hard is that for weeks, all of my dreams would be about work. This is a demanding job, you're never done. Although it always felt like that, and I enjoy it, now there's a sense of urgency, lives are on the line at a much larger magnitude. There have definitely been points where I have struggled with the uncertainty of it all. Having my family has certainly helped keep me grounded.
A couple of weeks ago my husband said, this is the new normal, so we have to figure out what balance looks like. So now we have blocked time for dinner, down time, doing puzzles. Then 8 p.m. is my 3-year-old son's bedtime. Afterwards we can go back to work if that's necessary, and oftentimes it is. Even if it's been a crazy day, which I've had a lot of, my son helps me see the world, the joy and contentment, from his eyes. On the weekends, I'm trying to soak it all in, take a step back and realize that he will only be this age once, and I want to be intentional and enjoy the time I have with him.
My son definitely gets that some things are different—he'll stop you if you don't have your mask on! He keeps me from taking myself too seriously. I want this to be a better world for him. I want him to be inspired and motivated to pursue his dreams, even if it's challenging, even if it's during a pandemic. So part of that is setting the example.
For everyone out there, this is a tough time. Things do not feel normal, it feels like we are not being supported by leadership in this country. I would encourage people to find that thing that keeps them hopeful. For me it's my family, it's seeing the work that we're doing, it's seeing our department come together, it's seeing the lives that we've saved. There are really positive things we've been able to do throughout this pandemic, and will continue to do.
We just watched Mindy Kaling's Never Have I Ever. It's a young woman's coming of age story, funny but also deep. And I'm a big Hunger Games fan, so I am reading Suzanne Collins' prequel, The Ballad of Songbirdsand Snakes. I ordered an air fryer to experiment with different ways of cooking. I also learned to cut my own hair during quarantine!