"Writing is really a way of thinking—
not just feeling but thinking about things that are disparate, unresolved, mysterious, problematic or just sweet," said author and Nobel laureate Toni Morrison. In our UB community, we are fortunate to have many, many wonderful professors, students and alumni who are exploring the complexities of life through words. 
UB Writers' Reflections
on Working in Words
and the Creative Process
In this feature we bring together five thoughtful and talented writers to discuss their work and the creative process. Their publications span different genres but they share a belief in the power that the pen—or laptop—can wield. We hope you enjoy their stories. 
1| MARION WINIK
……………………………………………………………………
Reading the works of professor Marion Winik is like being with a friend you don't see often—but when you do, it seems no time has passed. For almost three decades Winik has shared essays and memoirs about motherhood, marriage, loss, divorce, dating in her fifties and other aspects of a life well-lived. They are intimate, often funny, sometimes heartbreaking and always relatable. 
Winik's memoir First Comes Love, about her years with husband Tony who died of AIDS at the age of 37, was a New York Times Notable Book of the Year. She is the author of nine other books, contributor to a variety of publications, a book reviewer and the host of a public radio book club. "Pretty much all I do is read and write," she says. "And teach."
Finding the form that suited her was what launched her career, says Winik. "I did not know you could write true stories about your life in first person," she recalls. "This was the 1980s, 10 years before creative nonfiction began to be taught in writing programs. But out of the blue I wrote a humorous true story about being pregnant with my first child, and it just felt natural."
In her creative process, Winik deems herself a minimalist. "I can write pretty much anywhere—usually it's on the sofa with my pets," she says. "Sometimes I feel a little jealous of people who have magical objects and rituals they rely on, but I'm just the opposite of that."
For her students who become stuck, Winik offers this advice: "A good approach to writer's block is not to believe in it. Instead, think of writing as just typing," she says. "Once you've reached a goal of, say, 400 words, you have something to work with." Winik shows her essays in progress to trusted readers, and always shares with those she's writing about: "Nobody should first read something about themselves in print. If they remember it differently, you learn more and it usually makes the piece better."
Winik's latest publication is The Big Book of the Dead, a compilation of two previous collections about people who have touched her life in different ways and at various stages, along with new work. Those memorialized include her mother, the stillborn baby of a second cousin and the musical artist Prince, among 122 others. "In 400 words you get to know a person, how they were a part of my life and how they died," she says.
"People appreciate talking about those they have lost—there's a lot of sorrow, but also celebration," she continues. When recording the audio version of The Big Book, she realized she'd created a memoir "with me on the sidelines. It was very exciting to hear myself reading aloud and live my whole life again in six hours."
Among Winik's current projects is the working-titled Cats and Dogs of Evergreen, stories about people and their pets (she says it's mostly about her relationship with her beloved dachshund, Beau) accompanied by her own sketches. "I would never call myself an artist, so this feels new and exciting," says Winik. She's taking a class at the Baltimore Academy of Illustration this fall.
Winik urges her students to take leaps, too. "I've had projects not work out—I have a novel and a young adult book that never sold—but you have to trust that something good is coming out of it in the long run.
"Reading and writing create an intimacy that is profound—often deeper and more honest than relationships in the real world. Personal essays and memoirs can make you feel less shame and less alone," she continues. "If you have a topic that makes you think, 'oh I could never write about that,' it usually means you should definitely write about that."
2| CHRISTINE LINCOLN
……………………………………………………………………
Fiction writer and poet Christine Lincoln, M.F.A. '11, explores the nuances of a human life through her writing. "We are so quick to judge the value of a person, what they can and cannot do," she says. "Through my characters, I experience the complex nature of truth, and the power of forgiveness and love."
Writing is how she makes sense of her own life, says Lincoln, though it took her some time to embrace that path. She'd never forgotten a favorite elementary school teacher who told her, "Chris, you're a writer." But through her teens and twenties she struggled with challenges that included an abusive marriage and addiction. She enrolled in Washington College with no idea of how she would pay her tuition—and graduated at age 34 with a GPA of 4.0 and a novel written in stories, her acclaimed Sap Rising.
In Sap Rising, African American characters in a rural southern town are revisited in various phases of life and from the points of view of different narrators, giving them the complexity Lincoln values. "When we see that someone can do monstrous things and not be a monster, we may be kinder not only to that person, but to ourselves. We realize that we are not alone," she says.
Lincoln remembers a particular reader who touched her deeply: "At a reading for Sap Rising, a white gentleman in his late fifties came up to me and said, 'you wrote my story.' I will never forget that—it's what story allows you to see, that our experience is universal."
Making regular space for writing is vital to her process, says Lincoln. "I sit and wait, and begin by hearing my characters' voices. For the story I'm working on now, I heard the words, 'He sold rain for a living.' I had no idea what that meant, but it is changing everything about the way I'm seeing grief and suffering. When you listen and allow your characters to surprise you, you know you're telling their truths."
Lincoln is Poet Laureate emeritus of York, Pennsylvania. "I had never written poetry until my Master's program at UB," she says. "When I tried, it opened up something inside of me." Still, when she applied for the laureate position, she didn't expect to get it. "I told them I was a fiction writer, and they chose me anyway! It's been a wonderful way to give a voice to every person I come across who doesn't have one.
"I tend to do things that are scary and difficult—that's how I find out I am capable of more," she continues. Lincoln is helping others embrace new narratives as well; she is moving to Ghana to work with women and girls who have survived trauma and rape. "One of my life missions is to use writing to help others heal and see themselves in a new way," she says. "Once they have let go of their old story, their lives become more than they ever could have imagined."
3| JOHN BESSLER
……………………………………………………………………
Pages of unbroken text in a tiny font cover the chapter title pages and end sheets of law professor John Bessler's Writing for Life: The Craft of Writing for Everyday Living. If you look more closely, you realize that each block of tightly packed copy is actually more than fifty quotations about writing, artfully juxtaposed.
 That adds up to well over a thousand different quotes in a book that combines writing tips, skills and techniques with Bessler's personal story of becoming an observer and communicator. Part guide and part memoir, it was written while Bessler was completing his M.F.A. after obtaining his law degree.
"I had thought a lot about the writing process and what it meant to me, and I wanted to write the book I wished that I had had in college," he explains. His perspective has developed in part from the demands of legal writing versus writing essays, fiction and poetry—although, Bessler maintains, there are more commonalities than people might suppose.
"Even in legal writing, it's specific detail that brings the narrative alive," Bessler says. "Writing is a series of judgment calls, and with practice you become more adept at them. Sometimes I see my students get discouraged and think to themselves 'I'm just a bad writer.' But then they realize: good writing just requires multiple rounds of revision."
"That's why I love teaching first-year law students," Bessler continues. "Seeing people's work improve over time and having them gain confidence is very rewarding."
In addition to Writing for Life, Bessler has written or edited nine other books, six about capital punishment. He urges his students to be open to what they discover during their legal research; his ninth book, The Celebrated Marquis: An Italian Noble and the Making of the Modern World, is a biography of eighteenth-century Italian philosopher and economist Cesare Beccaria. Bessler learned about Beccaria while studying the history of the U.S. Constitution's Cruel and Unusual Punishments Clause. "Beccaria had a fascinating life, and his writing had a profound impact on the way America's founders wrote the laws that influence our society today," Bessler explains.
In Writing For Life Bessler mentions that, as a child, his daughter Abigail preferred a peaceful "writing bubble." While he too enjoys a quiet setting to write, he says, "I'm flying a lot these days," while accompanying his wife, Senator Amy Klobuchar, on the presidential campaign trail. "My laptop is always with me and I'm often writing when I find an hour in an airport or hotel," says Bessler, who proposed to Klobuchar in a bookstore. "You don't have to have a perfect environment, and once you start, you will get yourself in the mood to write."
For Bessler, writing hones his thinking, and it's impactful as well. "Whenever you write," he says, "you are partaking in a creative and dynamic activity that has changed, and can still change, the world for the better."
4| JANE DELURY
……………………………………………………………………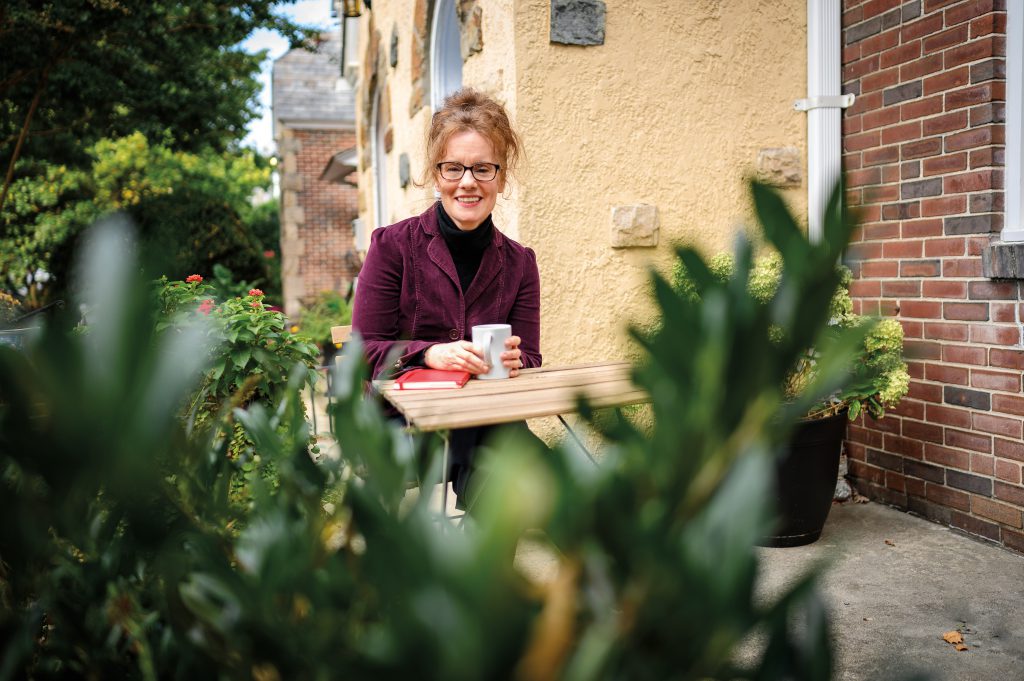 Stories, professor Jane Delury says, start with questions. "To understand who we are, what are we doing, where are we going—those are central mysteries," she says. "As I write I start to discover my characters' answers."
 In her debut novel-in-stories The Balcony, Delury addresses questions of identity and history, among many others. The Balcony centers around an estate in the French countryside and the people who have lived there for more than a century. Its interconnected chapters are stand-alone tales and also combine to create a larger and more complex narrative. "When I realized I'd written a number of stories set in a forest in France, I could see the structure across them, and across time," she says.
The Balcony won the 2019 Sue Kaufman Prize for First Fiction from the American Academy of Arts and Letters. (Delury's husband, acclaimed fiction writer Don Lee, is a previous Kaufman prize winner. "Forever joined on Wikipedia," she jokes.) In addition, Delury's fiction has appeared in venues that include Glimmer Train, The Southern Review and Prairie Schooner.
Delury started writing short stories while completing a Master's degree in France in the 1990s. "I missed the English language," she says. She began publishing in literary journals in the U.S. and eventually returned to Maryland to begin her Master's program at the Johns Hopkins Writing Seminars, working with mentors such as Stephen Dixon and Alice McDermott.
"I learned to revise my work, one of the most important skills to attain," she recalls. "Now when I draft something new, it tends to go quickly. I see the whole thing through in a big spurt, but it's once I get into revision that I see if it has some potential."
Delury has a few writing rituals: she says she works best in the morning and often sets a writing goal for the day, a word count or task to complete. "I have a chair that was my father's, and I usually work on drafts there, or in my garden," she says. "I revise at my desk. When I'm not seeing any snags as I work though the piece, I print it and read on paper. That gives me a degree of distance that helps me identify areas of change."
In the classroom, she encourages students to help each other view their work in fresh ways. "The workshop is there to ask questions; it's up to the writer to find solutions," Delury explains. "In my classes we stay away from prescriptive advice, which can lead the writer to 'fix' the story according to comments, instead of seeing it anew."
Delury says her students inspire her to stay on a voyage of discovery. "What I love about fiction is how generous it can be to humanity," she says. "We can't see through everyone's perspective, but if I spend an afternoon looking out of one of my character's eyes, trying to understand her, I develop empathy. And if you write consistently and seriously about what matters to you, you are part of that beauty."
4| D. WATKINS
……………………………………………………………………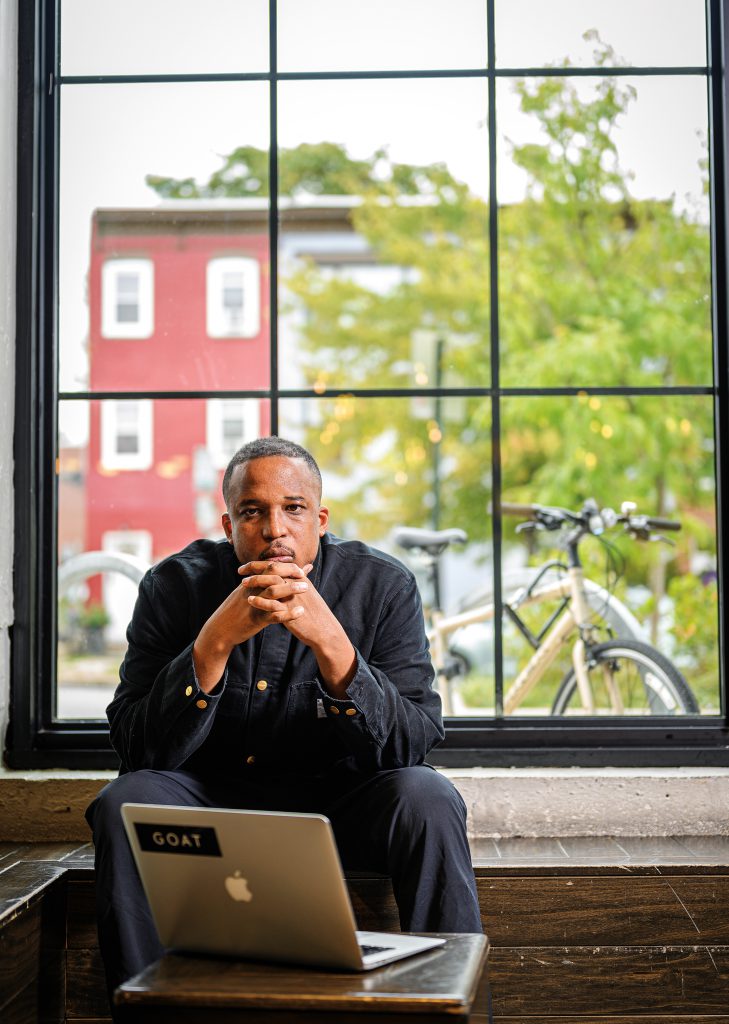 "I have always been a curious person," says professor D. Watkins, B.A. '09, M.F.A. '14. "Whether a person is a renowned expert or someone I meet on the street, my perspective is that I'm supposed to listen."
One of Watkins' greatest gifts is that he gets others to listen, too. From his 2014 viral essay, "Too Poor For Pop Culture" through New York Times bestsellers, he's changing how we view those most affected by systemic inequality by sharing their stories. "I've had the luxury of understanding multiple realities," he says of growing up in East Baltimore and becoming editor-at-large at Salon, a frequent contributor to national and international publications, and a regular commentator and guest in the media.
Watkins wrote his first book of essays, The Beast Side: Living (and Dying) While Black in America, "in my car, in coffee shops, in the UB Academic Center at night," he recalls. "I knew I had things to say that nobody else was saying." It was while working on his second book, The Cook Up: A Crack Rock Memoir that Watkins felt confident he'd found his voice. "Memoirs are so important because they can debunk our assumptions," he says. "They show us there's not just one black voice, or one women's voice, or one Asian or Hispanic voice. From reading memoirs I've found I might have more in common with Joan Didion than with some guys who write in my genre."
In his most recent collection, We Speak for Ourselves: A Word from Forgotten Black America, Watkins acknowledges feeling at home everywhere—and also nowhere. "For me, it's either dry chicken and connecting with elites who have the power to further my career or amazing chicken and being back on my block," he writes. He sometimes uses humor to "take the edge off," he says. "Humor kept me out of trouble with grown-ups and teachers when I was young, and now it helps me express ideas."
In Watkins' writing process today, "I have systems that work for me," he says. "In an essay, often I give the reader a historical context, then personalize and analyze the issue, then move forward to a call to action. But I'm always still developing and trying new things."
To help his writing students become more comfortable on the page, Watkins encourages them to explore their own experiences. "We do free writes about love, what's in the news, issues in society. So their confidence is up before I ever grade them," he explains. "They get used to expressing themselves."
Watkins has spoken at more than 300 schools and jails, and he's proud that he's provided 1,000 copies of We Speak for Ourselves to public schools in Baltimore. "I started doing book giveaways because multiple teachers told me that students were stealing The Beast Side and The Cook Up," he says. "I think if we can build their home libraries, that's great. As my friend Kerry Graham, who's an English teacher at Patterson High School, says, 'If you're going to steal something, steal books.'"
Watkins says one of his goals is to build a tradition of mentor-artists in Baltimore. "People like Marion Winik, one of my first writing teachers, encouraged me and helped me with connections," he explains. "I'd like to build a culture to do for others what people did for me."
Watkins' current projects include a young adult book. "I like getting my ideas out there," he says. "Writing doesn't feel like a job. I learn a tiny bit about everything, and am always searching for more."
Paula Novash is managing editor of the magazine.
Photography by Christopher Myers.
Read additional selections by our featured writers.