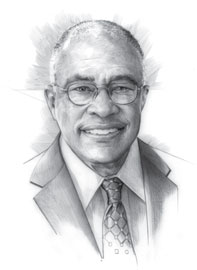 This has been a year like no other. When our semester began in January, who would have imagined the shifts we're experiencing in our country's health and economic situations, in the ways our society is functioning and in the advancement of vital issues around social justice. The events we've seen have been challenging, and also fascinating and inspiring.
Since our community went virtual in March, we have been sustaining our ties online. We also remain connected through the shared values our students, faculty and alumni embody as they work for a brighter future and reach out to help those who are most affected by the pandemic.

In this issue we showcase many good things that are happening at UB and highlight aspects of this extraordinary time. In one article, we discuss how our faculty and students are transitioning to all online classes. I am happy to be a part of In This Moment, which features nine members of our community sharing how they are doing and what they are thinking about during this interesting year. We also cover how our alumni contribute to organizations providing food to those who need it.
I am especially glad to shine a spotlight on the excellent work of our Student Government Association. Their newly-created Philadelphia Pride Flag street mural, shown on page 37, is only the first step in a project to be called Inclusion Alley. It's a campus space that celebrates equality and solidarity. Raising awareness and taking an activist stance on some of the most important issues of our time is a large part of what we are about, and efforts like the SGA's show us the way forward in uncertain times.
The changes that surround us are ongoing. But what will never change is the resilience of our university community and the creativity we bring to the issues we are facing. We will continue
to support and be there for each other. And with each small step, we contribute to a larger vision that reflects who we are and what we want our world to be.
Sincerely,

Kurt L. Schmoke