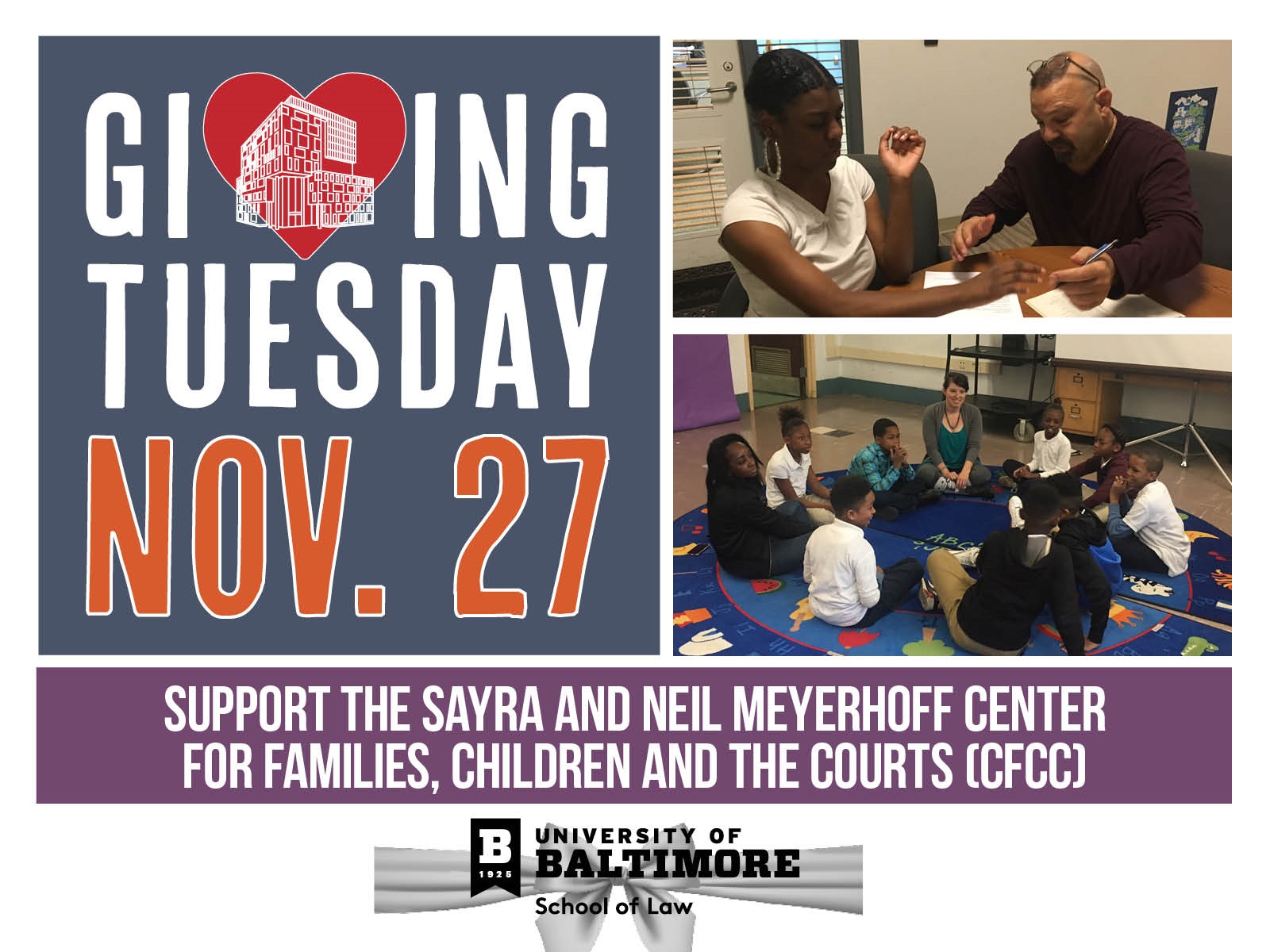 On Tuesday, Nov. 27, the School of Law will once again participate in Giving Tuesday, the national one-day giving campaign following Black Friday and Cyber Monday. Every gift, big or small, makes a huge impact on the lives of our students and our community.
This event is an opportunity to support the Sayra and Neil Meyerhoff Center for Families, Children and the Courts (CFCC).
CFCC develops and implements local, state, national and international programs, policies, and family justice system reform that aim to improve the lives of families, children, and communities.
Your gift to CFCC will improve the lives of families and children in our community and beyond by supporting our work in the following areas: modeling a new approach to truancy, advocating for unified family courts and tackling issues facing children in Baltimore:
Modeling a New Approach to Truancy
 CFCC's Truancy Court Program (TCP) is an innovative, early intervention and holistic approach to identify and address the root causes of truant behavior and to link families with needed social services or other community-based programs.
Advocating for Unified Family Courts
 CFCC works to create, implement, improve, and evaluate the Unified Family Court model to address legal and non-legal issues in family law cases. CFCC aims to solve real-world problems with lasting solutions through the application of appropriate legal theory and doctrine.
Tackling Issues Facing Children in Baltimore
 Annually CFCC brings together expert panels to discuss problems and solutions covering a specific topic related to the urban child—from addiction and school violence to homelessness.
To support CFCC on Giving Tuesday with an online donation:
Click here to Give Online
Select "Other" in the Fund Designation
Type "CFCC" in the comments field
If you'd like to support CFCC on Giving Tuesday with a cash or check donation, please visit Michelle Junot in the Dean's Suite on the 7th Floor of the Angelos Law Center from 9 a.m. to 6 p.m. on Tuesday, Nov. 27.