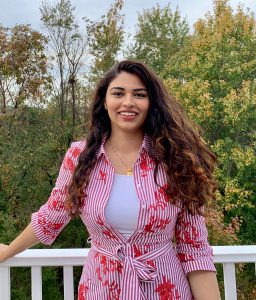 By Neha Khan, CFCC Student Fellow, Fall 2020
The last week of September was the orientation for the majority of the Baltimore City schools participating in the Truancy Court Program (TCP) operated by the Sayra and Neil Meyerhoff Center for Families, Children and the Courts (CFCC) at the University of Baltimore School of Law. As a CFCC Student Fellow, participation in the TCP is my experiential component of the CFCC Student Fellows Program, an upper level law school course.
All schools participating in the TCP are currently operating virtually. I previously volunteered as a tutor for the TCP students during the last academic year, when the program was taking place in person. This year's orientations felt completely different, as all of the students and parents were present via Zoom. In the COVID era, many individuals have already participated in a Zoom meeting or at least are familiar with the online meeting platform. Faculty teaching all of my current classes at the University of Baltimore School of Law strongly suggest that students turn on their web cameras. That way the professors can verify that students are present and have not simply logged on to give the illusion they are present, when, in fact, they may not be.
Virtual Learning Policies for Baltimore City Public Schools
The virtual learning policies enforced in my law school classes are very different from those enforced in Baltimore City Public Schools (BCPS). After the TCP orientation, I was able to speak to the school social worker, who informed me that the school does not require students to enable their webcams, as it can be a great source of inequity. In my opinion, this showcases the amount of thought taken by BCPS when developing policies for the new virtual learning environment. Additional equity concerns by BCPS regarding virtual learning environments are found on page 7 of the district's "Closing the Distance: Preparing for Reopening of City Schools Draft Plan." [1] City schools have planned to analyze policies and programs for possible inequity and to identify measures that may be taken to mitigate the inequity. It is particularly beneficial that the City school system has incorporated stakeholder engagement when prioritizing equity. In unprecedented times, such as virtual learning due to a global pandemic, it is important to adapt policies that incorporate feedback.
Virtual Learning Effects on Educational Equity
Pre-COVID, I think most individuals saw online learning as an opportunity for individuals who could not pursue traditional classroom education. What happens, however, when online or virtual learning is the only opportunity for education? BCPS provided thousands of students with Chromebooks and hotspots in the hope of decreasing the educational disparity that virtual learning has created for many students. Some people assume it is easier to attend online classes because students no longer need to worry about commuting to their school locations; however, this view is obfuscated by privilege. Many people who hold these views have not considered the effects of virtual learning on students who lack appropriate resources. Virtual learning, at a minimum, requires an adequate computer, reliable internet connection, and a suitable environment for learning. Even as a law student with all of the opportunities and privileges I enjoy, I sometimes struggle to meet the minimum requirements for virtual learning. There is always a possibility for technological difficulties with computers and the internet, and often these problems can be quite unpredictable, such as a poor Wi-Fi connection due to weather conditions. Other times, it can be difficult for students to find an optimal environment to learn where they are free from disturbances, and students often have to settle for the best environment they can find or create.
It is critical to remember that we are living in unprecedented times. I am sure that point has become redundant in everyone's lives, but it has not ceased to be true. With respect to virtual learning, it is especially crucial that we remain cognizant of the ecology of human development and consider each child holistically within their individual situation. We must remain flexible in formulating policies, as every student faces different circumstances in their educational pursuits. The ecology of human development offers great assistance to educators/administrators by guiding them through a deeper insight into students' lives and how their circumstances may affect the way in which they learn. It is only when we are able to identify the circumstances that impede each individual student's ability to connect virtually that we are able to take steps toward improving that student's circumstances and their virtual learning experience.
[1] https://www.baltimorecityschools.org/sites/default/files/2020-07/Draft-ReopeningPlan-7.28.2020-compressed.pdf