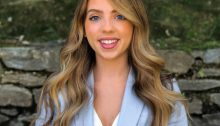 By Caitlin Phillips, CFCC Student Fellow, Fall 2020
This semester I have had the opportunity to participate as a law clerk for the Sayra and Neil Meyerhoff Center for Families, Children and the Courts (CFCC) Truancy Court Program. Over the past few weeks working with Baltimore City schools, I have heard parents voice concerns that they are being asked to choose between their child's education and feeding their families. This is an issue particularly for parents of young children. Young children need structure and more attention throughout the day, which is hard to provide when a parent has to leave for work at 7:00 am before online school even begins. How are parents supposed to provide for their families while also having to be at home and act as a teacher and childcare provider?
Covid-19 has exacerbated the problems families already face with childcare and paid leave. The problems working parents experience are not new; the Covid-19 pandemic has just highlighted them. The pandemic has shown the critical need for family policies and how much these policies are lacking. Family policies that support the needs of modern families would help alleviate the burden of competing responsibilities.
Parents have been faced with a multitude of competing tasks. Parents are acting as parent, teacher, and childcare provider, all while working full- and part-time jobs outside the home or from home. New studies from the National Women's Law Center show that between August and September 2020, almost 1.1. million workers left the labor force, and, of these, 865,000 were women. [1] This number is four times higher than the 216,000 men who left the workforce. [2] One reason women are leaving the workforce at higher rates than men is to care for their families. McKinsey & Company report women are 1.3 times more likely to consider leaving the workforce compared to men. [3] Black women and Latinas are experiencing the highest rates of unemployment, which demonstrates how Covid-19 is intensifying racial and gender inequities. [4]. For those women still in the workforce, they often work a "double shift." Working mothers go to work and then come home to do more work in the form of housework and childcare. [5]. The stress of this double shift is another reason why women are leaving the workforce at higher rates than men.
Women should not have to choose between their careers and caring for their families. American policies for families should account for the modern era where both parents work. Family leave and childcare are not extravagant concepts – they are basic needs. The United States is the only modern, western, industrialized, country Organisation for Economic Co-operation and Development (OECD) without a national paid maternity, paternity, or parental leave. [6]. While the Family and Medical Leave Act (FMLA) enables some employees to take up to 12 weeks of unpaid maternity leave, only 60% of workers are eligible. [7] American families deserve more than the FMLA.
References
[1] National Women's Law Center, October 2, 2020, Four Times More Women Than Men Dropped Out of the Labor Force in September, https://nwlc.org/resources/four-times-more-women-than-men-dropped-out-of-the-labor-force-in-september/
[2] Id.
[3] McKinskey and Company, October 29, 2020, How are working women doing during COVID-19? Our Women in the Workplace study explores. https://www.mckinsey.com/about-us/new-at-mckinsey-blog/how-are-working-women-doing-during-covid-19-our-women-in-the-workplace-study-explores
[4] Courtney Connly, CNBC, October 2, 2020, More than 860,000 women dropped out of the labor force in September, according to new report, https://www.cnbc.com/2020/10/02/865000-women-dropped-out-of-the-labor-force-in-september-2020.html
[5] Id.
[6] OECD Family Database, http://www.oecd.org/els/family/database.htm#structure
[7] Brigid Schulte, Washington Post, June 23, 2014, The U.S. ranks last in every measure when it comes to family policy, in 10 charts, https://www.washingtonpost.com/blogs/she-the-people/wp/2014/06/23/global-view-how-u-s-policies-to-help-working-families-rank-in-the-world/