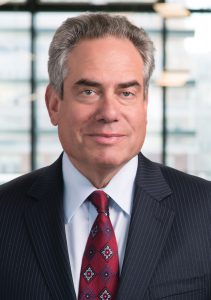 The technology revolution is changing everything, including Baltimore Law. This magazine is now being published in an entirely online format, enabling the law school to produce two issues every year instead of one. This means we can share more news, more promptly. Also, readers can engage more deeply by linking to additional online content. We hope you enjoy our new and improved Baltimore Law magazine. 
But don't worry – this online magazine is being published by the same great in-person law school you once attended. After more than a year of COVID-compelled remote classes, we are again teaching the next generation of University of Baltimore students in the flesh in our state-of-the-art building on North Charles Street. The classrooms are full, the hallways are buzzing and both Bar Bowl and Barrister's Ball are back on tap (literally). Professors are incorporating sophisticated online technology to enhance, not replace, their in-person classes.   
COVID has taught us much about the promise — and the limits — of technology. As I wrote in a recent Maryland Bar Journal article, "The goal should be to accept the gift of technology without excessive reliance on it, to incorporate the lessons of the pandemic into post-pandemic law practice without losing the inherent advantages of in-person interaction." I believe that to be true for the practice of law, and for legal education itself.   
One thing that technology will not change is the deep involvement of UB Law alumni in the civic life of our community. For example, in this issue of Baltimore Law you'll read about how Sen. Jill P. Carter, J.D. '92, is leading efforts to promote racial equity in a newly legalized marijuana market. And you'll enjoy a profile of Anne Arundel County State's Attorney Anne Colt Leitess, J.D. '88, who successfully prosecuted the man who murdered five employees of the Capital Gazette newspaper in Annapolis. 
Technology helps us make sure that the education we provide to students is just as contemporary and exciting as the building in which that education takes place. And, as I said in the Maryland Bar Journal, UB Law students "are more than ready to put technology to use in service of tomorrow's clients and to advance justice in a world that hungers for it."  
Share this story with your network: