For Pooja Shivangi Amin, J.D. '07, joining the UB Law Alumni Association board means that even though she lives some 1,400 miles way — in Houston, Tex. — she can still give back to the institution that gave her a strong start in her legal career. 
"I'm not the only alumna who lives outside of the state. I hope I can build on my own experience to find ways for us to connect with other alumni, so we can all further the mission of the law school," she says. 
Amin recently accepted an opportunity of a lifetime that combines her passion to help those in need and make an impact in her community. Amin serves as the general counsel at one of the largest grant makers in Houston, the Greater Houston Community Foundation. Greater Houston Community Foundation partners with individuals, businesses and foundations to receive charitable donations; manage philanthropic assets; provide donors with programming, advising and educational opportunities; and make grants through a variety of diverse platforms, including donor advised funds.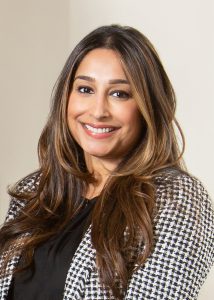 The Foundation has distributed over $2 billion in grants at the direction of its donors since its inception in 1995. In addition to grantmaking, the Foundation provides leadership in addressing vital community needs, such as critical disaster relief and recovery efforts, among others. 
Amin has always found a way to dedicate her time to aid those in need. Prior to joining Greater Houston Community Foundation, Amin not only served as associate general counsel of litigation at CenterPoint Energy, she also spearheaded the company's pro bono program – in collaboration with the Juvenile and Children's Advocacy Project of Texas, and Houston Volunteer Lawyers — to help seal felony and misdemeanor records of juvenile offenders. 
"Having their records sealed means these individuals can secure public housing, they can enlist in the military, get a job, or go to college. The opportunities are endless once they have their juvenile record sealed —which should have been done earlier on, when they were younger," she says. "Often, these young individuals either weren't aware of the sealing opportunity, or someone just missed a step. We wanted to make sure a mistake made when they were younger doesn't haunt them for the rest of their lives."  
Before she left the company, Amin also chaired CenterPoint Energy's Diversity, Equity & Inclusion Council. "My passion to help others didn't just happen overnight. I've been trying to raise awareness about diversity, equity and inclusion throughout my life," she says. While in law school, Amin served as president of the International Law Society and editor of the international law journal, as well as helped organize the school's Africa Symposium, which celebrated the diversity of students from the continent and created a forum to discuss critical issues related to health, human rights and commerce. 
"I've been very fortunate to find ways to make an impact, and my new role as the general counsel at Greater Houston Community Foundation marks another evolution of all these passions and interests," Amin says. She always keeps her favorite quote in mind from the late Justice Ruth Bader Ginsburg as her motto: "Fight for the things that you care about, but do it in a way that will lead others to join you." 
As she sets out to fulfill her role on the law school alumni board, Amin will continue to pursue those passions, while also looking to bolster the career readiness of up-and-coming lawyers. 
"I want to make sure we are doing everything we can to put these new law graduates in the best possible position to advance their careers," she says. "I'm excited to serve on the board's career-development committee because I believe it's important that students, before they graduate, have access to the professional tools they need to land a job." 
Adam Stone is a writer based in Annapolis.

SHARE THIS STORY WITH YOUR NETWORK: