BARBARA BABB
PRESENTATIONS
"Five Years of Family Justice Courts," at the International Advisory Council Meeting, Singapore, Oct. 1, 2019
"Creating a Caring Unified Family Court," at the Family Justice Practice Forum, Singapore, Oct. 2, 2019
JOHN BESSLER
PRESENTATION
"The Baron and the Marquis: Liberty, Tyranny, and the Enlightenment Maxim that Can Remake American Criminal Justice," Harvard Law School, Oct. 4, 2019
GILDA DANIELS
PRESENTATIONS 
Webinar discussion of her recent book, Uncounted: The Crisis of Voter Suppression in America, and the documentary film "Rigged," May 29, 2020
Webinar featured guest, "Voter Suppression and the 2020 Elections: A Threat to Our Democracy?" May 20, 2020. Sponsored by Los Angeles-based Jews United for Democracy and Community Advocates Inc.
MICHELE E. GILMAN
ARTICLES
"AI algorithms intended to root out welfare fraud often end up punishing the poor instead," The Conversation, Feb. 14, 2020
"Let's enact a privacy law that advances economic justice," The Hill, Dec. 9, 2019 
"The Future of Clinical Legal Scholarship," 26 Clinical L. Rev. 189 (2019)
NIENKE GROSSMAN
ARTICLE
"Populism, International Courts, and Women's Human Rights," 35 Md. J. Int'l L. (2020) 
PRESENTATION
"National Nominations Procedures for Selection of International Criminal Court Judges," United Nations Side Event, New York, NY, February 5, 2020
DANIEL HATCHER
ARTICLE
"Stop Foster Care Agencies from Taking Children's Resources," 71 Florida Law Rev. Forum 104 (2019)
MEDIA APPEARANCE
Interviewed in episode 4, discussing the poverty industry, in the six-part Netflix series, "The Trials of Gabriel Fernandez." The series first aired on Feb. 26, 2020
CASSANDRA JONES HAVARD
ARTICLE
"Doin' Banks," U. Pa. J. Law & Pub. Affairs, Vol. 5 (forthcoming 2020)
MARGARET JOHNSON
ARTICLE
"Menstrual Justice," 53 UC Davis L Rev 1 (2019) (lead article) 
PRESENTATION
Presenter and participant, "Menstrual Justice," Technical Advisory Group on Menstrual Health and Hygiene Policy Review Project, Geneva, Switzerland, October 10–11, 2019
ROBERT KNOWLES
ARTICLE
"Zealous Administration: The Deportation Bureaucracy," 72 Rutgers U.L. Rev. (forthcoming 2020) (with Geoffrey Heeren)
DIONNE KOLLER
ARTICLE
"Amateur Regulation and the Unmoored United States Olympic and Paralympic Committee," in 9 Wake Forest L. Rev. Online 88 (Nov. 2019)
PRESENTATION
"Exploring a Compensation Framework for Intercollegiate Athletes," testimony before U.S. Senate Committee on Commerce, Science, and Transportation, July 1, 2020
ROBERT LANDE
ARTICLE
"Can COVID-19 Get Congress to Finally Strengthen U.S. Antitrust Law?" Washington Monthly, May 21, 2020 (with Sandeep Vaheesen)
JAIME ALISON LEE
ARTICLE
"From Socrates to Selfies: Legal Education and the Metacognitive Revolution," 12 Drex. Law Rev. 2 (forthcoming 2020)
JAMES MAXEINER
PRESENTATION
Chapters from book in progress, Statutes in Germany's Government of Laws: With Lessons for the United States of America, at the Works-in-Progress Conference, American Society of Comparative Law 2019 Annual Meeting, University of Missouri School of Law, Columbia MO, Oct. 17, 2019 
AUDREY MCFARLANE
PRESENTATION
Panelist, "Beyond Redlining: Black Lives Matter and Community Development," American Bar Association, June 17, 2020
MICHAEL MEYERSON
RECOGNITION
Received UB President's Faculty Award for 2020
NANCY MODESITT
ARTICLE
"A New Type of Circuit Split: The Hidden Circuit Split in Retaliation Cases," 68 Kan. L. Rev. 101 (2019)
MAX OPPENHEIMER
ARTICLE
"The New Cybersquatters: The Evolution of Trademark Enforcement in the Domain Name Space," 30 Fordham Intell. Prop. Media & Ent. L.J. 447 (2019–2020)
WALTER SCHWIDETZKY
ARTICLE
"Code Sec. 163(j), the Proposed Regulations, and Partnerships: The Nightmare Basics," 98 Taxes The Tax Magazine 98(2), 19 (2020)
MORTIMER SELLERS
PRESENTATION
"A Realistic Theory of Law" and "The Philosophical Foundations of International Law," World Congress of the Philosophy of Law, Lucerne, Switzerland, July 2019
CHARLES TIEFER
ARTICLES
Regular series of columns on Forbes.com
KIM WEHLE
ARTICLES
Regular series of articles in The Hill and The Bulwark
RONALD WEICH
PRESENTATION
"Looking Back on Impeachment from the Middle of a Pandemic," lecture for Baltimore Bar Library Association, April 30, 2020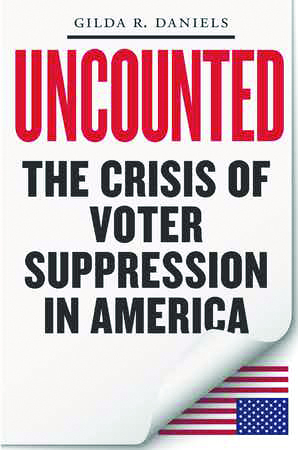 Uncounted: The Crisis of Voter Suppression in America
Uncounted examines the phenomenon of disenfranchisement through the lens of history, race, law, and the democratic process. Prof. Gilda R. Daniels argues that voter suppression works in cycles, constantly adapting and finding new ways to hinder access for an exponentially growing minority population. She warns that a premeditated strategy of restrictive laws and deceptive practices has taken root and is eroding the very basis of American democracy — the right to vote.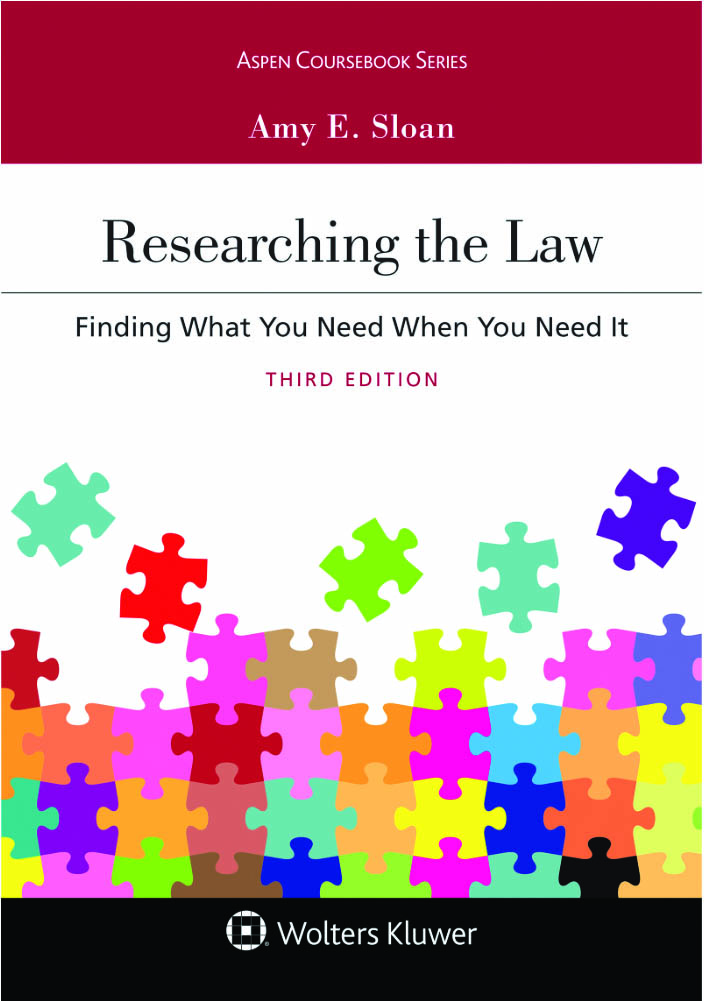 Researching the LaW: Finding What You Need When You Need IT
This book, now in its third edition, guides students through a decidedly contemporary approach to legal research. Prof. Amy E. Sloan presents legal research as a process of efficiently filtering a vast quantity of available information. Simply put, students learn how to locate and identify the most pertinent and authoritative information available with the greatest possible expedience. Her clear, concise explanations of essential research sources are presented in a context that speaks to the way lawyers do research today, with a flexible approach that works in a rapidly changing research environment.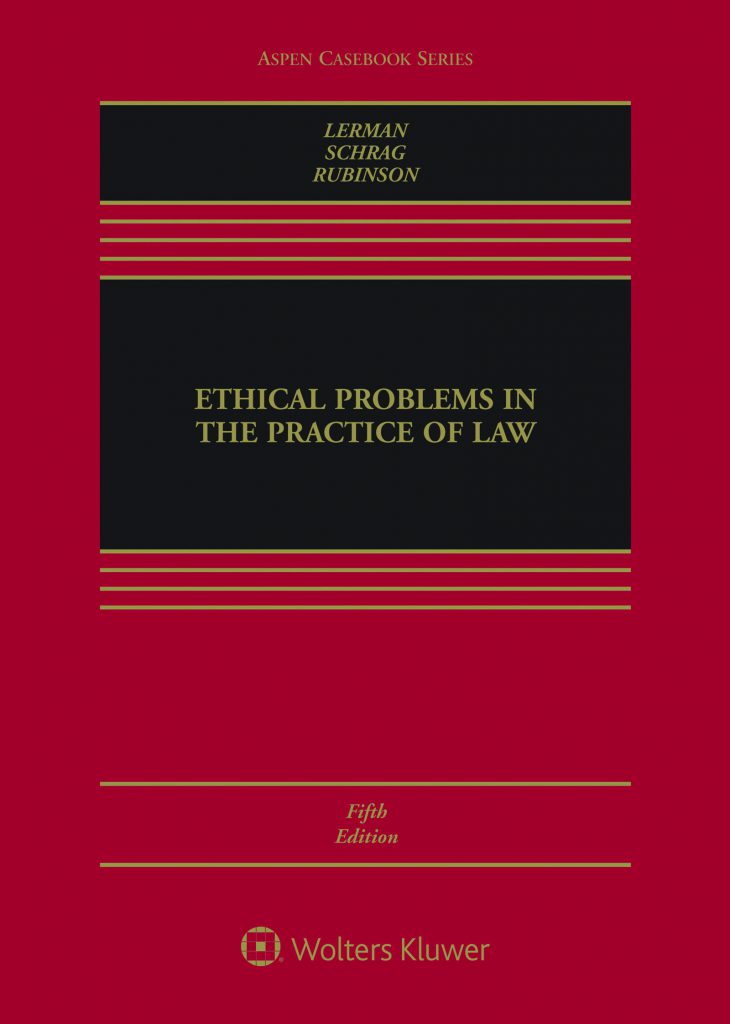 Ethical Problems in the Practice of Law
This problem-based book, by Prof. Robert Rubinson and two co-authors, reflects the authors' broad range of teaching, clinical and policy-making experience. Updated in a fifth edition, the book's carefully crafted ethical problems challenge students to engage in a deep analysis and participate in lively class discussion.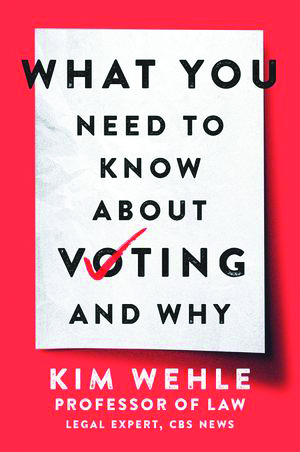 What You Need to Know About Voting — and Why
Prof. Kimberly Wehle offers practical, useful advice on the mechanics of voting and an enlightening survey of its history and future. She explains primaries, the electoral college, mail-in ballots, gerrymandering and more. For everyone looking ahead to the next election, it's a timely and informative guide, providing the necessary background to make informed choices.