For as long as he could remember, Saad Malik, J.D. '19, envisioned a life in medicine. Then fate intervened. At the orientation for a high school internship, a Muslim American physician noted that at that time, Muslim Americans represented 1 percent of the American population but made up 10 to 15 percent of American physicians.  
"The statistic was presented as a point of pride, but I took it as a lack of diversification of Muslims in the American workforce," Malik says. The need for better representation sparked a new vision: "I wanted to be an educated and credentialed voice for my community," he says.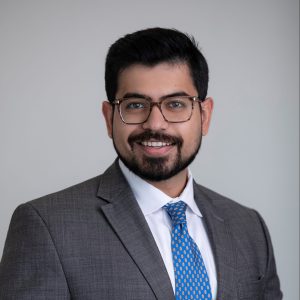 Malik found his niche in law school, where he served as a member of the Honor Board and the Asian Pacific American Law Students Association (APALSA).  His favorite classes were Evidence, with Prof. David Jaros, and Federal Courts, with Prof. Kim Wehle. "Both had a way to challenge the way we approach legal concepts. They allowed and encouraged active participation and discussion, which made grasping some of the more abstract concepts a bit easier," he says. 
As a law clerk for The Hon. Lawrence Fletcher-Hill in the Circuit Court for Baltimore City, Malik was introduced to the Maryland Volunteer Lawyers Service (MVLS) and embraced its vision of "a fair legal system that is free of injustice and equitably serves underrepresented Marylanders." 
Before transitioning to corporate law, Saad practiced civil defense litigation. COVID's uncertain effect on the courts presented another opportunity for him to reevaluate his career. He recently joined Gordon Feinblatt as an associate in the real estate and EMERGE practice groups.   
Malik's knack for adapting started as a child who spoke Urdu at home and English at school. Fluent in Hindi and Punjabi, Malik easily finds connections among people, cultures, work life and personal life. He sees inspiration all around him, from his father's work ethic as he established a new home in 1980s America, to his wife's commitment to her patients as a resident physician at Johns Hopkins Hospital. 
He applies creativity and inclusiveness to his volunteer activities as well. He partnered with the Baltimore County Public Library to create monthly pop-up legal clinics that offer free, practical legal advice. He also chairs the risk management committee of the Islamic Society of Baltimore, which is responsible for determining financial, safety and security risks for the organization. 
A self-avowed foodie and a sports fan, Malik also manages to find time to be an avid weightlifter. "Discipline is the key," he says. "It is not so easy, at times, but I found that having a well-organized and comprehensive calendar can do wonders!" 
Malik knows a balanced life, like a career in law, is always evolving and teaching new lessons. "What has prepared me is having excellent mentors along the way," he says. He looks back on his time at UBalt Law with joy and gratitude. "I have truly enjoyed learning from some of the best legal minds in Maryland," he says, "and taken a bit from each of my mentors to apply to my day-to-day practice."   
Tina Collins is a writer based in Baltimore.
Share this story with your network: