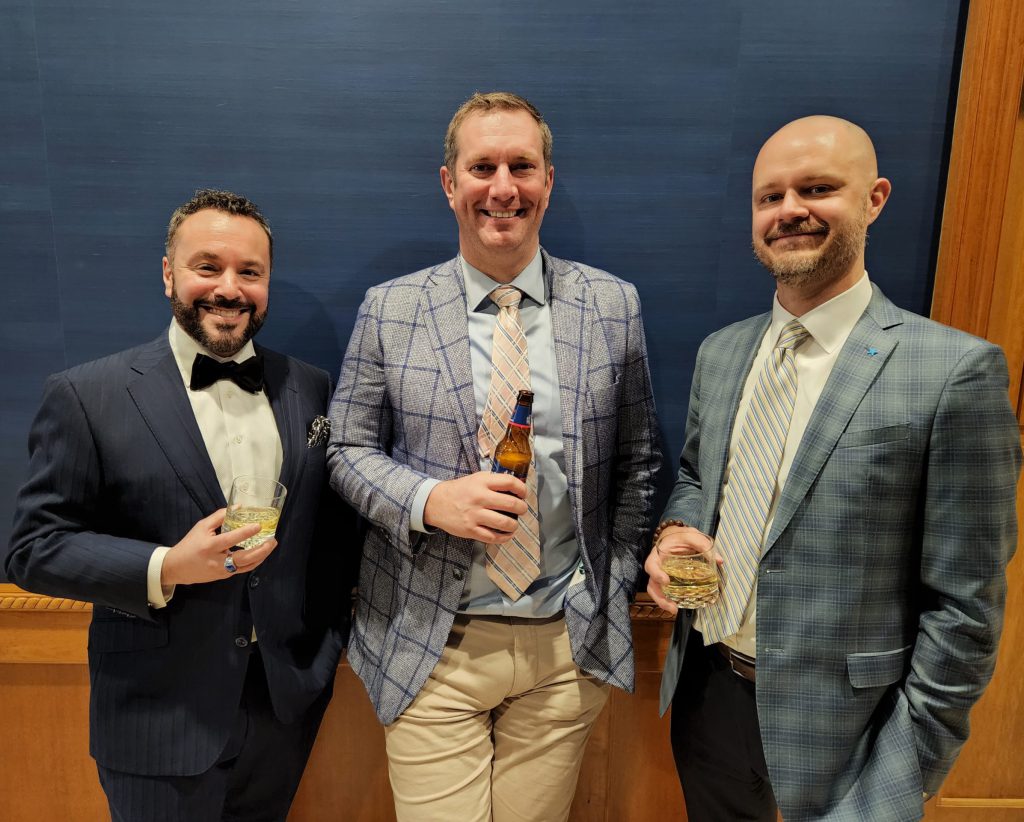 The three lawyers behind the Lawyers on the Rocks podcast are on the front lines of the justice system in Baltimore. 
"We are in the trenches – in the courthouses, in the jails," says Adam Crandell, an immigration lawyer with Eldridge, Nachtman & Crandell LLC. 
Crandell and his partners, Jeremy Eldridge, J.D. '06, and Kurt Nachtman, J.D. '06, want you to see the world through their eyes, and through the eyes of their colleagues and clients. 
"We give an opportunity (for listeners) to hear what it's really like in the trenches, compared to what their perception might be from the movies," says Nachtman, who practices personal injury law. 
Since mid-2018, the three have produced nearly 140 podcast episodes, each featuring a cocktail created by firm associate Clarissa Lindsey, J.D. '19, cocktail curator, and proprietor of the Drink Link. 
Local legal luminaries are frequent guests. Criminal defense attorney Warren A. Brown came by Eldridge, Nachtman & Crandell's office/recording studio to sip Johnny Walker Blue Label in November (former Baltimore State's Attorney Gregg Bernstein enjoyed the same beverage a year earlier). Public defender Natalie Finegar had a blueberry mojito mocktail, while Erik Atas, J.D. '06, now a Baltimore Circuit Court judge, stopped in for a bourbon iced tea. Radio personality and congressional candidate, attorney Yuripzy Morgan, sat down for a chat and a Bombay Sapphire martini. 
"Part of what we do is try to get 'real' lawyers who are more experienced than us in specific areas to really dive in, to give people a better idea of what the law really is," says Eldridge, who practices criminal defense law. He also hosts a weekly talk show on WBAL Radio. 
Plenty of non-lawyers also stop by for a drink and a discussion of life and the law, including former felon Bruce White, now CEO of One Promise Counseling and DUI Education in Baltimore (Cooper's Cask Coffee). 
White's story was so compelling he was asked back for an encore episode. 
Asked if he thought he'd been done wrong by the justice system, which imprisoned him for 12 years, White says: "I have a hard time saying the prison system or the court system failed me. I got exactly what I deserved." 
Today the former self-described "apex predator" helps people get and stay clean. "The job is to love them," says White, now a certified addictions counselor. 
Nachtman said producing the show on top of the day job can add up to a lot of work. 
"Maintaining our ability to run a law firm and to be diligent and organized, and running a podcast with quality guests, is sometimes an adventure," he says. "It's not the easiest task, but we have a really good time." 
Lawyers on the Rocks is recorded most Fridays at 4 p.m. at Eldridge, Nachtman & Crandell's North Charles Street offices. The podcast is archived at Lawyers on the Rocks, and the lawyers post news about the show on Instagram and LinkedIn. 
Hope Keller is a writer based in Connecticut.
Share this story with your network: