*Class notes featured were received from June 1, 2018 through May 31, 2019.

1970s
Richard G. Lubinski, B.S. '70, was elected Region III Vice President for the Association of Energy Engineers for 2019.
Nathaniel C. Fick Jr., J.D. '75, received the third annual Dean's Award at the Law Alumni Association Dinner in May for his contributions to the UB School of Law and the legal community.
1980s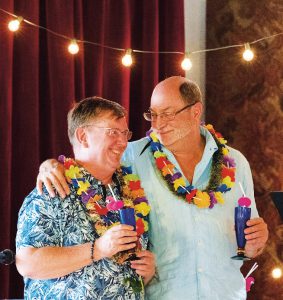 John C. Wilson, M.A. '80, and Robert Hitz were married in August 2018 in Pikesville, Maryland.
Wendy G. Rothstein, J.D. '82, was elected Judge of the Court of Common Pleas in Montgomery County, Pennsylvania, in November 2017.
Raymond J. Brusca, J.D. '84, retired in December 2018 after a 38-year career, most recently as the chief human resources officer for Techtronic Industries, a manufacturer of power tools and vacuum cleaners. Ray and his wife will split their time between homes in Naples, Florida and Nantucket, Massachusetts.
Daniel J. Clifford, J.D. '84, was appointed in 2018 by the Supreme Court of Pennsylvania as vice chair of the Supreme Court Domestic Relations Procedural Rules Committee for a three-year term.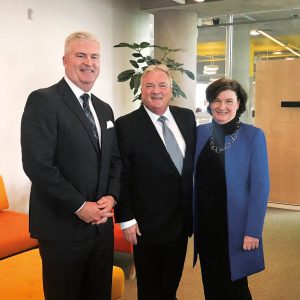 Siblings and law school graduates Kathleen O'Neill, J.D. '81, head of the Civilian Personnel Law and Special Projects Section in the Office of Counsel at the Naval Sea Systems Command (NAVSEA), Michael O'Neill, J.D. '82, general counsel and chief legal officer for Avnet, a global technology company, and
Peter O'Neill, J.D. '84, a partner at Murnane and O'Neill, a general practice firm in Glen Burnie, Maryland, participated in a panel discussion hosted by the Law Career and Development Office in November 2018 about forging their own career paths. They noted that although they grew up together and attended the School of Law around the same time, their personal experiences led them on their own distinct paths in the legal field. They encouraged students to always be willing to work hard and try something new.
John J. Varley, J.D. '84, was named senior vice president/chief administrative officer and general counsel at ExpressJet Airlines in January 2019. Previously, he was senior vice president and general counsel at Virgin America.
Raymond L. Bolger, B.A. '86, had his book, Operation Devil Horns: The Takedown of MS-13, published in October 2018.
Joseph F. Clocker, M.P.A. '87, retired in December 2018 as director of parole and probation at the Maryland Department of Public Safety and Correctional Services after 41 years of service.
George L. Salis, M.A. '88, was promoted in 2018 to principal economist and tax policy advisor at Vertex, Inc., a global tax software and technology company. He is also a graduate of the Harvard Kennedy School Executive Certification Program in Trade Policy and Comparative Tax Policy and Administration.
George F. Shevlin IV, J.D. '88, joined American International Group as vice president, government affairs in June 2018.
1990s
R. Steven Redding, J.D. '90, was appointed circuit court judge of the 23rd Judicial Circuit by West Virginia governor Jim Justice in February 2018. He was elected to retain the position in May 2018.
Philip P. Lloyd, B.S. '91, is the information technology program manager for the Ordnance Information System (OIS) for the U.S. Navy at the Naval Supply Systems Command (NAVSUP). He has been with NAVSUP for 19 years.
Jill P. Carter, J.D. '92, was elected to the Maryland State Senate, representing Legislative District 41, in November 2018.
Catherine Fischer, B.S. '92, married Robert W. Vincent of Lancaster, Pennsylvania, in July 2018.
Valentine A. Brown, J.D. '95, received the Cheryl Bryson Leadership Award, which recognizes significant professional development, leadership and mentoring contributions by a lawyer to women in the legal profession, from the Duane Morris Women's Impact Network for Success (WINS) in October 2018. Brown was selected for her work as an advocate and mentor to women at Duane Morris and beyond.
David C. Jordan, MBA '95, joined Stevenson University as vice president of Human Resources and Title IX coordinator in January.
Charles J. Acquisto, J.D. '96, was named partner at the Law Offices of Stephenson, Acquisto & Colman in Burbank, California, in June 2018.
Greg Derwart, M.A. '96, joined Maller Wealth Advisors in Hunt Valley, Maryland, as chief operating officer in January.
David A. Weiskopf, J.D. '96, was appointed county attorney for St. Mary's County (Maryland) in December 2018.
Claude de Vastey-Jones, J.D. '98, joined Carney, Kelehan, Bresler, Bennett & Scherr, LLP, in Columbia, Maryland, in January.
Melissa M. Boyd, J.D. '99, spoke at the 11th Annual Montgomery Bar Association Family Law Section Toby L. Dickman Seminar in Pennsylvania on November 9, 2018. The seminar focused on the legal steps to make it through the custody battle process as efficiently as possible, with the main goal being the relief of any unnecessary suffering for the child involved. Speaking at the seminar with Boyd was fellow School of Law graduate, the Honorable Daniel J. Clifford, J.D. '84.
David F. Katz, J.D. '99, joined the Atlanta, Georgia, law office of Adams and Reese in February. He specializes in the area of privacy law and compliance, data security, information governance, vendor management, corporate governance, crisis management, regulatory compliance and ethics.
John M. Putman, B.A. '99, joined Vintun, LLC, in Columbia, Maryland, as a senior consultant in September 2018.
2000s
Joseph H. D. Solomon, J.D. '00, assumed command of the United States Coast Guard's Maritime Law Enforcement Academy (MLEA) in North Charleston, South Carolina. As MLEA's commanding officer, Captain Solomon also serves as a member of the Federal Law Enforcement Training Accreditation Board.
Suzanne C. Johnson, B.A. '01, J.D. '04, was named and sworn in as clerk of the Maryland Court of Appeals in December 2018.
Christopher G. Marasco, B.S. '02, joined Revere Bank in Ellicott City, Maryland, as senior vice president in June 2018.
Shelby A. Kinnaird, M.A. '03, recently had two books published.
The Diabetic Cookbook for Electric Pressure Cookers: Instant Healthy Meals for Managing Diabetes was published in March. The Pocket Carbohydrate Counter Guide for Diabetes: Simple Nutritional Strategies to Lower Your Blood Sugar was published in June 2018.
Berke Attila, MBA '04, a budget analyst with the City of Baltimore, was included on The Daily Record's 2018 Very Important Professionals List as a Successful Professional Under 40.
Matthew F. Penater, J.D. '05, LL.M. '06, and Ashley E. (Wagner) Penater, J.D. '10, welcomed a baby boy in January 2018. Matthew opened The Penater Law Firm, LLC, located in Lutherville, Maryland, a few months later in May.
Lauren R. Quesada, B.S. '05, was promoted to marketing manager at OneBlood, an organization in Florida that encourages blood donation, in October 2018.
Simone J. Christian, B.S. '07, M.A. '10, is an instructional designer at Notre Dame of Maryland University in Baltimore.
Benjamin A. Kelley, J.D. '07, was named partner at Ballard Spahr, effective July 2018. Kelley is also a member of the firm's Real Estate Department and is co-leader of the Insurance Company and Institutional Investments Team.
Katherine M. Noonan, J.D. '07, a real estate attorney with Ballard Spahr, served as lead writer for the 2018 update to the Building Owners and Managers Association's Green Lease Guide: A Guide for Landlords and Tenants to Collaborate on Energy Efficiency and Sustainable Practices.
LaNette N. Parson, M.S. '07, published her book, Chasing the Skinny: Transforming My Life Despite Adversity, in August 2018.
Paul T. Sellers, B.S. '07, joined Masters Title & Escrow in Towson, Maryland, as an account executive in August 2018.
Christopher D. Wright, J.D. '07 joined the Law Offices of Evan K. Thalenberg, P.A. as an attorney in January.
Philip A. Dacey, J.D. '08, was elected to an at-large seat on the Frederick County (Maryland) Council in November 2018.
Marie K. Thomas, B.A. '08, M.A. '13, is the director of creative services for Washington College in Chestertown, Maryland. Thomas manages all of Washington College's graphic design projects in addition to developing and implementing strategic communication and marketing plans for undergraduate admissions.
John A. Butler, M.A. '09, J.D. '14, joined the Baltimore office of Tydings & Rosenberg LLP as an associate in October 2018.
Abioye E. Mosheim, J.D. '09, became the assistant general counsel at the U.S. Consumer Product Safety Commission in January 2018. She is also a government member of the Freedom of Information Act Committee at the U.S. National Archives and Record Commission.
Jonathan P. Novak, J.D. '09, joined the Dallas, Texas, law firm of Fears Nachawati in October 2018. His focus is on litigation related to the opioid epidemic. He played a key role in the 2017 investigation featured in The Washington Post and on CBS' 60 Minutes that exposed how opioid distributors lobbied several members of Congress to limit the authority of the Drug Enforcement Agency.
Dawn M. South, J.D. '09, established DeBoerSouth, PLLC, a family law firm in Richmond, Virginia, in February.
Alicia D. Stewart, J.D. '09, was elected partner at Niles, Barton & Wilmer, LLP, in Baltimore, in January.
Matthew J. Youssef, J.D. '09, was elected partner at Niles, Barton & Wilmer, LLP, in Baltimore, in January.
2010s
Heather M. Arbogast, J.D. '10, was elected partner in January at McGuireWoods in Baltimore.
Andrew N. Illuminati, J.D. '10, joined Webb, Cornbrooks, Wilber, Vorhis, Douse, Leslie & Mathers, LLP, in Salisbury, Maryland, in January as an associate attorney. His practice focuses on criminal defense and civil litigation.
Kevin A. Fields, M.P.A. '11, a Roman Catholic priest, serves as parochial vicar of St. Mary's Catholic Church in Rockville, Maryland.
Lynette M. Lewis, B.A. '12, M.S. '16, is attending Ashford University in California seeking her doctorate in Human Services. She is also a published author of 11 books.
Molly M. Martin, M.P.A. '13, was named senior director of program operations for the Arc Northern Chesapeake Region in October 2018.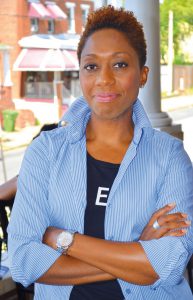 Regina T. Boyce, M.P.A. '14, was elected to the Maryland House of Delegates in November 2018 to represent District 43. The 15-year Waverly resident has served the N/NE Baltimore community as an advocate and community leader and credits "knowledge that works" for allowing her to represent and work for Baltimore City and state residents in Annapolis.
Jennifer L. Burroughs, J.D. '14, and Jeffrey Toppe, J.D. '14, helped coach the University of Baltimore's Black Law Student Association's Moot Court Team for two recent competitions. The team took first place in the Thurgood Marshall Moot Court Competition held in Annapolis in February and advanced to the national competition in Little Rock, Arkansas, in March.
Katherine M. Furek, M.P.A. '14, was hired as the assistant district attorney for Hale County, Alabama, in January.
Elizabeth A. Paige, B.A. '14, M.A. '17, won a prestigious Newman Civic Fellow Award in March. The award honors student leaders dedicated to creating lasting change and building a better world. Paige, a current student in UB's School of Law, was recognized for her work to establish a food pantry on campus, as well as her commitment to ensuring access, equity and inclusion for all UB students.
Darryl L. Tarver, J.D. '14, is the chair of Maryland Legal Aid's (MLA) Equal Justice Associates, a group of young lawyers who support MLA through fundraising, advocacy and pro bono legal work for low-income clients. Tarver recently received a 2019 Leadership in Law: Generation J.D. award from The Daily Record and notes "At UB, I not only got a great legal education, but I also built lasting relationships through my volunteer work. Both of those are key components of what I've been able to accomplish early on in my career."
Juarez R. Lee-Shelton, B.A. '15, M.A. '18, is a historian, writer and transit professional in Baltimore. He also began teaching Constitutional Law at St. Frances Academy in Baltimore in January.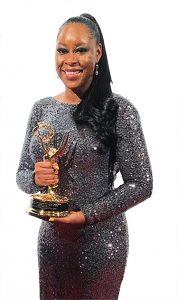 Sean E. DeSchepper, B.S. '15, is a distribution designer at Shah and Associates in Forest Hill, Maryland.
He also reports he was recently married and moved into a new home. 
Michelle Richardson, B.S. '15, assignment desk editor at ABC7-WJLA in Washington, D.C., and her news team won an Emmy award in June. The Emmy was presented for their coverage of the June 28, 2018 Capital Gazette shooting in Annapolis. Richardson said, "The grit and tenacity our team showed that day was to honor our colleagues, and this Emmy is dedicated to the five journalists we lost that day."
Lauren S. Ellison, J.D. '16, joined Tydings & Rosenberg LLP as an associate in December 2018.
Clayton D. Zook, M.S. '16, was promoted to technology coordinator at Towson University in July 2018.
Ashley E. Plack, MBA '17, founded Strategist Marketing in February 2018. It is a digital consulting firm based in Baltimore and a Google Partner agency.
Tova Z. Brody, J.D. '18, joined Council Baradel as an associate in its family law practice in December 2018.
Bethany D. Graham, M.P.A. '18, began a full-time position as an entry-level analyst with the U.S. Government Accountability Office in February.
Bryana K. Spann, J.D. '18, served as a law clerk to the Senate Judiciary Committee during the September 2018 congressional confirmation hearings for U.S. Supreme Court Justice Brett Kavanaugh.
Submitting a Class Note is easy. Just visit ubalt.edu/classnotes.