1940s
Kurt M. Rosenbach, CERT '46
Charles H. Baldwin, A.B.A. '48
Francis W. Hopkins, A.A. '48
1950s
Elizabeth Bromwell, A.A. '50
Joseph M. Napoli, B.S. '50
Robert A. Rhodes, B.S. '50
Leonard E. Trout Jr., A.A. '50, J.D. '52
Martin Moncarz, J.D. '51
John R. Schafer, B.S. '51
Anthony Shabek Jr., B.S. '51
Fred Tepper, B.S. '51
William M. West, CERT '51
Wallace E. Camp Sr., B.S. '52
Robert W. Heflin, A.A. '52, B.S. '57
Edna L. Williams, LL.B. '52
William R. Benson, LL.B. '53
Norman W. Lauenstein, J.D. '53
John J. Brocato, LL.B. '54
Harry Deitchman, B.S. '54
Charles L. Amos, B.S. '55
George E. Anderer, B.S. '55
Otto P. Schulze, LL.B. '55
Philip R. Beigel, A.A. '56
George B. Dietrich, B.S. '56
Rosario L. Vinci, A.A. '56
Alan Getz, LL.B. '57
Ray R. Hartsoe, CERT '57
Sheldon A. Rubenstein, LL.M. '58
Herbert S. Silbert, B.S. '58
Charles F. Mitchell, B.S. '59
1960s
Charles A. Blackman, B.S. '60
Robert R. Cassilly, LL.B. '60
Stanley Dorf, A.A. '60
Donald H. Lazar, A.A. '60
Philip I. Matz, B.S. '60, LL.B. '67
Carroll C. McComas, B.S. '60
Arthur W. Rees, B.S. '60
David H. Sheppard, B.S. '60
Melvin J. Caldwell Sr., J.D. '61
Melvin R. Guy, J.D. '61
Norman A. Hare Jr., B.S. '61
James E. Holman, B.S. '61
Marvin L. Majewski, B.S. '61
Thomas B. Silcott Jr., B.S. '61
John F. Foley Jr., LL.B. '62
William L. Freeh, LL.B. '62
John J. Gilmore, B.S. '62
William J. Guerin Jr., B.S. '62
David H. Krebs, LL.B. '62
John P. Wever, A.A. '62
John B. Maier, J.D. '63
William H. Wolf Jr., B.S. '63
R. Roland Brockmeyer, J.D. '64
James J. Held, B.S. '64
James C. Hoeck, LL.B. '64
Warren R. Jamison, B.S. '64
Edward J. Katrinic, LL.B. '64
Thomas L. Lovelace, J.D. '64
John F. X. O'Brien, J.D. '64
Edward J. Sas, A.A. '64
Joseph J. Armetta, B.S. '65
Peter W. Bartel Jr., J.D. '65
Donald W. Dew, B.S. '65
Allan R. Kobin, B.S. '65
Donald A. Logan, B.S. '65
Terrell H. Shriver, B.S. '65
Jack M. Torner, LL.B. '65
Albert R. Wilkerson, J.D. '65
John J. Cain, B.S. '66
Joseph A. Cuneo, B.S. '66
Michael K. DeAgro Sr., B.S. '66
Robert I. Edwards, B.S. '66
Gary E. Good, LL.B. '66
John T. Langmead Jr., B.S. '66
Johnny E. Marrs, B.S. '66
Thomas Salvatore III, J.D. '66
William T. Glasgow, J.D. '67
Robert C. Hardy, LL.B. '67
Joseph M. Nolan, J.D. '67
Carl E. Pagan, B.S. '67
Michael P. Smelgus, A.A. '67
George Barkman, LL.B. '68
John C. Baronella, B.S. '68
Melvin M. Bondyra, B.S. '68
Harvey L. Glaser, B.S. '68
Dennis A. Hightow, B.S. '68
William F. Kirwin Jr., J.D. '68
William J. Klimaszewski, B.S. '68
O. Franklin Mitchell, B.S. '68
Carl L. Moltz Jr., B.S. '68
Wayne C. Morrow, B.S. '68
Robert L. Pabst, B.S. '68
Richard W. Shultz, B.S. '68
Thomas C. Wieciech, B.A. '68
Ronald A. Allen, B.S. '69
Thomas K. Day, B.S. '69
Herbert H. Kirshner, B.S. '69
John B. McCrystle, J.D. '69
Eugene J. Pawlikowski, J.D. '69
Paul M. Plaia Jr., LL.B. '69
1970s
Jerry A. Berardi, J.D. '70
Charles R. Boutin, J.D. '70
Ara M. Crowe Jr., J.D. '70
Michael F. Gilligan, J.D. '70
Leah B. Graff, J.D. '70
Robert J. Heitzman, J.D. '70
Edwin M. Kahoe, J.D. '70
Raymond L. Klein, B.S. '70
Lawrence W. Krastel, B.S. '70
Roy R. Krebs, B.S. '70
Joseph F. Lechman, J.D. '70
Irene C. Santoek, J.D. '70
David L. Schroeder, B.S. '70
Wayne N. Weller, B.S. '70, M.S. '87
Laurence M. Boyd, B.S. '71
Ronald A. Dicrescenzo, B.S. '71
Norman T. Green, B.S. '71
Harold A. McBee Sr., B.S. '71
William J. Reuter, B.S. '71
Charles L. Stull, B.A. '71, M.S. '77
Randall T. Knight, B.S. '72
Curtis R. Perry, B.S. '72
Omeria F. Saunders Jr., B.S. '72
James R. Bell, J.D. '73
Edward S. Calwell, B.S. '73
Matthew S. Evans III, J.D. '73
Guy H. Goeller, B.S. '73
Larry R. Holtz, J.D. '73
John G. McDonald Jr., B.S. '73
John T. Shaw, J.D. '73
Wayne H. Watts, B.S. '73, M.S. '78
Leroy Adams, CERT '74
Ronald R. Donatucci, J.D. '74
Lee F. Fedner, J.D. '74
Murphy Gabriel Jr., B.S. '74
Sharon L. Harris, J.D. '74
William I. Kissinger, B.S. '74
Robert Brewer, B.S. '75
Gerald R. Ingley, B.S. '75
W. Glen McFaul, B.S. '75
Clarence Weston, B.A. '75
Leaston V. Booker Jr., B.S. '76
Marshall A. Botkin, M.S. '76
Maurice A. Fournier, B.S. '76
Raymond H. Fowler Jr., B.S. '76
John R. Goodwin, B.S. '76
Bruce A. Miller, B.S. '76, M.S. '85
Phyllis B. Kramer, J.D. '77
Denise C. Lucas, B.S. '77
David M. Broy, B.S. '78
James G. Gavin, B.S. '78
Howard B. Gerber, J.D. '78
Clyde A. Thomas, M.S. '78
Jules G. Kollar, J.D. '79
Andrew G. Shank, J.D. '79
Edgar L. Youngblood, B.S. '79
1980s
Thomas J. Christopulos, B.S. '80
Allen T. Cook, B.S. '80
Eleanor P. Lipsitz, M.P.A. '80
Toni R. Manning, MBA '80
Dale R. Mumford, M.P.A. '80
Donald B. Nippard Jr., B.A. '80
Dawne L. Ways, CERT '80
Jeffrey A. Weber, J.D. '80
Alexandra N. Williams, J.D. '81
Katherine E. Wilson, B.S. '81, J.D. '88
Betty Jane C. Ballantyne, B.A. '82
Denise M. Jamison, B.S. '82
Evelyn L. Panzer, B.S. '82
Susan B. Sohn, CERT '82, MBA '84
Vasiliki J. Tsamis, B.S. '82, M.S. '96,
CERT '96
Laura T. Wetherald, M.S. '82
Douglas C. Fox, M.S. '83
Kenneth L. Hooper, J.D. '83
Donald C. Mulcahey, J.D. '83
Kathleen A. Talty, J.D. '83
Diane C. Bauman, B.S. '84
Brian P. Fallon, B.S. '84
Katherine A. Holmes, B.A. '84,
J.D. '88
Charles J. Ryan III, J.D. '85
Barbara Seaman, J.D. '85
John C. Waugh, B.S. '85
Eileen M. Gilmartin, M.A. '86
Norma L. Harris, M.A. '86
Thomas E. Morrow, B.S. '86
Alan C. Remchuk, M.S. '86
Zachary S. Gray, J.D. '87
Steven W. Ragsdale, B.S. '87
Erlene A. Servance, B.S. '87
Thomas A. Luby Jr., MBA '88
Jane R. Luckey, J.D. '88, LL.M. '93
Moynelle F. Stewart, B.S. '88
Maureen M. Canion, MBA '89
Maureen Vilanova, J.D. '89
Susan Winestein, J.D. '89
Geri Wojciechowski, B.S. '89
1990s
Mark Kulwicki, J.D. '90
Khalil Moorman, B.S. '90
Denise M. Smallwood, B.A. '90
Tracey L. Smyser, M.A. '90
Sandra K. Harris, B.S. '91
Elene L. Aiken, MBA '92
Nelson F. Cross, B.S. '93
Olivia N. Graham, J.D. '93
David N. Rasmussen, MBA '93
Gregory A. Castelli, J.D. '94
Thomas V. Hauck, B.S. '95
David R. Lepson, B.A. '95
Jacqueline A. Finney, B.A. '96
2000s
Rosemary C. Smart, LL.M. '04
Bonnie Jean Schupp, D.C.D. '05
Shawn P. Durkin, B.S. '06
Trevor McDerby, B.S. '06
Robert S. Fayer, B.S. '09
Daniel Haines, B.S. '09
Tong Li, CERT '09, M.S. '12
2010s
Darren Sanborn, LL.M. '10
David Hupp, MBA '11
Matthew M. Testa, J.D. '11
Sergei A. Bower, B.S. '14
Jonathan Oliner, B.S. '14
Babatunde A. N. Bashir-Bello,
B.S. '16
Sydney L. Jeter, M.S. '16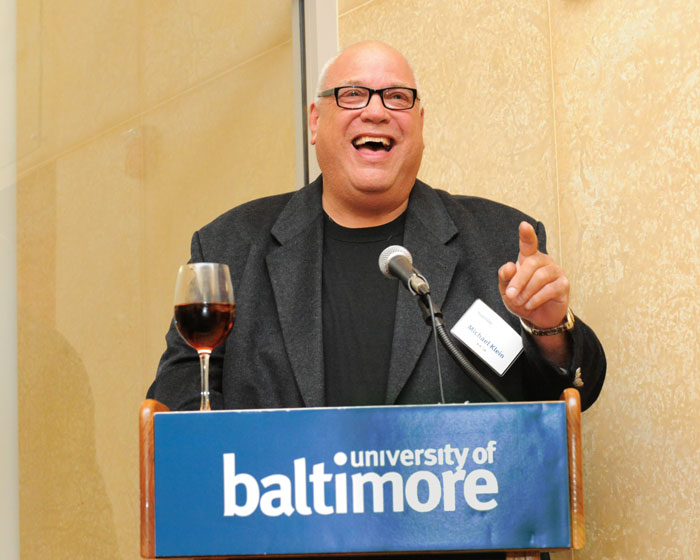 Michael Klein, B.A. '76, chairman of Klein Enterprises, one of the largest management and development companies in the greater Baltimore metropolitan area, died on October 18, 2020. Klein and his family have been dedicated supporters of The University of Baltimore for five decades. In 2013, an endowment from Klein and the Philip and Harriet Klein Foundation established the Klein Family School of Communications Design within the Yale Gordon College of Arts and Sciences.
Michael and his father Philip Klein, B.S. '38, also made generous bequest gifts to the University. Philip began donating in the 1970s and made his first major gift in 1992, establishing the Klein Family Fund to support the English Department. Michael created the Klein Professorship in Writing and Literature with his first major gift in 1997.
Michael's daughter Rachel Klein, B.A. '00, is also a graduate, and Daniel Klein, Philip's grandson, and Michael's nephew, previously served as a member of the UBalt Foundation Board of Directors, as did Michael.
The Klein Family Fund contributes to an ongoing reading series in the M.F.A. in Creative Writing & Publishing Arts program. And the Michael F. Klein Fellowship in Creative Writing and Social Justice is awarded yearly to a student in the program, with the aim of emphasizing the role of the arts in calling attention to issues of social justice and injustice in American society.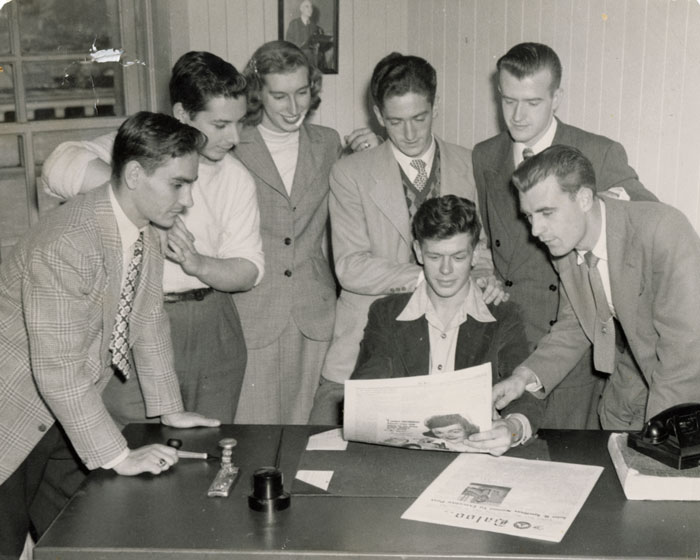 Conrad S. Schafran, B.S. '49, died on July 6, 2020. Schafran, a native of New York City, donated his extensive record collection to The University of Baltimore in order to promote the appreciation of jazz music among younger generations of students and music listeners. Now part of the Baltimore Regional Studies Archive in the Robert L. Bogomolny Library, Schafran's collection consists of more than 8,000 vinyl LPs of jazz, blues, folk, rock, big band and show-tune commercial audio recordings.
View at archivesspace.ubalt.edu/repositories/2/resources/131.