Morton D. Goldman, B.S. '67 
James C. Porter, B.S. '67 
Ronald L. Spahn, LL.B. '67 
David E. Baker, LL.B. '68 
Phillip A. Borgmeier, B.S. '68 
William C. Bowers, B.S. '68 
Michael M. Goodman, J.D. '68 
John S. Houser, B.S. '68 
James P. Legory, J.D. '68 
John L. Meehan, B.S. '68 
William H. Seiple, B.S. '68 
Austin X. Wallace, B.S. '68 
Melvyn E. Fowler, B.S. '69 
Robert T. Richardson, B.S. '69 
Bernard J. Smink, B.S. '69 
Worthington B. Hubbard, B.S. '70
Michael Jabo Jr., J.D. '70 
Deacon Michael J. Kulas, B.S. '70 
Robert E. Lyston, B.S.'70 
Michael J. Mazzuca, B.S. '70 
Charles M. Preston, J.D. '70 
Alan M. Wolf Jr., J.D. '70
Richard G. Daniels, B.A. '71 
Mark J. Einstein, B.S. '71 
Barry L. Smith, B.A. '71 
Thomas P. Weinhold, B.S. '71
Richard J. Widmyer, B.S. '71 
Raynor L. Ayers, B.S. '72 
Jerry W. Friedman, B.S. '72 
Chris E. Jensen, B.S. '72 
Joseph J. Norris, B.S.'72 
Thomas L. Townsend, B.S. '72 
Donald A. Dunbar, J.D. '73 
Joseph E. Nalley, B.S. '73 
Donald P. Scarborough, B.S. '73 
Michael C. Zotos, B.S. '73 
Randy Appel, J.D. '74 
Joseph P. Dangleis, B.S. '74 
Vella R. Potash, J.D. '74 
Harry C. Weiskittel III, J.D. '74 
James W. Grap, B.S. '75 
Richard L. Marsh, B.S. '75 
Roger Lee Pickens, J.D. '75
Calvin L. Blades, B.S. '76 
Timmerman Daugherty, J.D. '76 
Gary G. Everngam, J.D. '76 
Laura H. Foster, J.D. '76
Joseph L. Borowy, B.S. '77 
Roland M. Gardner, J.D. '77
Kathleen E. Hawkins, B.S. '77, J.D. '81 
Paul R. Holland III, M.S. '77 
John R. Polyniak, B.S '77 
Samuel G. Puleo, J.D. '77 
Thomas C. Truscott, B.S. '77 
Randall Carroll Jr., J.D. '78
John R. Getz, J.D. '78 
Michael J. McNelly, B.S. '78 
Thomas K. Baxter, J.D. '79 
James G. Beach III, J.D. '79 
Walter N. Chitwood, M.P.A. '79 
Jeffrey A. Cohen, J.D. '79 
Stephen C. Hosea, J.D. '79 
Audrey T. Bates, B.A. '80  
Karl K. Kaste, M.S. '81 
Dave R. West, J.D. '81  
Nicolette T. Hunter, J.D. '82
Tyrone T. Carroll Sr., B.S. '83 
Catherine Crawford, B.A. '85 
Dorothy G. Harvey, M.P.A. '85 
Patricia A. Marshall, B.S. '85 
Earl G. Page, B.S. '85 
Louis A. Boulmetis, M.S. '86 
Robert M. Foster, MBA '86 
Beverly Hague, B.S. '86
Edward T. Pinder, J.D. '86  
James D. Williamson, MBA '86 
Rex S. Caldwell III, J.D. '87 
Robert E. Buttles, MBA '88 
Michael W. Dailey, B.S. '88 
Frederick A. Gantz, M.A. '88
Anna M. Ugarte, B.A. '89 
Patricia C. Wilkins, CERT '89 
Kathryn D. Sousha, B.S. '90
William T. Beach, MBA '92 
Donald D. Lochary, M.A. '92
Dennis G. Olver, J.D. '92 
Diane Taylor, MBA '92 
Michael E. Donoho, CERT '93 
Brooks B. Gracie III, J.D. '93 
Brian E. Roark, B.S. '96, MBA '99
Arnetta R. Robinson, B.A. '96 
Richard A. Gallagher, B.A. '97 
Keith P. White, M.P.A. '98 
Theodore D. Marsh Jr., B.A. '99
Matthew D. Wiley, MBA '99
Julia Amos, J.D. '01 
John T. Daverin, B.S. '01 
Madonna Helen Parent-Ross, B.A.'02, M.A. '03
Channing K. Burke, B.A.'03 
Jennifer Dietrich Merryman, J.D. '07 
James J. Roberts III, MBA '07 
Marguerite C. (Brooks) Underdue, B.S. '07
Jerome J. Deinlein Jr., B.A. '08, J.D. '12
Brendon B. Kok, J.D. '09 
Donald M. Lumpkins, J.D. '09, M.P.A. '14
Shivani K. Aghera, J.D. '14 
Andrew E. Drake, B.A. '15 
Michael C. Brook, J.D. '16 
Jeffrey R. Borneman, M.A. '17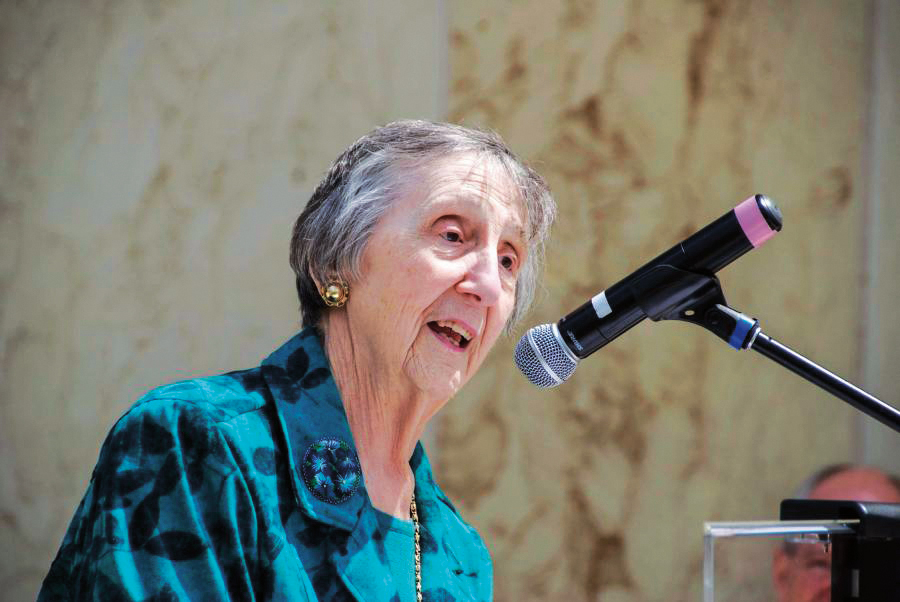 DR. CATHERINE GIRA
1932-2019
Dr. Catherine Gira, a beloved member of the University of Baltimore community for more than 25 years, passed away in March at age 86. Gira joined UB in 1965 as a professor of English. Later she became dean of the College of Liberal Arts, then provost. Gira was the inaugural recipient of the Yale Gordon Endowed Chair for Teaching Excellence, among many other accomplishments.
"We're all better for having known her," UB Provost Darlene Smith, B.S. '78, MBA '80, says, adding that she felt fortunate to have Gira as a mentor. "Catherine had an uncanny ability to ask the right questions. She was an effective listener and wonderful at guiding you to navigate your own path."
Along with Baltimore attorney and philanthropist LeRoy Hoffberger, Gira founded UB's Hoffberger Center for Professional Ethics in 1987 to promote ethics across the curriculum. UB professor Fred Guy, director of the Hoffberger Center and a longtime colleague of Gira's, says "Catherine combined assets and virtues that might be a contradiction in someone else. She harmonized a steel will with kindness and empathy—and she always wanted our students to know what was valuable about them, valuable about an education and valuable about being at UB."  
In 1991 Gira was named president of Frostburg State University, a post she held for 15 years. Alexander Giles, J.D.'97, is a Baltimore litigator who specializes in maritime law. He met Gira when he was a member of Frostburg's student government association (SGA) and ultimately worked closely with Gira when he served as the SGA president.
"Catherine was a consensus builder who very much valued the student perspective," Giles recalls. He says Gira was instrumental in his attending UB law school, and they stayed close as part of a regular lunch group.  "I had a wonderful time with Catherine, driving to those lunches," he says. "She had a great sense of humor, and she was very dedicated to staying in regular contact with her many groups of friends and former colleagues."
Adds Smith, "Hers was an unconventional path to becoming a university president and, at the time, the only woman president in the University System of Maryland. Catherine was such a respected scholar, teacher, and advisor—and incredibly successful at them all."
Read a special poem dedicated to Dr. Gira by Kendra Kopelke, associate professor.