With COVID-19 safety protocols in place, CFCC's Truancy Court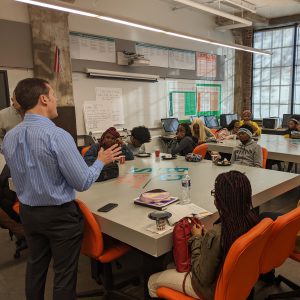 Program (TCP) Team returned to Baltimore City Public Schools this year, continuing our work to get school attendance back on track after a long period of virtual learning.
The TCP is operating in five Baltimore City schools this fall: Furley Elementary School, Mt. Royal Elementary/Middle School, Baltimore Design School (Middle/High School), Franklin Square Elementary/Middle School, and The Belair-Edison Middle School. We are already off to a productive and successful school year.
During the COVID- 19 pandemic, the TCP team had to be creative and flexible as they worked with students virtually. There were some advantages to the virtual format for TCP. Because they were at home, TCP students were able to show the TCP Team personal items important to them and parents often were able to participate fully in the TCP sessions from home or work.
Now that the TCP is operating in person again, students can meet together in one large room for a restorative circle with the TCP Mentor and staff. TCP students leave the circle to meet individually with the TCP Judge, the TCP Coordinator and school personnel.
As an in school, non-punitive, voluntary program the TCP reduces truancy by identifying and addressing the root cause of each child's absences and by reconnecting students and their families with their schools. The TCP employs a holistic approach that includes mentoring, consistent follow-up, social services and legal guidance and the powerful presence of a judge who volunteers at the school to lead the effort.
TCP staff focus on providing support and referrals for students' basic needs. They also continue to advocate as necessary to ensure consistent access to education and protection of legal rights for students. Families and students participating in the TCP receive:
Up-to-date information on resources for free food, hygiene products and other basic necessities
Information on the rapidly-changing nature of academic delivery – from work packets to online lessons
Continued advocacy with Baltimore City Public Schools on behalf of students experiencing homelessness and those with learning differences
Support regarding access to Chromebooks and internet services
Assistance and information regarding new COVID-related benefits
---
CFCC Staff Updates
In addition to its new management structure, CFCC has seen several staff changes this fall in its Truancy Court Program.
CFCC's longtime TCP Coordinator, Spencer Hall, has moved to the position of CFCC's TCP Attorney, providing legal guidance and referrals to legal services providers, as well as individual advocacy and information about students' educational rights to empower students and families to become effective self-advocates.
With the new school year, the TCP team welcomes two new members.
Rohina Zavala has joined the team as TCP Coordinator, serving as the program's liaison with judges and schools. A 2021 School of Law graduate, Rohina received the Saul Ewing Civil Advocacy Clinic Excellence Award for her work representing low-income individuals in Baltimore as a law student. Her knowledge and insights gained as a development coordinator at Blue Oak School drove her to attend law school, with a focus in public interest and education. Rohina is looking to using the legal education and experiences she gained from UBalt and her current work in the Baltimore City schools, paired with prior experiences in private school education, to help the TCP moving forward.
Bonnie Freeman has joined the team as TCP Social Worker, providing assessment, intervention and prevention services in order to assist students' academic, social and emotional growth. In her previous role as a Baltimore City Public Schools social worker, she regularly worked with students in pre-K through high school to address Truancy related challenges. Bonnie's extensive experience working to assess and develop in-school intervention in Baltimore City Schools will be an asset to the program.