CFCC was strongly represented when the National Association of Counsel for Children (NACC) convened their annual conference in Baltimore on August 22–24. Team members from the University of Baltimore School of Law Sayra and Neil Meyerhoff Center for Families, Children and the Courts (CFCC) made three presentations showcasing different areas of our work.
---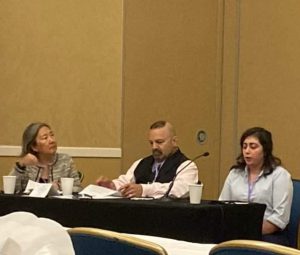 "Lessons from Truancy Prevention," on the conference's first day, shared strategies lawyers can use in client representation to better connect with and serve their clients. Presenters were TCP Coordinator Rohina Zavala, TCP Mentor Arion Alston, CFCC Deputy Director Michele Hong, and CFCC Executive Director Rebecca Stahl. The presentation focused on restorative practices and holistic representation, and included theater exercises to demonstrate different ways to work with youth that can help youth feel more comfortable. Presenters demonstrated how a restorative approach drawn from the TCP model can help children's lawyers better understand their clients and connect with them on an emotional level, and shared techniques lawyers can use to ensure children's non-legal needs are met alongside their legal needs.
---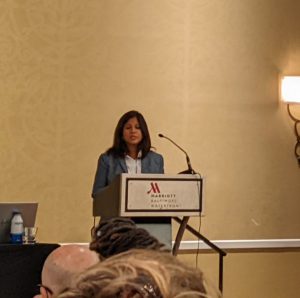 CFCC's Faculty Director, Professor Shanta Trivedi, presented the Tuesday morning plenary, "The Constitution Applies to Child Welfare Cases." Presenting before several hundred attendees, Shanta described ways that children's lawyers can make constitutional arguments in their cases to protect children's rights to family integrity. Too often, constitutional rights are ignored with the ostensible goal of protecting children's safety. Further, the impacts of family separation are rarely considered in the analysis of child safety. Shanta challenged everyone in the room to consider how to use these rights to challenge children's removal and remind courts and child welfare agencies that they cannot skirt basic constitutional rights.
---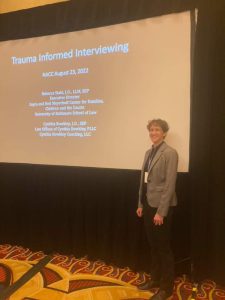 Rebecca Stahl wrapped up CFCC's contributions to the conference with the presentation "Trauma Informed Interviewing" with child welfare lawyer and Somatic Experiencing Practitioner Cynthia Bowkley. This presentation provided an overview of what trauma looks like, how it manifests physically in clients and professionals alike, and how lawyers can be more trauma-responsive while interviewing child clients. Trauma impacts everyone in the child welfare system—the children, parents, lawyers, and judges. Understanding the impact of trauma and how to respond to trauma manifestations when they occur can help children's lawyers avoid burn out and represent their clients more effectively.
---
CFCC's presentations provided practical strategies and arguments for a more holistic approach to lawyering without losing sight of the legal implications of the very serious work of representing children. We were grateful for this unique opportunity for the CFCC team to share our work with the 600 attendees at NACC's 2022 conference.
If you're interested in learning more about CFCC's work and would like to take a deep dive into the critical issue of family separation, please join us for the CFCC Symposium on Protecting Family Integrity on September 29, 2022. The event is free but registration is required.