By Christianna McCausland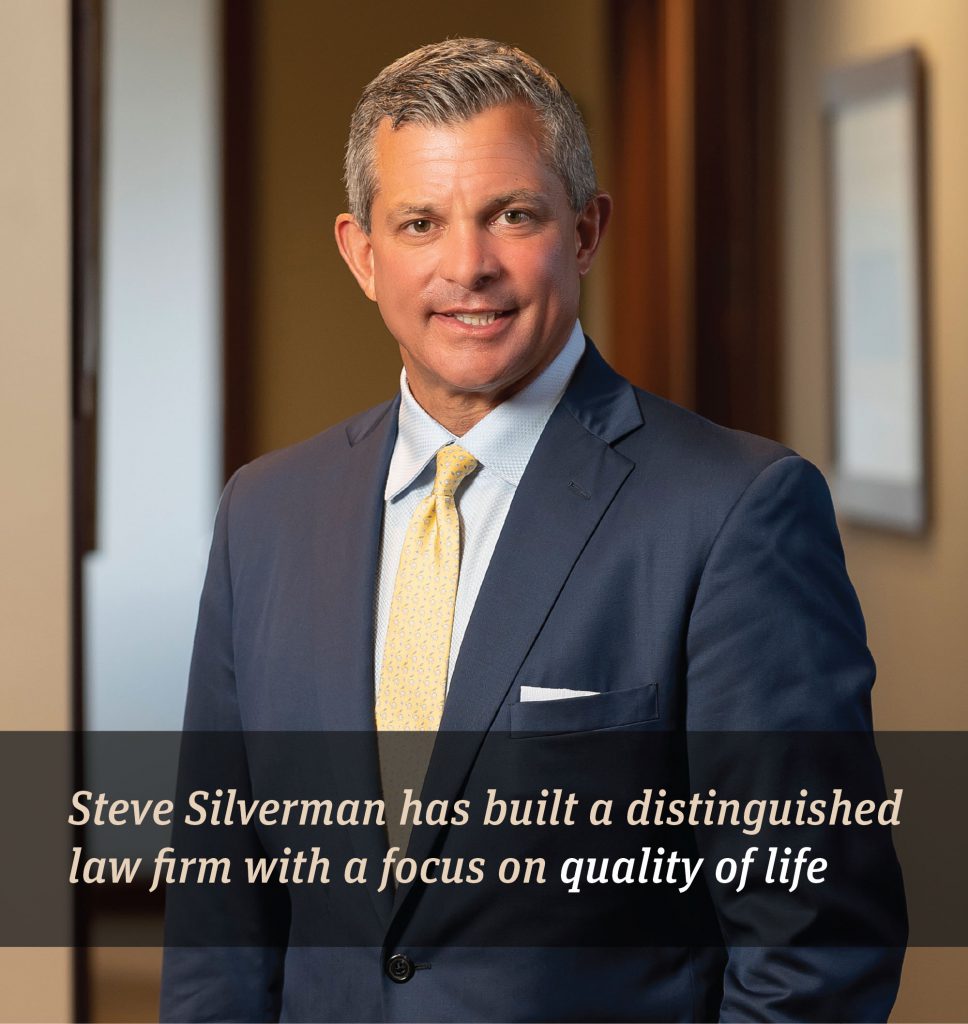 Steve Silverman always knew he wanted to be a lawyer. Sure, his father was an attorney, but that wasn't what really fired his imagination. As a young boy, Silverman was infatuated with the case of the Boston Strangler.
"I thought it would be exciting to be in front of a jury defending criminal cases," says Silverman. "Even at age six, my vision of being a lawyer was of a criminal defense attorney."
Today, Steve Silverman, J.D. '91, is a managing partner at Silverman Thompson Slutkin White (STSW), the firm he founded in 1994. The firm employs 43 attorneys engaged in a wide range of client work, including personal injury plaintiffs' work, criminal and civil defense, and corporate litigation. The firm is regularly named to "best places to work" lists, and Silverman boasts an unimpeachable record that includes a more than two-decade stretch of having never lost a jury trial in a criminal matter.
After leaving the University of Richmond with a GPA indicative of Silverman's fun-loving personality — if not his studiousness — his father told him he was going to in-state law school. 
"UB was a nuts-and-bolts school, which in hindsight was great because it focused on the practical skills that make you a good lawyer," he recalls. "Law school is where you learn the language of the law. Once you learn it, wherever you learn it, only your personal limitations hold you back."
Silverman took two pieces of advice when he graduated from law school. One came from his father: Don't be one of those associates you see burning the midnight oil for the sake of the big firm. The other came from a college friend's father, a former U.S. attorney general, at a party.
"He told me to focus on the public defender's office out of law school, and I'd run circles around the competition," he says.
After graduation, Silverman did just that, becoming an assistant public defender in Baltimore City in the felony narcotics division. Six days after he was sworn in, he was picking a jury. He won that case and the next five. They were tough cases, but he was a competitive guy, a high school athlete who liked a challenge. 
"There's no difference whether you're in a courtroom or a wrestling match — you want to win," he states. Still, when his winning streak ended, it hit hard.
"Being in court was exactly how I imagined it would be when I was a kid," he says. "What I didn't realize was how much pressure it would be — someone's life and liberty are on the line." 
He went on to try hundreds of jury trials in a few short years. He took on other people's cases and seized any opportunity to get experience in court. After being in court for about 1,000 consecutive business days, he felt he'd cut his legal baby teeth, had a strong foundation, and was ready to do something on his own. He founded STSW to handle the kinds of cases he wanted, the cases and social issues he found interesting.
"I enjoy the mayhem of life," he says. "The fun thing about law is there's always something interesting; you think you've seen it all and then you can be flabbergasted by one phone call."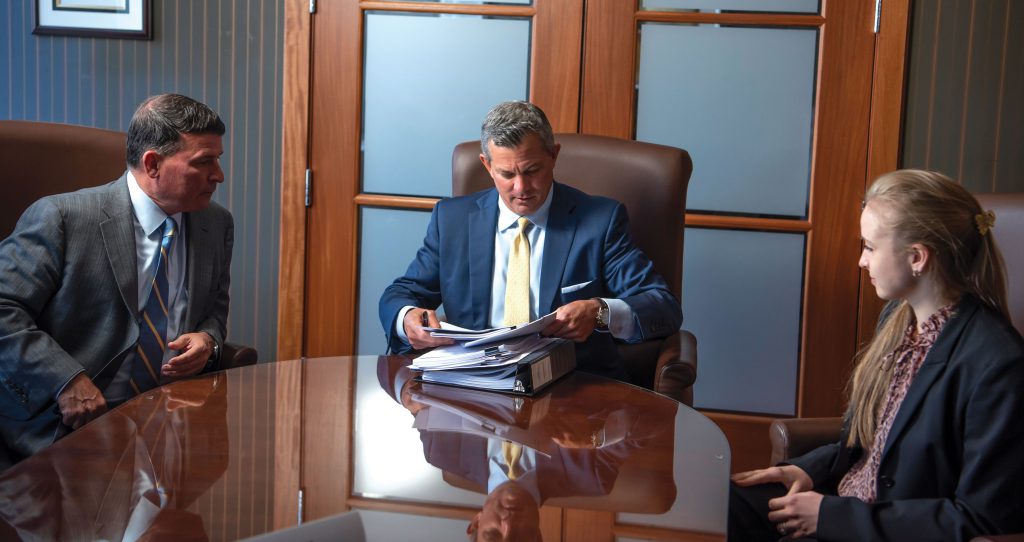 'More charm than bluster'
Much of the early work of the firm was learning by experience and bootstrapping. Silverman's first real civil case was on behalf of a guard at the courthouse whose son died in a tragic accident. He figured out how to prepare the case and recovered damages for the client. If he ended up in a case where he was out of his depth, he would read a book or take a weekend seminar — and then call the instructor with questions.
"For years, we called ourselves 'the firm with no adult supervision,'" he quips. "We work hard but we try to be human about our hours. We don't tolerate jackasses or people who don't play nice in the sandbox."
That sort of straight talk is what distinguishes Silverman. Kathleen "KC" Murphy is director of the criminal division in the Office of the Attorney General for Maryland. She's known Silverman since the '90s, when she was a law clerk in Baltimore City and he was a public defender. Since that time, they've had cases opposite each other, most recently in her role as an assistant attorney general.
"As an attorney, Steve is consistent, he's a straight shooter who gets to the real issues and cuts to the chase," she says. "He's always collegial and a pleasure to work with, even when we disagree," she continues. "In the courtroom, his style has always been more charm than bluster, and he's professional and respectful of everyone in the courtroom. He doesn't need to demean people to be assertive."
As dean of The University of Baltimore School of Law from 2007 to 2011, Phillip Closius appreciated Silverman's keen insight as a member of his advisory council, particularly when Closius was securing funds for the new law school building.
"Steve brings a lot of energy to everything he gets involved with, and he sees the world through a lens of practicality," says Closius.
Now a professor at the law school, Closius is of counsel at STSW in the area of sports law. He's closed a case against the National Hockey League related to concussions, and he continues to work on a case against the National Football League on the abuse of prescription drugs. Closius says the humane hours and collegial atmosphere at STSW are real and come from the top down.
"Steve has something I try to talk to my law students about," says Closius. "It's good to be a good lawyer, but you need to be personable to appeal to a jury and to get clients. You can relate to Steve as a person, not just as a lawyer."
In 2016 Silverman founded the Silverman Thompson Slutkin White fellowship for first-year law students at The University of Baltimore. The inaugural recipient, Greg Waterworth, J.D. '18, says the fellowship was a unique opportunity to work directly with Silverman and other partners.
"A lot of opportunities for law students early on are 'safe' or administrative. It's a coddled experience," says Waterworth, now a litigation associate at Saul Ewing. "[At STSW] you were treated as a member of a team, so you got over any fear of the unknown and realized that if you don't know something, you can learn it. I was treated as a colleague, not an intern."
Ethan Nochumowitz, J.D. '14, had a position as a law clerk at STSW in 2012 and is now an associate there. He explains that the partners select their associates based not only on their GPA, but also on whether they will fit into the culture of the firm, which Nochumowitz says is very much directed by Steve and very much outside the norm of a typical firm.
"It's not high-stress. You'll see Steve skating around on his skateboard in the office, and associates are encouraged to plan events like pool parties and ping pong tournaments," he says.
Yet the experience of a young lawyer at STSW is not all fun and games.
"Steve got his start in the public defender's office, and that shaped his view on shaping young lawyers," says Nochumowitz. "He was thrown into court, and he believes the best way to become a savvy lawyer is to be thrown into the ring. [The partners] make it a priority that you get substantive experience early on. You're not sitting in a cubicle doing research."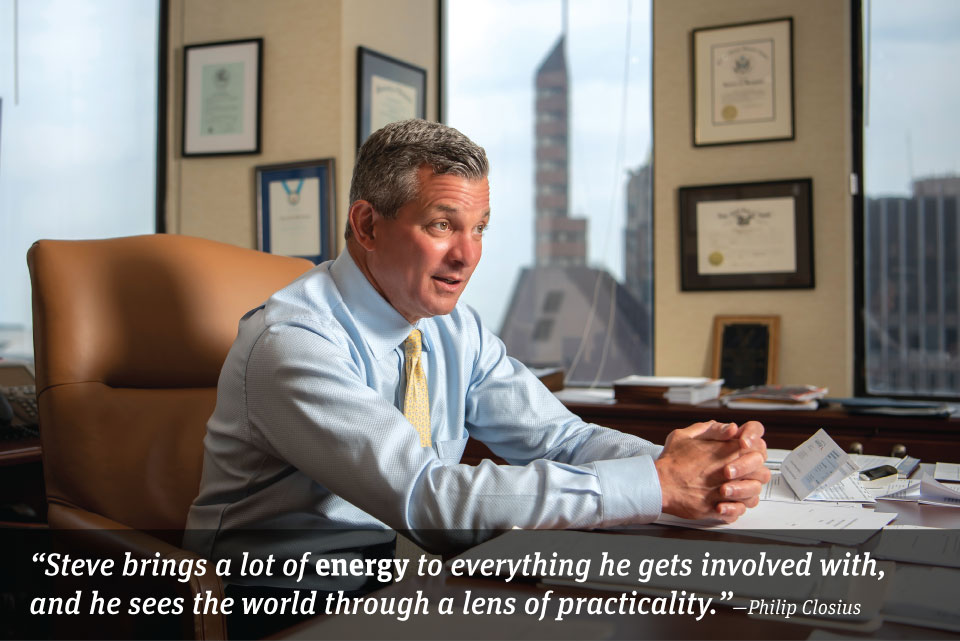 A focus on high-profile cases
Much of Silverman's charisma and talent for cultivating relationships have shifted him away from the courtroom to building the business of the firm, which he enjoys. But he still jumps in when needed for consultations and takes certain high-profile cases. He successfully defended One Mind Ministries cult member Ria Ramkissoon against a first-degree murder charge that alleged she starved her one-year-old son, a case that captured national headlines. Most recently, he represented Baltimore Gun Trace Task Force (GTTF) victims Umar Burley and Brent Mathews, who went to federal prison after drugs — planted by GTTF officers — were found in their vehicle, as well as former Baltimore Mayor Catherine Pugh in her "Healthy Holly" case of fraud and tax evasion.
Silverman says every case is different and requires a unique approach that's in the best interest of the client. The Pugh case, though, was especially tough. Because of her fragile physical and mental state as well as the insurmountable evidence, Silverman says the only thing to do was "to work out a resolution without taking advantage of the limelight, so she could get through that case and have a meaningful life," he says.
"That case was a nightmare. I hated every minute of it," he continues. "I had people knocking on the door of my home at 9 at night, following me out of my office, taking pictures of me in the grocery store — it was non-stop. All professionalism and humanity went out the window."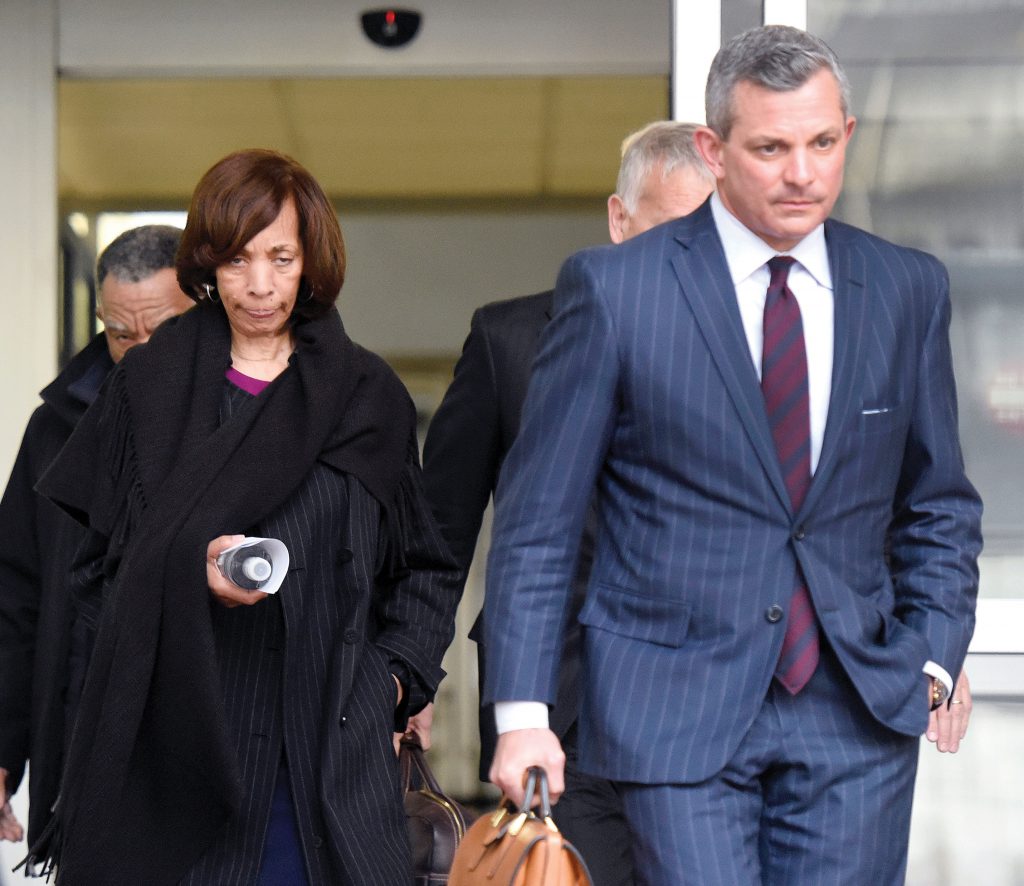 Gregg Bernstein, a partner at Zuckerman Spaeder and former Baltimore City State's Attorney, was counsel for Pugh's campaign finance committee, and thus spent a lot of time with Silverman working through the myriad issues of winding down the fund. It was a relationship that could have become adversarial. He saw Silverman under the media's pressure and says he handled it "with a degree of calm and grace."
What really mattered to Silverman, says Bernstein, was the client.
"Steve is extremely tenacious. He's passionate about his work and his clients. You saw that in his representation of [Umar] Burley; he really put his heart and soul into that," he says.
Bernstein states that he's gotten to know Silverman personally in the last year, and that a healthy dose of irreverence serves Silverman well. "One of his strongest assets is that he knows how to read a room. If you can't read the jury, you're not effective as a trial lawyer, but it's a talent and an important skill — in and out of the courtroom."
While he still tries cases, Silverman is focused on building his firm, emulating Edward Bennett Williams, who built his own successful Washington, D.C., firm, Williams & Connolly.
"The business of law is as interesting to me as the practice of law," Silverman says. "To grow a law firm, you do the right things by people, and tell the truth, and people will call on you for other matters."
Silverman is extremely personable and easygoing. Yet he says he's more introvert than extrovert, and he likes dogs more than most people. He's still an athlete, running three to five miles a day on a trail near his Baltimore County home. He's played guitar since he was young (he keeps a guitar at the office) and he loves traveling to concerts and sporting events, especially those of the clients his firm represents. All that was squelched by the coronavirus pandemic, so he has spent that time making improvements to his house, spending time with his wife and his dogs, and keeping up with his two adult children. Post-quarantine, he and his wife are collaborating on a redesign of STSW's downtown office space.
It will not be conventional.
Christianna McCausland is a writer based in Baltimore.
Share this story with your network: