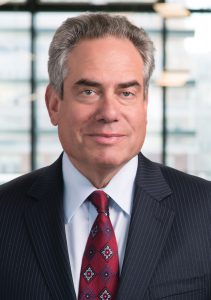 June 19, 2021 was a happy turning point for our law school. After more than a year of forced separation in the shadow of a deadly global pandemic, we emerged into the sunshine that day to celebrate The University of Baltimore School of Law Class of 2021 and — better late than never — the Class of 2020. A few months earlier, we were uncertain if it would be safe to host an in-person commencement. But lifesaving vaccines caused the virus to recede enough for us to honor our marvelous graduates in person.
The 15-month shutdown was tough on everyone, and it presented unique challenges to law students. Legal education is meant to be an intense, face-to-face undertaking. Some of the best learning takes place in hallway conversations, late-night study groups, or over pizza and beers at Turp's. Still, we must be grateful for Zoom and other internet platforms that enabled our law school to continue functioning, albeit remotely. We never wavered from our mission to educate the next generation of UB lawyer-leaders.
Technology alone would have been insufficient without other ingredients. Students brought to bear the skills for which our law school has long been known: grit, perseverance, focus and hard work. Faculty and staff members also rose to the occasion, mastering unfamiliar technology almost overnight so they could connect with students, and connect students with each other.
This fall, we'll be back in the John and Frances Angelos Law Center, our light-filled, state-of-the-art building at the corner of Charles Street and Mount Royal Avenue. It will be a joyful reunion, but it will not be business as usual. We will take advantage of the lessons of the pandemic, incorporating online elements into the curriculum to maximize valuable classroom time.
Nor will the subject matter of a post-pandemic UB Law education be business as usual. Just as our platinum status LEED-certified building is designed to respond to the peril of climate change, so the scholarship and learning within the building must take account of this existential threat. In this issue of Baltimore Law, you'll read how climate change is affecting migration patterns, and therefore immigration law. You'll be impressed by the UB Law professors and graduates who play a leading role in analyzing and addressing this worldwide phenomenon.
The post-pandemic world must also grapple with questions of "digital justice." In this magazine, Professor Michele Gilman sounds the alarm about hidden algorithms that may reinforce bias, and you'll learn how Professor Colin Starger and colleagues prepare law students to be masters, not servants, of big data.
Meanwhile, both before and after the pandemic, UB alumni have distinguished themselves in the legal community. In this magazine, we shine a well-deserved spotlight on one successful Baltimore practitioner, Steve Silverman. We're proud of Steve and other alumni who are putting their Baltimore Law degrees to such good use.
Finally, you'll enjoy reading warm tributes to retiring professors Steve Grossman, Don Stone, Ken Lasson and Barbara Babb from their faculty colleagues. And you'll learn about the dynamic new faculty members who will carry on the UB Law traditions of classroom excellence and student-focused mentorship.
Those traditions did not disappear during this strange period of mandatory distancing. Our online classrooms were still excellent, and students continued to benefit from the caring mentorship of faculty and staff. But these special features of our law school will be heightened as we repopulate the building and savor the exhilarating immediacy of face-to-face human interaction.
Welcome back to the three-dimensional world!