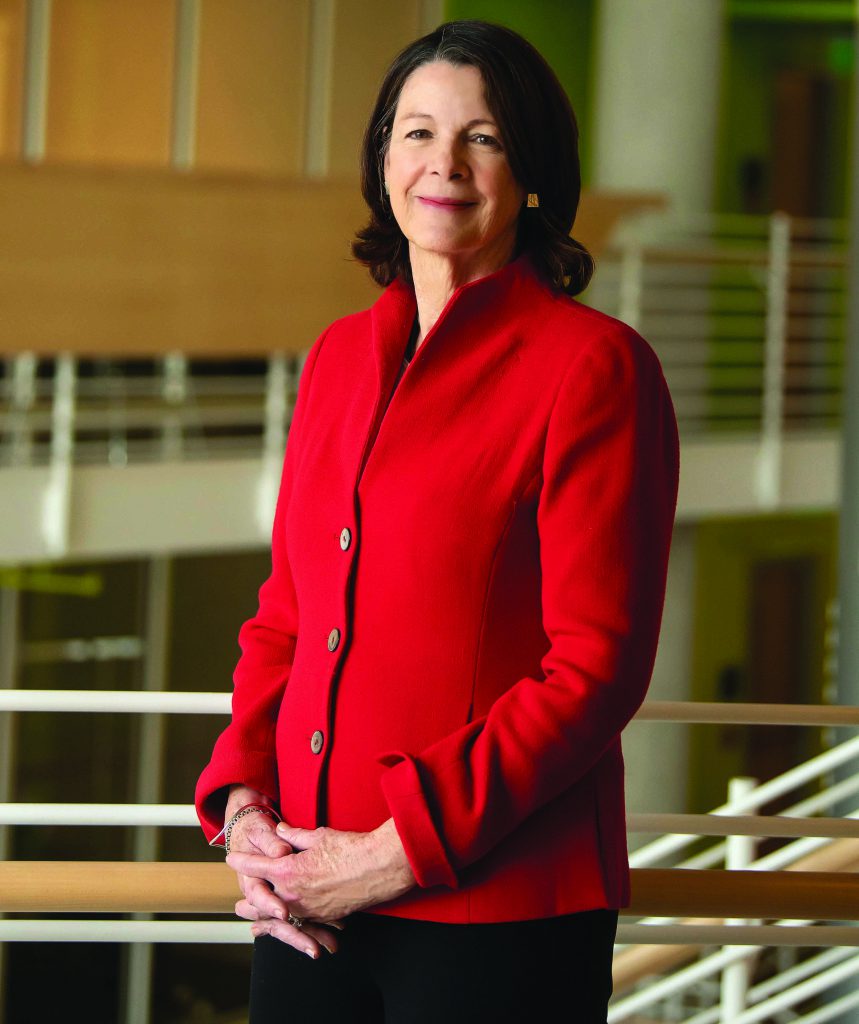 Jane Murphy cautions young people not to get discouraged if their first job isn't the right fit. Murphy, professor of law emerita, retired from UB Law last spring after a remarkable 30-plus-year career that included roles as co-director of the Mediation Clinic for Families and director of the Juvenile Justice Project. 
She is lauded as one of the founders of UB's highly ranked clinical program. Yet she began her career as a litigator for the federal government, practicing environmental law.
"It was wonderful litigation experience, but not what I saw myself doing long term," Murphy recalls. 
"I went to a neighborhood legal services office where we had many student externs. That's where I started doing family law, and once I got there, I felt at home representing low-income families in a variety of disputes and also working with students," she continues. "The clinic has always been my home and where I feel myself."
Creating a Clinical Program
Murphy was teaching at Georgetown University Law Center when a colleague mentioned that UB Law had received funding for a formal clinical program. Clinical education was nascent at that time, both at UB and at law schools broadly. It was a call that spoke to Murphy's passion for social justice and her beliefs that clinical work is an essential part of legal education that creates socially aware and engaged lawyers while providing a vital service to the community.
"I don't think students learn something until they apply it," says Murphy. "And it has more meaning and importance when a real client's life is involved. I've seen students who are somewhat disengaged really blossom and develop as lawyers in this setting."
Murphy joined UB and created the first of what would become its modern clinics: the family law clinic under her leadership and the housing clinic under the leadership of Jane Schukoske. The program was designed with a rigorous pedagogy taught by tenured faculty. Funding support secured by U.S. Sen. Benjamin Cardin, then chairman of the Maryland Legal Services Corp., enabled the addition of a fellowship program that is now respected as a national model.
"Jane Murphy changed the nature of our clinic and how people look at clinicians," explains Steven Grossman, Dean Julius Isaacson Professor of Law at UB.
"Jane is both an academic and a lawyer," he says. "There was a view that 'real' lawyers weren't true academics. Jane destroyed that ridiculous belief."
When the clinic began, it was literally and academically on the outskirts, located in a rowhouse on Calvert Street. At her retirement, Murphy had a corner office in the glass-enclosed Angelos Law Center. The office is more than just a pleasant place. It's a symbol. 
"The classic mistake of a clinical program is to get marginalized somewhere away from our doctrinal peers," she says. "When we built this building and gave the clinic this central, large space, for me that was both a symbolic and actual achievement for the program. It sends a message to faculty and students that this is a capstone of their legal education."
Committed to Service
Murphy maintains a remarkably engaged life outside academia as well. Claire Smearman, a judicial education attorney at the Federal Judicial Center, met Murphy in the early days of the Women's Law Center (WLC), where Smearman was president. Smearman says Murphy participated in developing many of WLC's signature programs.
"Jane is a coalition builder, and her strength of purpose and loyalty are a key reason she has been an anchor and powerful force as a clinical law professor, doctrinal professor and associate dean at UB," she states. "She's also a powerhouse of intelligence."
Jana Singer, professor emeritus at the University of Maryland Carey School of Law, co-authored several books with Murphy, including Divorced from Reality: Rethinking Family Dispute Resolution. While both women brought a feminist perspective to family law, Singer says their views were just different enough to keep their scholarship interesting.
"Jane is unique because she combines incredibly thoughtful, creative scholarship with her practice," Singer says, "which gives her a window into how academic ideas and reforms play out on the ground."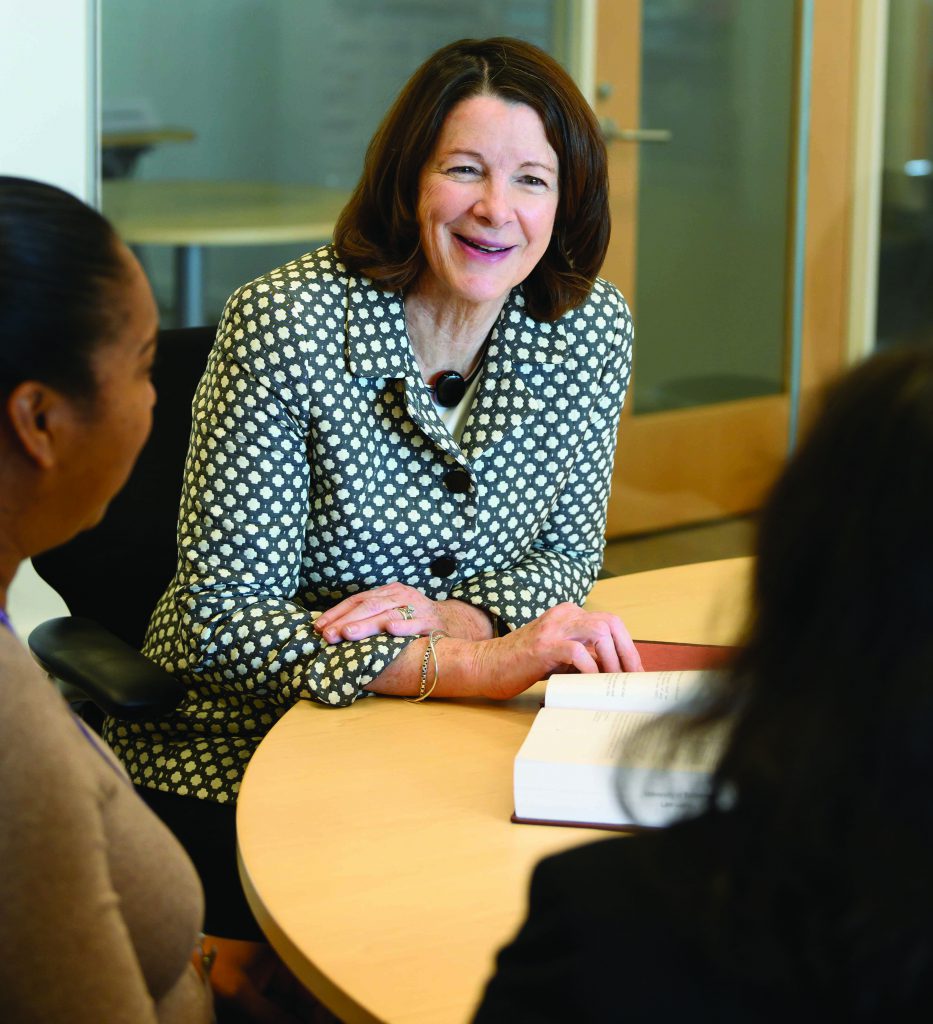 A Life of Mentorship
Murphy's list of accolades and leadership positions is extensive: vice president of the Women's Law Center; multiple appointments at the Association of American Law Schools; editorial board member at Family Court Review. She received the University System of Maryland's Award for Faculty Excellence and was the first recipient of the University of Baltimore's Presidential Faculty Award. Yet she's humble about accolades.
"It's things like the student who writes a note a year out of law school to say how the clinic impacted their career that I find meaningful," she says. "I think I have also provided a model of how to have a rich and rewarding family life and a rich and rewarding career."
Jill Green, J.D. '94, associate dean for admissions and student experience at the Johns Hopkins Carey Business School, still remembers what it was like to be in Murphy's "Gender and the Law" class. Murphy was visibly pregnant with one of her four children, directing the clinical program and, at the time, actively working on legislation in the Maryland General Assembly on behalf of victims of domestic violence. 
"I was introduced to the picture of what a lawyer should be: a person fully engaged in her own life, balancing a family and working, writing and publishing, engaged in the legal community and mentoring and teaching students," says Green. "Especially in 1994, I had few role models like that. I wanted to be her when I grew up!"
The class was life-changing. Green went on to have three children, became a clinical faculty member in Maine, and eventually returned to UB Law as one of Murphy's colleagues. 
"Jane gave me the confidence to know what was doable," says Green. "She said everyone should know your first priority is your family, and work works out."
While colleagues underscore Murphy's intellect and commitment to serving low-income and disenfranchised individuals, they are also quick to note her thoughtfulness and warmth. 
"Jane is incredibly generous," says Smearman, recalling when, in 1993, Murphy passed on the opportunity to apply for a Fulbright Scholars Award at the University of Iceland to teach feminist legal theory, due to the impending birth of her fourth child. Murphy encouraged Smearman to apply instead.
"Despite my hesitation, with her strong encouragement and mentorship, I became the recipient of the Fulbright award," Smearman recalls. "That was transformational for my entire family and would not have happened without Jane's generosity and support."
A New Chapter
Murphy's UB colleague, Robert Rubinson, professor of law, says it's no exaggeration that Murphy is a leader in the national clinical movement. What's unique is that she is so much more.
"She's a leader in so many ways: She's a fantastic teacher, a leader serving the law school, a prominent scholar, and she's committed to helping others," he says. "She's also open to trying new things. If she sees something she thinks is important, she's going to do it."
Murphy's inherent passion for social justice was piqued in 2016, when she became engaged in the cause of juvenile offenders serving life sentences without parole. A series of Supreme Court decisions citing the developing mind of juveniles deemed life sentences without parole unconstitutional, and that opened the door for many who grew up in prison to seek release. 
Murphy created the Juvenile Justice Project to connect student attorneys with clients serving life sentences. 
"Over several years, the juvenile justice clinic provided outstanding representation to people wrongfully denied a meaningful opportunity for release," says Sonia Kumar, senior staff attorney at the ACLU of Maryland. "Yet in some ways I'm most impressed by Jane's extraordinary ability to act as a connector and persuader. Jane has helped change what is possible through her gentle, informal advocacy with her peers." 
Murphy describes the opportunity to build the clinic, which shut down, as planned, in 2019, as "a gift."
"I'm so grateful to have had the opportunity to open the eyes of our students to this very forgotten population," she says. 
The clinic speaks to Murphy's agile mind as well as her commitment to service.
"The Juvenile Justice Project was totally Jane's animal," says Grossman. "She developed it, she designed the model, she learned a whole area of law outside her field and created this entity that performs work that results in people who deserve to be out of prison getting out."
Innocence work, immigration work — the list of things that interest Murphy goes on. Whether she's representing pro bono clients or helping to stock better prison libraries, retirement will not mean slowing down for Murphy.
"I wish I could have another law career," says Murphy with a smile. "I could think of at least four things I would do if I could do it all again."
Christianna McCausland is a writer based in Baltimore.