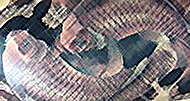 Aubade to My Lover's Tattoo
Larissa Larson
Salt-crusted eyes wake to the wave
that is your back, a hot spring cave
of restless sheets. The infinite Pacific
between our bodies, but the intimate
undercurrent of your sea legs curl
to fit mine. I am a damned girl,
but skill to build made me wiser.
The cat cries, so you rise
a geyser, tall glass of steam.
My body still rock, but dream
my soul koi swimming above
your heart: red tender flesh of
tattooed fins and scales tucked.
All I want is to bring you luck.
---
Larissa Larson attends Hamline University's MFA Creative Writing program in St. Paul, MN, and assists with Water~Stone Review and Runestone Literary Journal.
Twitter: @larissathepoet
Instagram: larissathepoet
Facebook: Larissa Larson