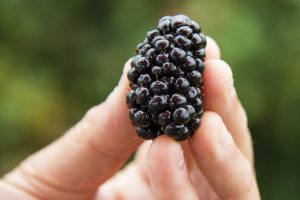 Eating a Blackberry in Noon Sunlight on a Wednesday in December
Larissa Larson
Inspired by "I Watch Her Eat the Apple" by Natalie Diaz
I rotate you in my left fingertips, a tiny bushel of balloons. I think of the Goo Goo Dolls and how baby's black balloon makes me cry. Any second you could pop, spill your neon pink insides, and go. A bottle of seeded wine I've become addicted to.
Drunk on your fragrant skin my right finger stumbles on body like braille, a foreign language
I yearn to learn by tongue. Hot breath I exhale to make the tiny brown hairs on your silky skin stand on end. Both knowing what's to come.
I hold you up to the windowpane, your body a stained-glass cathedral. Royal blood bound in velvet crush praying to be dethroned. Sheer eminence shattered with just one bite. Starving for
a Byzantine feast, I split you in half like breaking an ancient empire.
I twist your bruised body, the color of a needed mistake, where the deep tissue shimmers silver with my salvia. Violet transforms into violence, and I beg your bleeding body to stain my lips. Red, the color of the dying sun.
Winter hungry sky,
gleaming with bodies of light,
prepares to perish.
---
Larissa Larson attends Hamline University's MFA Creative Writing program in St. Paul, MN, and assists with Water~Stone Review and Runestone Literary Journal.
Twitter: @larissathepoet
Instagram: larissathepoet
Facebook: Larissa Larson