FEATURED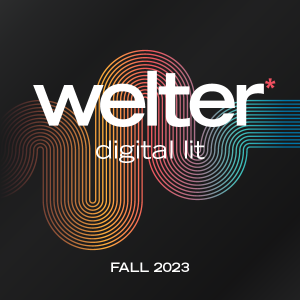 Available to Read Now!
Interested in reading the current issue of the digital lit now? Click the link above!
Learn more about our history, our process, and what we're looking for when you want to submit your piece
Exclusive interview with collage artist GJ Gillespie! His mixed media masterpiece, "Not Dark Yet," graces the Spring 2023 cover of Welter
---
CURRENT ISSUE |

Spring 2023


Inside Welter 57
Inside volume 57: New fiction from Sophie Panzer, Mari Molen, Erik Peters, and Sarah Turner. Non-fiction by Joshua Cole, Basil McQuade, Luisa Barron, Marshall Moore, Anne Doventry, and Winslow Schmelling. Poetry from Paula M. Rodriguez, Bryana Joy, Terry Jude Miller, Jessica Mehta, Hannah Collins, Josiah Nelson, Hassan A. Usman, Lisa Cantwell, Bree Boyd, Ahrend Torrey, Adina Polatsek, and Shirley J. Brewer.. Also art featured from GJ Gillespie, Rebecca Dietrich, Andrew Lincoln Nelson, Kelsey Erica Tran, Molly McNeely, Matina Vossou, Vanessa Cerasulo, Jerrod Schwarz, Alysia Brown, Jenna Minor Kline, and Michael Hower.
For more information about volume 57, and our other print journals visit our Print section.