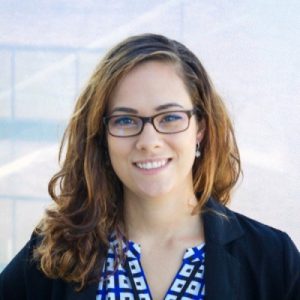 Congratulations to Industrial and Organizational Psychology student Andrea Garry, whose symposium submission was accepted for the Society for Industrial and Organizational Psychology's (SIOP) 36th annual conference, a hybrid event that will be held April 15-17, 2021. Andrea's research—which she did in collaboration with Assistant Professor Archana Tedone—is titled: The Moderating Effect of Home Workspace Design on the Relationship Between Technostress and Mental Fatigue.
Andrea was also part of the team that placed second in the Personnel Testing Council Metropolitan Washington's (PTCMW) 2020 Graduate Student Consulting Challenge, sponsored by Amazon. Student teams were presented with a request for proposal (RFP) that outlined a real organizational challenge. Andrea and her teammates from peer institutions created a selection protocol with request parameters for Amazon. They were given three days to submit an RFP and oral presentation, which was delivered virtually on the final day to a panel of judges that included experts in I-O psychology and related areas from PTCMW and Amazon.
The consulting challenge was developed in 2014 by PTCMW to allow students to develop key professional skills, while expanding their professional networks and winning great prizes—the winning team wins $1,350, the runner‐up team wins $750, and every participating team receives a free year of PTCMW student membership.