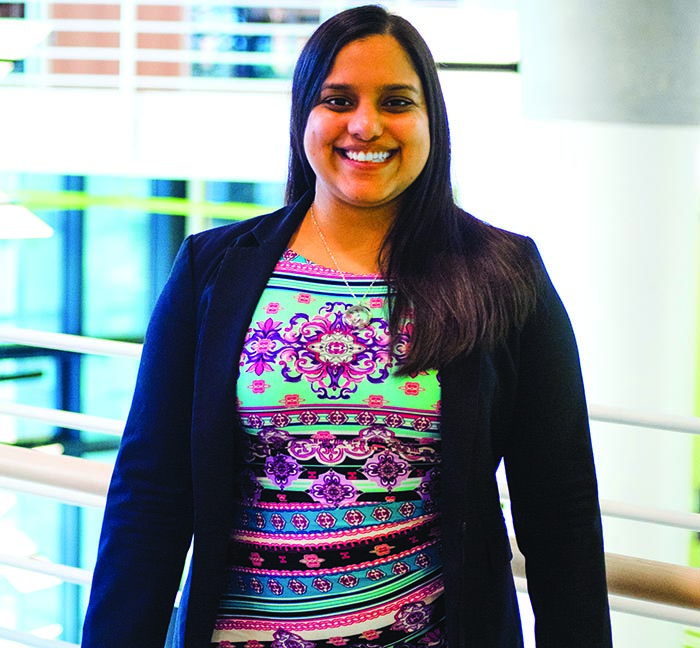 Across the nation, millions of people have participated in Black Lives Matter protests in response to the killings of Black men and women while in police custody. Clashes between activists and law enforcement have led to numerous arrests, necessitating an increased demand for legal services and guidance, which local National Lawyers Guild (NLG) chapters can provide.
The NLG is an organization comprising lawyers, legal workers, jailhouse lawyers, political activists and law students advocating for the protection of constitutional, human and civil rights. In response to national protests this past summer, the NLG has seen increased interest in its legal observer training program, especially here in Baltimore, according to Aneesa Khan, J.D. '17.
Khan, a public defender who serves on the NLG national board as the Mid-Atlantic representative, described the influx as humbling. "During a typical training, we see about 30 people," Khan says. "But during the past two training sessions, we have trained almost 200 new legal observers."
Legal observers are behind-the-scenes volunteers at public demonstrations where there is potential for conflict between activists and law enforcement. During protests, legal observers monitor and record police interactions, with the goal of later using this information as an objective account of events.
"Our legal observers are not mediators during a protest. They are simply there to take notes," Khan says. "Then observers may become witnesses in cases alleging police misconduct or the infringement of activists' constitutional rights."
For Charlie Kerr, J.D. '18, this experience is personal. In 2012, she was among the thousands of people participating in the Occupy Wall Street protest in New York City. She was also among the 70 people arrested. While waiting for her court appearance, an attorney introduced himself as part of the NLG.
"I was completely inspired by this experience," Kerr says. "During a time that I needed legal guidance, the NLG was there for me, and it encouraged me to attend law school."
A Baltimore native, Kerr returned home to attend UB Law, where she joined the student NLG chapter co-founded by Khan while she was a student.
"I knew I always wanted to use my legal education outside of traditional lawyering," says Kerr, who now serves as the mass defense chair for the Maryland NLG chapter. "I'm using my legal skills to assist the community I grew up in, and there is a huge need in Baltimore for this work." 
Khan co-founded the student chapter with five classmates during her second year of law school, in response to the protests following the 2015 death of Freddie Gray in Baltimore police custody. In less than a year, she helped grow the new chapter from six members to more than 60. 
"It was amazing to see the willingness of my fellow students engaging in such important work," says Khan. She was honored by the NLG in 2017 with the C.B. King Award, which is granted to just one law student in the nation, for her work in the UB Law and Baltimore communities.
Stephanie DeLang, a third-year law student and president of the student chapter of the American Constitution Society, currently leads the student NLG chapter. As Khan did in 2015, DeLang says she has seen a growing interest among her classmates to participate in local social justice actions.
"The student chapter is here to provide resources and information to the UB Law community so that people can contribute in positive ways," says DeLang, who assisted in legal observing during Baltimore's Black Lives Matter protests this past summer. "As law students, we often have more flexible schedules than full-time professionals to attend protests during the day, and it's a great way to practice our legal education."
DeLang's inspiration stems from her drive to help others. "I came to law school to become a public defender. It's not that I feel like I need to be a defense attorney, but I believe legal services should be and need to be more accessible to those who can't find or afford a lawyer."