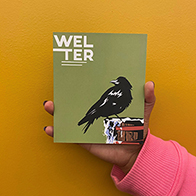 A blended undergraduate/graduate class in the Yale Gordon College of Arts and Sciences is taking on an important project: rejuvenating, and bringing in to the digital era, the University of Baltimore's legendary literary journal, Welter.
Founded by UB students and faculty 55 years ago, Welter has grown to national stature as a place where writers of prose, poetry, memoir and other non-fiction, as well as those who create visual art, can have their work published for an audience that numbers in the thousands. Every aspect of the journal is overseen by students; it's a deep dive into what it takes to structure a publication and get it out to the world.
Previously available only in print, this year Welter will be available online as well. The goal is to make it easy for readers to experience the journal the way they'd prefer.
For many writers and artists in Baltimore and across the country, the journal offers a first brush with success, says Betsy Boyd, assistant professor in the Klein Family School of Communications Design and director of UB's lauded M.F.A. in Creative Writing & Publishing Arts.
"We're pleased to publish both emerging writers and more seasoned professionals," Boyd says. "It's a special honor to be the first magazine to publish young writers, and I know well that the experience on the writer's end is an empowering one."
Leading the group of 20 undergrads and grads in a team approach, Boyd says the goal of the class is two-fold: to raise the profile of this premier publication; and produce the 2020 issue before the class ends in May. The publication is currently seeking submissions, now until March 9.
"I think of the Welter classroom as a bustling editorial office," she says. "My varied goals for the semester are all hefty, but my smart staff is up to these challenges. Together, I believe we can increase brand awareness and turn out an exceptional issue."
The class already is posting to Welter's social channels, producing videos, and reviewing submissions to the journal. Many colleges and universities have literary journals, Boyd notes, but only a handful can boast a journal reflecting more than a half-century's worth of creative efforts.
Welter, alongside its undergraduate variant, Skelter, remind us that literature and the visual arts begin with the desire to see and be seen—and heard.
"Without an audience, writers and artists are talking into the void," Boyd says. "Welter is the perfect megaphone for self-expression. Stay tuned."