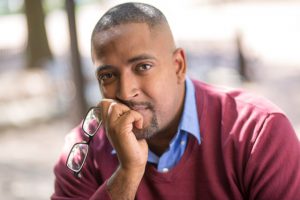 The following interview is with Steven Leyva, MFA '12, assistant professor in The University of Baltimore's Klein Family School of Communications Design, graduate of the school's MFA in Creative Writing & Publishing Arts program, and acclaimed poet. He recently published his debut full-length collection of poems, The Understudy's Handbook.
---
Talk about the journey from self-published thesis project to a traditionally-published book. What knowledge did you carry from your MFA thesis book to your debut collection?
I spent seven years working on the poems in The Understudy's Handbook in one way or another. Low Parish was such a wonderful undertaking that represented the culmination of my time as MFA student in the Creative Writing & Publishing Arts program here at The University of Baltimore, but I didn't want to reuse any of the poems from that chapbook. So I was starting from scratch, but I wasn't starting without the confidence and practical skills I'd already learned. I knew how to work hard and soft.
What inspired the poems in The Understudy's Handbook?
The inspirations were many: a love of theater (I thought I was going to be an actor when I was younger), a longing for cities from my childhood, New Orleans primarily, and a persistent curiosity about the small stage productions of language that poems mount in our imagination.
Your manuscript for The Understudy's Handbook landed you the 2020 Jean Feldman Poetry Award. What did it mean to you to have your work selected for the prize?
I was honored beyond measure. Washington Writers' Publishing House has been lifting up voices from the Mid-Atlantic region for so many years, and I have always admired their books. The award was validating, and it fulfilled some of the academic and professional goals I'd set for myself, but more so it meant that I could be a part of the larger conversation going on in American arts and letters in new way.
One of the poems from your collection, "When I Feel a Whoop Comin' On," was selected for The Best American Poetry 2020 anthology. What was your reaction to that news?
I was completely flabbergasted. That poem has had an incredible journey, first being published by jubilat and then catching the eye of Utah Poet Laurette, Paisely Reckdal, who was the guest editor of The Best American Poetry 2020 anthology. I never knew a poem about middle school dances would take it this far. The poem is so idiosyncratic to my experience, but as I often tell my students, the more specific a poem the more it has the potential to be universal. Or better yet, to welcome the reader into its universe.
Can you talk a little bit about the role of poetry in society and why poetry is so important to our world today?
While I may be making what appears to be a distinction without a difference, I don't know that I can speak on the role of "poetry" per se, since it is an abstraction, a concept best left to philosophers and critics, but I do think the artifacts we call poems have many roles in our society.
Poems are often a method of truth telling, but they achieve this primarily through transformation: getting the reader to see an image in a new way, enticing the ear into fresh language and syntax, clearing away the clutter.
But poems are not simply mirrors held up to the world (or if they are they are certainly funhouse mirrors), rather they are an art made of the clay of words that imagines new worlds. The role of a poem is to imagine, imagine what might have been, what is, what could be. And in that they serve as reminder of our shared humanity. When some much in society distorts us, alienates us, poems are out there, as the late poet Mary Oliver wrote, "announcing your place / in the family of things."
What do you hope readers will get out of reading your poems?
Perhaps something akin to watching a really excellent stage play. Which is to say a range of experiences, some joyful, some heartbreaking, some contemplative.
As a professor of creative writing, and also a published author, are you more inclined to want to see your students experience success? What do you tell students who may not be thinking like that?
I'd tell those students that how you define success will evolve over time, so don't be in such a rush. I'm not suggesting a kind of settling, but rather that we are not always accurate in gauging how long it may take to reach a particular literary or writing goal. And I'd remind all of my students of what the poet Lucille Clifton said, "People wish to be poets more than they wish to write poetry, and that's a mistake. One should wish to celebrate more than one wishes to be celebrated."
What's next for you? Is a second collection in the works?
I have enough poems for about half of another book, lots of nerdy ones about various subjects, from taking my kids to see the film Spider-Man: Into the Spiderverse to more mythical ones about my family in San Pedro Sula, Honduras.
But I also might write a collection focused on what it was like to be Black scholarship student at evangelical university.
And there is a fair amount of academic writing I want to do about the intersections between comic books and poetry. So we'll see.
Learn more about Prof. Steven Leyva.
Join us on Wednesday, Nov. 11 at 7 p.m. for a virtual bookwarming and roundtable discussion celebrating the publication of Prof.  Leyva's debut collection with fellow poets Tim Seibles and zakia henderson-brown. These three poets will discuss mentorship, literary friendship and the journeys of making a first book. To receive the Zoom link the day before the event, please send an email to gsieck@ubalt.edu.